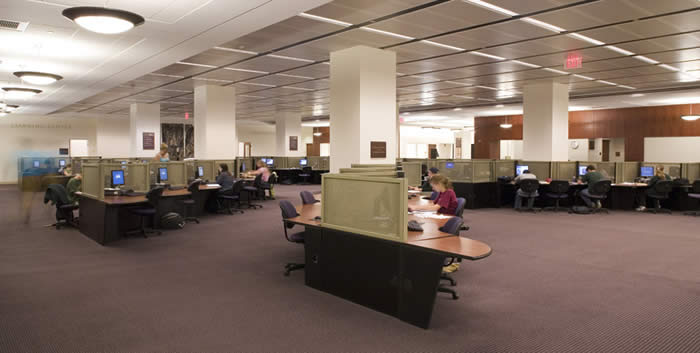 A few weeks ago, a female student at the College of William and Mary witnessed an elderly gentleman allegedly watching porn on one of the public computers on the second floor of the Earl Gregg Swem Library.
A picture of the activity posted on the Facebook page "Overheard at William and Mary" caused a stir amongst students of the College. The post garnered comments both in support of and in opposition to viewing porn in public.
"I have never seen such an activity in public, which is why I found it so shocking and posted it on Overheard," Nathalie Moore '17 said. "At first I was confused and [thought] perhaps he had stumbled upon a bad site and gotten a virus. But it quickly became clear to me that he was avidly searing for pornography. Admittedly, it was very frightening."
Swem's staff is currently discussing changing the configuration of public computers at the library, although students' needs and concerns — not the recent incident — prompted the discussion.
Swem is a public institution and is open to the general public, not just to members of the student body. Physical and electronic resources are available for anyone to use while inside the library. Members of the public can purchase visitor library cards for $100 a year, allowing them to check out items.
"We are a library open to everyone, " Associate Dean of Research and Public Services Lisa Nickel said. "William and Mary students and faculty are our primary users, but the community at large is also a part of our clientele. We don't deny use because of homelessness or age or appearance."
It is, however, unusual to find non-students using the computers in the library. The percentage of non-university users is probably less than 1 percent. Most of the computers in the library require a William and Mary login, but there are several computers on the first, second and third floors that do not.
"I am skeptical of completely banning members of the community because I know there are always a few bad seeds that ruin it for everyone else," Lucas Pickett '14, who commented on the Overheard post, said. "But I do feel that locals should be given access on an individual basis. It was this man — not everyone from the off-campus community — that used the Internet for something that was offensive to a lot of people. I think you should be trusted until you prove you can't be trusted."
Library staff does not censor what people read or view in the library, as long as it is legal. Adult pornography is legal. If the material someone is viewing on a library computer is illegal, police are to be notified immediately.
"Essentially the only thing we are allowed to do is approach them and politely ask that they relocate," a Swem student employee said. "We aren't allowed to make them do anything because they have every right to view what they want on a public computer at a public library."
Swem, in accordance with the American Library Association, supports intellectual freedom and imposes little to no restrictions on patrons' access to information.
Regarding computer sources in particular, Swem does not have the right to proscribe, censor or remove information because of "partisan or doctrinal disapproval." In other words, the library does not censor access to computers or their use unless it is unlawful.
"We understand that being confronted with material that one finds offensive is [troubling] and it may also interfere with learning," Nickel said. "We ask that if anyone is working on a computer in the library and another user nearby is displaying material that makes you uncomfortable, please consult with the staff at the Circulation Desk. We will work with both parties to find a solution that can meet both needs."
Moore expressed hope that Swem personnel will work to address the situation.
"I don't think this is an isolated incident in the College community," Moore said. "Something I did not post on Overheard was that when I left several hours later, a new man was sitting in the exact same spot, browsing the same materials. Since activities of this nature can be perceived as rather threatening, I think it is a very pertinent issue and ought to be addressed."