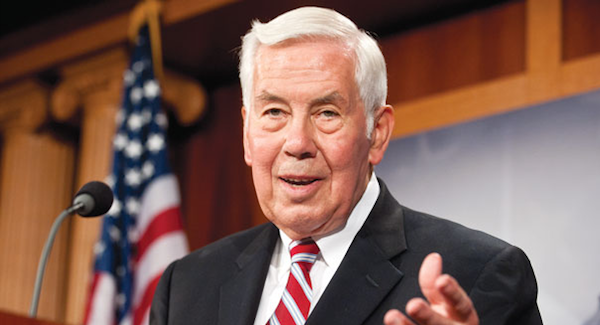 Students, faculty, and staff across the College of William and Mary's campus have hosted an unexpected visitor this week. Former Indiana Senator Richard Lugar has been meeting with classes and groups on campus, speaking to them about politics and policy as part of his responsibilities as the 2014 Hunter B. Andrews Fellow.
All recipients of the fellowship share commitment to public service and a desire to share their wisdom with new generations of Americans, Director of News and Media Suzanne Seurattan said. According to Seurattan, Lugar perfectly fits the bill.
"Like prior recipients of the Fellowship,  Sen. Lugar is admired for his public service, hard work, integrity and statesmanship — all traits that Sen. Andrews exemplified during his years in the Virginia Senate," Seurattan said.
Students wanting to better understand American foreign policy asked Lugar about U.S. policies in the Middle East and the Crimean Crisis, two areas of expertise from his six terms in the Senate and his tenure as Chairman and ranking member of the Senate Foreign Relations Committee.
"I [was impressed] by their intelligence, their curiosity. I am excited by the opportunity to share my experiences that might stimulate imagination. … I hate to go into such autobiographical essays … but [my experiences] enhanced my growth and understanding of the world," Lugar said.
Lugar also spoke about domestic issues. One group of students Lugar visited was Professor Larry Evans's Legislative Process class. Lugar shared insights about the changing foci of political campaigns and the rise of the Tea Party.
"I believe that even though we are in a period in which we have excessive partisanship and sometimes very depressing views of the public with regard to public servants … many people have become very discouraged," Lugar said. "Many blame the system or the lack of able leadership as they see it."
Evans said he found Lugar's visit interesting.
"He was a 30-year veteran of the Senate and it was great to have someone of his stature talk about the Senate to a course on the legislative process," Evans said.
Evans has had other Hunter Andrews fellows speak to his classes before, including former House Speaker Tom Foley and Georgia Representative John Lewis, who was also one of the "Big Six" leaders of the Civil Right Movement. Having such experienced individuals speaking to classes, Evans said, adds a special dimension to students' appreciation for the subject matter.
"I think it is important for students in a course about the legislatures to have direct exposure to current or former members of Congress," Evans said.
In addition to guest lecturing in classes, Lugar met with students over meals. Kameron Melton, '15, a public policy major, had lunch with Lugar on March 18 in the Alumni House and said she came away delighted.
"Senator Lugar is a charming, down-to-earth man," Melton said. "Initially, I was a little nervous to speak about politics with such a seasoned congressman, but he was very eager to listen to our opinions and involvement thus far with American politics."
Hunter B. Andrews, an alumnus of the College, served in the Virginia Senate for 30 years and died in 2005. His friends created the fellowship in 1998 in the hopes that students would have the chance to meet prominent figures in public life.
Flat Hat News Editor Rohan Desai contributed to this report.