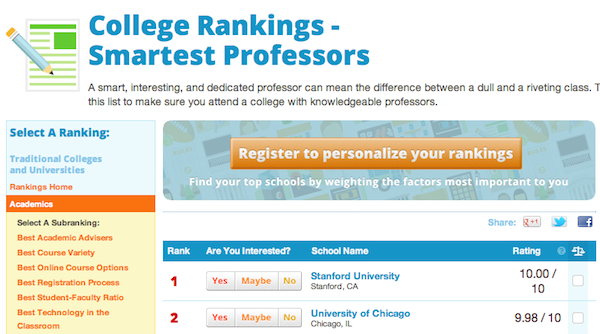 The College of William and Mary ranked fourth in College Prowler's list of colleges with the smartest professors.
College Prowler is an online guide to the college search based on current students' reviews of their schools. It is part of Niche, a group of websites that provide information and rankings for national schools of all levels.
"A smart, interesting, and dedicated professor can mean the difference between a dull and a riveting class," the blurb at the top of the site's "Smartest Professors" page read.
English professor and Faculty Assembly President Suzanne Raitt said the ranking is not surprising.
"At William & Mary, we are fortunate enough to work in an environment that protects small class size and supports mentored research for our undergraduates," Raitt said in an email. "We do world-class research and we bring it into our classrooms and our labs, recognizing that in today's world, what we need are independent and creative thinkers who are ready for all the challenges life offers."
Stanford University earned a score of 10/10 to take the first spot on the list, while the University of Chicago and the College of Wooster were ranked second and third, respectively, both with a score of 9.98/10. The College received a score of 9.94/10.
Dean of the Faculty of Arts and Sciences Kate Conley said she was pleased with the College's ranking. She expressed her belief that the College's fourth place finish indicates the quality of the school's faculty.
"Such recognition confirms the success of our winning approach to teaching, involving having research-active faculty in the classroom engaged with students in significant ways," Conley said in an email.
Provost Michael Halleran compared the latest news from Niche to the College's recent success in similar rankings. A few weeks ago, the College earned the top honor on Business Insider's list of "The 20 Public Colleges with the Smartest Students."
"More important than any one ranking is that W&M consistently fares well in all of them," Halleran said in an email. "The core of W&M's excellence resides with the talent and commitment of our faculty, and so this latest ranking is gratifying but unsurprising."
English professor and Faculty Assembly Parliamentarian Terry Meyers noted that the accolade could be attributed to the ability of the school's various academic departments to attract new faculty from top graduate programs.
"I'm delighted at this news, and it makes sense — [William and Mary] has been hiring the best and the brightest from the best graduate programs for a long time," Meyers said. "It's terrific to see this public recognition for our hard-working and deserving faculty members."
However, Faculty Assembly Vice President Susan Grover noted that while she regards college rankings with skepticism, the dedication of the faculty is one of the College's greatest assets.
"Certainly William & Mary faculty are an unusually intelligent group, but that is not their most distinguishing trait," Grover said in an email. "What sets the faculty at William & Mary apart is their profound commitment to the educational experience of every student here.  It is our faculty's uncompromising insistence on excellence in the offerings to all students all across the curriculum that makes this faculty special."