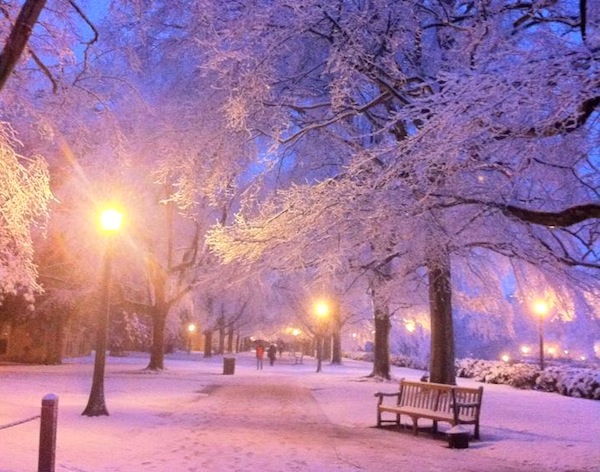 This January, the ten-year-old son of biology department chair Lizabeth Allison taught two sections of introductory biology. During each section, approximately 200 students watched as Andrew presented a PowerPoint he made examining the differences between a rock star and a cartoon character. This presentation was his own take on his mother's subject for the day: molecular orientation. According to Allison, Andrew has been presenting to undergraduates since he was old enough to talk.
Latin American politics professor Susan Norman also brought her child to class this winter, but Valerie, a toddler, is still waiting to make her professorial debut. Instead, in one of Norman's lectures on early 20th-century development, Valerie drew pictures and asked why she was not allowed to take off her pants.
Neither Andrew nor Valerie seemed to mind spending their snow days at the College of William and Mary. But many professors with small children faced difficult decisions this winter: local schools were often closed due to weather conditions, complicating childcare arrangements when the College remained open.
Vice President of Administration Anna B. Martin said that local schools generally close more readily than the College because schools must consider how easy it will be for buses to travel in the snow.
According to Superintendent Steven Constantino, the Williamsburg-James City County public school district closed local schools five times this winter, in addition to two unscheduled early releases. Deputy superintendent Olwen E. Herron said that the decision to cancel school operations is typically made at 4:30 a.m. the morning of the closure.
Because the College often remains open during school closures, snow days can create last-minute hassles for professors who have to arrange childcare. Although there is an independent day care on campus, children must be enrolled with advance notice. According to its website, the day care currently has a wait list.
The College does not have a campus-wide policy with regard to school closures on late notice, Martin said.
While some professors, like Allison and Norman, have responded to the snow day school closures by bringing their children to work with them, others have found alternative methods. Art and art history professor Nicole Santiago said that when her child's school closes, she or her husband will take off work.
Women's studies professor Jennifer Putzi, whose husband also works at the College, said that she and her husband try to work on separate days to manage childcare, but that this wasn't possible this semester. She said that bringing a child to work can be disruptive.
"My students were great about it, but it definitely disrupts the class discussion," Putzi said in an email.
Putzi also said that childcare problems can be uncomfortable for female professors.
"It is important to be able to establish my role as an authority and a scholar in my classroom and I think that is difficult for women to do with their children around, for lots of complicated reasons," she said.
Monica Geary '17, who is enrolled in Norman's Latin American politics class, said that while having a child in the room during class did not seem to affect her professor's teaching, it may have made students less attentive.
Art and art history department chair Catherine Levesque suggested that the College, or student volunteers, could do more to assist professors with children.
Earlier this year, Provost Michael Halleran offered his comments on the College's inclement weather policy, which is available online.
Through a message Martin sent to the College community February 20, Halleran said that the decision to cancel normal school operations is made in consultation with the Emergency Management Team and the academic deans.
"Whenever we remain open during inclement weather, it is important that everyone always use his/her best judgment in deciding whether to come to campus," Halleran said in the email.
English department chair Adam Potkay, whose son is now 21, said he hadn't thought about this subject in a long time, but that in one instance he had brought his child to class with him.
"We just get along the best we can," he said in an email.