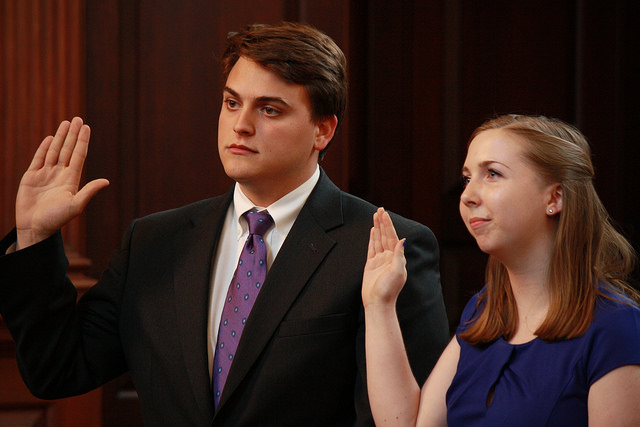 Friends, family, students and administrators gathered in the Sir Christopher Wren Chapel Wednesday evening for the swearing-in of the new members of the Student Assembly.
After taking the oath of office, Colin Danly '15 took to the podium to give his first speech as president of the SA. He emphasized his desire to build a better future for the College of William and Mary.
"We govern for the next ten years, not the next one. It is important to remember where we fit in, in the great history of the College of William and Mary," Danly said. "We play only a small part in a long, historic tradition. … We must constantly look to the future."
Danly also mentioned his desire to change the image of the SA. He said he does not want it to be seen solely as an organization that allocates student money, but as a group that fosters change on campus.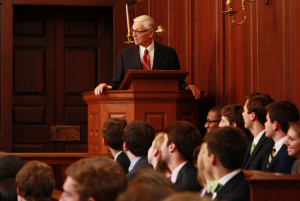 The keynote speaker of the ceremony, College President Taylor Reveley, explained to the new SA members how leadership can be difficult but rewarding.
"There's days when you've got to make hard choices and you know perfectly well that you cant make everybody happy and you're going to disappoint some people … and then there's days when people act like absolute jackasses," Reveley said. "A lot of days [leadership] is fun and some days it is less fun."
Reveley made a point to commend president emeritus Chase Koontz '14 for his service and for improving relations between the SA and the Brafferton.
"So, congratulations, Chase, on your splendid service to the alma mater of a nation," Reveley said.
Koontz took time during his last speech as president to thank his fellow SA members. He also imparted some advice to the incoming SA members.
Koontz stressed the importance of maintaining friendships in positions of leadership, as he cited the ability to work with others as key to success.
"As newly elected members of the Student Assembly, you are entering an organization that is based upon personal relationships: … these relationships are with administrators, with city officials, or most importantly with your fellow students," Koontz said. "Your success is predicated on your ability to create and sustain a community of mutual assistance."
Outgoing chairman of the senate Will McConnell '14 reflected on the senate's session, which he described as impressive. He congratulated his fellow senators on creating new SA departments and a housing agency, as well as on other accomplishments.
As part of his final remarks, McConnell thanked his fellow senior senators Peter Lifson '14 and Chandler Crenshaw '14, Graduate senators Caleb Stone J.D. '15 and Patrick Johnson Ph.D. '18, outgoing sen. Gabriel Morey '16, sen. Daniel Ackerman '16, sen. Yohance Whitaker '16 and sen. Emily Thomas '17.
McConnell had a few last words of advice to share with the SA.
"Being in the Student Assembly is not easy," McConnell said. "If taken seriously, it is a lot of work, for which most of the time one receives no recognition. But at the end of the day, you are the best judge of what you have accomplished."