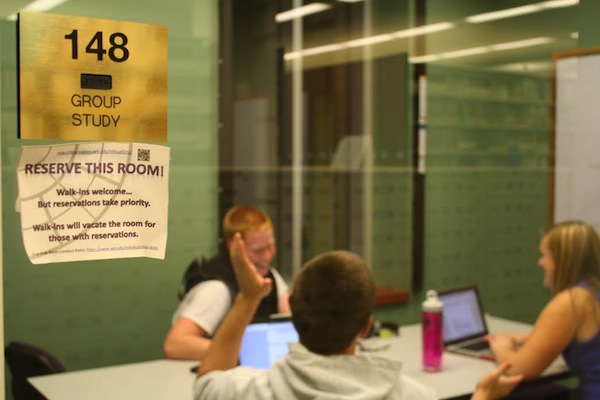 Earl Gregg Swem Library study rooms were reserved March 29 for TribeHacks, the College of William and Mary's 24-hour hackathon. The group study rooms were sectioned off to provide space for participants to code through the night. While TribeHacks may be only an annual occasion, late nights in Swem are not foreign to many students at the College. In fact, Swem's 32 group study rooms are used just as often throughout the academic year as they were during TribeHacks.
According to Swem officials, the group study rooms were booked 21,274 times for a total of 42,226 hours last year. Of these reservations, 880 room reservations were cancelled, resulting in 1,874 hours of cancelled room usage, indicating that group study room reservations are cancelled a mere four percent of the time.
During the year, group study rooms are used most often from 2 p.m. to 11 p.m., according to Swem's data. However, when Swem remains open all night during the final exam period, peak use of the study rooms occurs between 4 a.m. and 7 a.m. and from 11 a.m. to 11 p.m.
"Our group study rooms are always in higher demand immediately before and during final exams as students prepare for end-of-semester assignments," Swem's Associate Director of Strategic Communications and Outreach Tami Back said in an email.
It was the popularity of the group study rooms during finals that prompted Swem to change its reservation system two years ago.
"Two years ago we implemented a new reservation policy and electronic reservation system," Back said. "Prior to that, group study rooms were first come, first served with no time limit on use. This led to students coming in early in the morning and camping out in a room all day or, in some cases, all week."
This process, which expanded student access to the group study rooms, was facilitated by the introduction of the Event Management System. The Event Management System allows students to book and manage room reservations in Swem online. Additionally, Swem implemented a new policy with the Event Management System, allowing students, faculty and staff use of the room for two hours at a time.
Sydney Guo '17 said that she hasn't used the study rooms this semester.
"I normally don't like to use the rooms because they're not very quiet," Guo said. "The people in rooms next to mine can be loud sometimes. I only used it about three times last semester."
In addition to the group study rooms, Swem offers 16 individual study rooms. Back noted that students, as well as faculty without offices, can apply for these rooms each semester. Swem has also made efforts to facilitate the learning and studying processes by adding flat screen TVs, whiteboard paint and new furniture to many rooms, Back added.