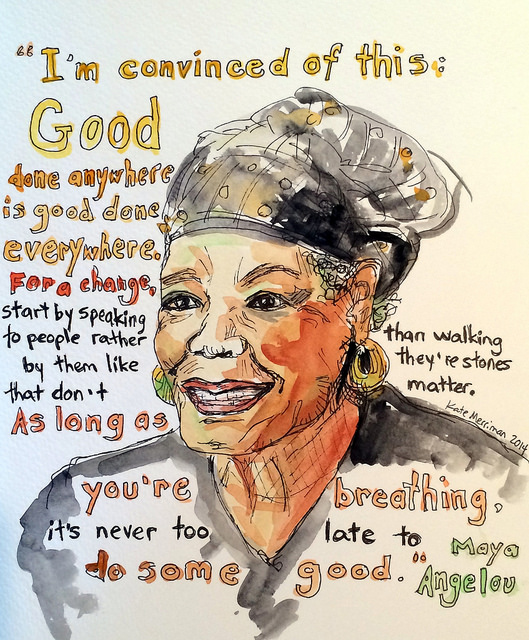 This wasn't a memorial service.
In an email on Sept. 1, English professor Hermine Pinson said that the College of William and Mary's tribute to Maya Angelou — held Thursday evening in the Tucker Hall Theater in collaboration with the Patrick Hayes Writers Series and the English department — was best termed as "a William & Mary event to honor a staunch supporter of [the College] over the years."
In her opening remarks for the program, English professor Dr. Joanne Braxton called the evening a "wonderful tribute to an American icon." Looking out into the sea of students, she continued:
"Dr. Angelou passed in the spring [at age 86] and we didn't get a chance to celebrate her, so we were waiting until you all came back in order to do that."
This was, it seems, a celebration instead of a memorial.
"It was my great blessing to know Dr. Angelou for 28 years," Braxton said. As she spoke of the woman who gave the College's 1993 convocation address, she was audibly resisting tears.
When the time came, nearly as many students as professors got up to read selections from Angelou's work.
"This is a very simple thing we're going to do," Braxton said before the evening's 13 participants began to read. "Each person will read something written by Dr. Angelou and then introduce the next person."
And that's exactly what happened — each speaker was introduced by name. Not by title, not by position, and not by age. Just by name. Their order was determined not by stature, but by the alphabet. Everyone was on equal footing in this tribute to a woman from Missouri.
Nothing was off limits: Some of the assembled read poetry, some read from Angelou's landmark first autobiography, "I Know Why the Caged Bird Sings," some read their own original work composed in tribute, and some read from interviews.
"In so many ways, her presence, her words, her thoughts, have permeated our culture and the way we think about life," Ebony Lambert '16 said, who performed Angelou's 1978 poem "And Still I Rise" at the celebration. "As a poet and as a black woman, her words resonated with me."
Referred to as Dr. Angelou for many years, she never formally earned a doctorate or even attended college. Born in 1928, she was raped at the age of seven by her mother's boyfriend. A mob beat him to death after her testimony. After that, she stopped speaking for nearly six years. She recalled thinking that "my voice had killed him."
She was raised in St. Louis, Mo., and Stamps, Ark. She earned a scholarship for dance and drama at the Labor School in San Francisco, Calif., but dropped out at the age of 14 and became the city's first female streetcar driver two years later. That year, she went back to school to finish her diploma. She gave birth to her first child a few weeks after graduation, in 1944. She was 16 years old.
She waited tables, sang in nightclubs, and worked numerous odd jobs for the next decade. In 1954, she earned a role in a 22-nation tour of the Gershwin opera "Porgy and Bess." Three years later she recorded an album, "Calypso Woman." In 1958, she became a part of the Harlem Writers Guild, a group that included Ossie Davis and Audre Lorde, among others. In its first dozen years in existence, members of the guild authored multiple novels, three plays and a film.
She organized events and raised funds for Martin Luther King, Jr. She was friends with Malcolm X and performed in plays alongside James Earl Jones and Cicely Tyson. She wrote for newspapers in Africa. She directed a feature film. She produced and performed in television. She read her poem "On the Pulse of Morning" in 1993, becoming the second poet in American history to perform at a presidential inauguration.
Angelou spoke often of love. She once said, "Love recognizes no barriers." Last Thursday evening in Tucker Hall, 13 people performed out of love to celebrate a remarkable woman. They'll never forget how she made them feel.