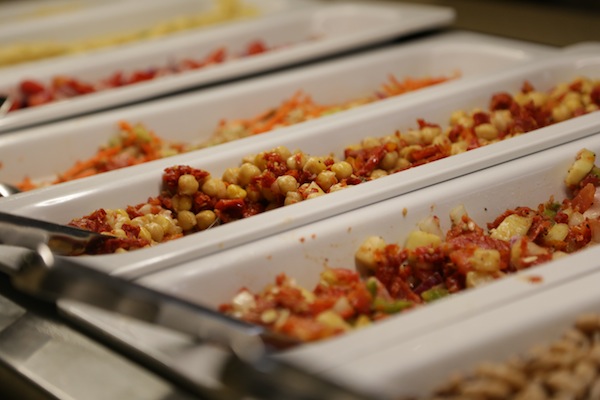 Campus dining has been transformed and the students have spoken.
The Flat Hat ran an unscientific poll from Thursday, Sept. 4 to Wednesday, Sept. 10 to gauge student opinion on dining this year in comparison to last year. The poll was advertised on Facebook and 203 students responded to the poll, rating food quality at the three dining halls and adding comments about what they feel Sodexo has done well and what they need to improve. 
Students shared a number of complaints, including everything from food quality to the absence of the College of William and Mary-themed waffle iron. Some of the most frequent complaints involve the way Late Night at the Sadler Center is operated, the long lines in the dining halls, and the limited amount of food available on meal swipes.
"I'm not interested in a la carte dining options, and know many of my fellow students share the sentiment," one responder said in the comment section. "We're busy and working hard, and want to eat fresh, clean food without worrying about bugs, hair, glass, or anything else that's not food in it."
Many students also commented saying that Marketplace is not as good an option this year as it has been in previous years. Marketplace began the year only accepting Dining Dollars, as opposed to meal swipes. Marketplace's move to Dining Dollars may have contributed to long lines in the other dining halls. Although Marketplace reinstated the meal swipe system last week, many students responded while the poll was active saying that the dining hall does not provide enough options.
"I really don't like what they've done with Marketplace! [It] used to be representative of [the College] with Tribe décor," one responder said. "The food they have there now is yummy, but is not sustainable for a dining hall. It's a ghost town and there is barely any food there."
Students have reached out to Auxiliary Services about the changes to campus dining. Before Marketplace's switch to accepting meal swipes, one student created a petition on social media in favor of Marketplace's return to the regular meal plan.
On Monday, Student Assembly President Colin Danly '15, Vice President Kendall Lorenzen '15 and Chief of Staff Drew Wilke '15 met with Dining Services and Auxiliary Services. The three SA members discussed the concerns that students have expressed on social media, such as the College's Overheard Facebook page. 
"[Dining] is such a large part of college life," Wilke said. "We needed to get on top of it right away."
Although the SA leaders brought with them some frustrations expressed by their peers, they felt the meeting went well. The Auxiliary Services department plans to create a dialogue between students on social media sites so they can quickly communicate with students. Wilke said the departments' leaders expressed appreciation for all the feedback they had received, and stressed that communication between their offices and the students is important.
"[The departments'] tone and communication channels were very positive," Wilke said. "The big takeaway for us is making sure communication continues."