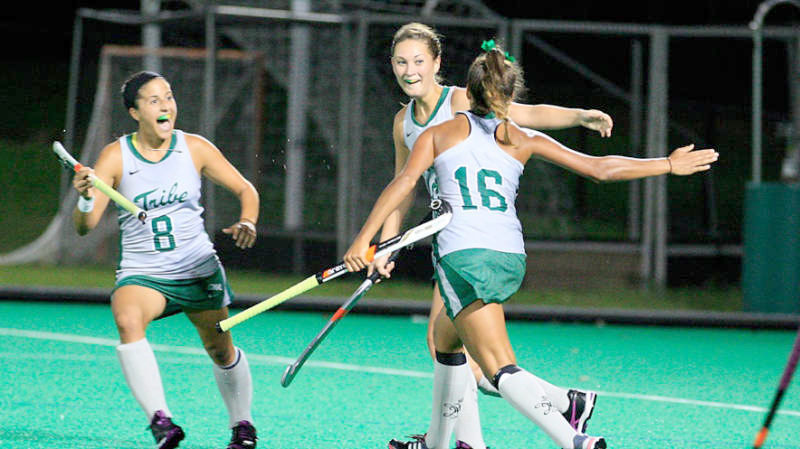 William and Mary fell at home to Rutgers, 3-2, last Friday before falling to No. 11 Louisville Sunday.
Rutgers gained an early advantage Friday, clocking two goals within the first 10 minutes of the opening period. The Tribe (1-5) answered with two consecutive goals of its own, the first courtesy of junior forward Pippin Saunders. After 18 minutes and 40 seconds of play, Saunders found the back of the net after a hard shot by senior midfielder Emma Clifton deflected off the post.
Eight minutes later, senior forward Lindsey Buckheit scored her first goal of the season and tied the game at two apiece, hitting the left boards after a pass from Saunders.
Less than five minutes later, the Scarlet Knights (4-1) were awarded a penalty stroke, which broke the tie and gave Rutgers a 3-2 lead. The Tribe couldn't respond before the end of the period, and efforts to level the scoreboard in the second proved futile.
The College outshot the Scarlet Knights 12 to 9. Rutgers goalkeeper Shevaun Hayes made eight saves during the game, while Tribe junior goalkeeper Meredith Savage totaled three.
Despite relatively even possession in the second period, neither team scored. While the teams didn't rack up points, both accumulated penalty cards. Rutgers totaled 3 green cards; the Tribe received a green card and a temporary suspension.
On Sunday, the Tribe led No. 11 Louisville throughout the first period before the Cardinals tied the game in the second. Louisville (5-1) went on to defeat the Tribe 4-3 in overtime
The Tribe dominated possession during the first 20 minutes of the game, shutting out the Cardinals in the first period. Freshman midfielder Emma MacLeod scored her first collegiate goal at the 18:48 mark. The Cardinals perked up their offensive play in response, but were unable to answer despite four shots on goal in the second half of the period.
However, Louisville broke through the College's defense at the beginning of the second period, tying the game with a penalty corner at the 41:55 mark. The Tribe gained the lead once again after redshirt senior defender Navneet Singh scored off of a penalty stroke.
The advantage, though, was short-lived. The Cardinals scored off of a penalty stroke just three minutes later, tying the game at two goals.
In the 61st minute, the Cardinals scored directly off of a corner, putting them in the lead for the first time. Less than a minute later, however, Saunders scored off of a breakaway to clinch another game-tying goal.
The competition spilled into overtime. After two unsuccessful shots on goal, the Cardinals finally capped off the game with Nicole Wood's deciding goal after 11 minutes of play.
The Tribe faces No. 17. Old Dominion Friday at 5:30 p.m. at Busch Field. The Tribe will play its first Colonial Athletic Association competitor next weekend when it hosts Towson.