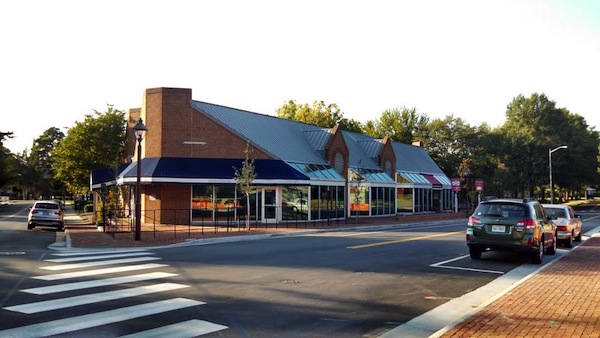 Aromas signed a 30-day lease to operate in Williamsburg's Triangle Building, located at the corner of Prince George Street and Armistead Avenue.
"This is a short lease to assist an existing business until they complete needed additional space at their current location," City Director of Economic Development Michelle DeWitt said in an email.
DeWitt added that the space will be used for food preparation and will not be open to the public.
The lease marks Aromas' third expansion since co-owners Don and Geri Pratt opened the Prince George Street location in 2000. After opening a location at Oyster Point in Newport News in June 2006, Aromas began operating at Earl Gregg Swem Library in August.
"It was an immediate necessity. The day the College [of William and Mary] came back into session it became absolutely clear that we needed to make some changes," Aromas Corporate Chef and Manager Dave Burchett said. "We literally over-doubled the production from this building. We're running two restaurants out of one kitchen."
According to Burchett, Aromas will use the Triangle Building as a preparatory space for its Swem location.
"Basically, we needed extra refrigeration and horizontal surfaces in order to prepare for meals at the College, at the new Swem location," Burchett said.
Space in the Williamsburg Redevelopment Housing Authority-owned building became available after the Jewish Mother entered default on its five-year lease agreement with the city Aug. 12. The city took possessionof both units, nearly 5,400 square feet, and began showing it to potential tenants. The Jewish Mother had opened the deli in one unit this spring before closing the entire space early this summer.
Originally slated for a grand opening March 1, The Jewish Mother owner Scotty Miller cited payroll and management as reasons for the restaurant's delayed opening in an August interview with the Williamsburg-Yorktown Daily. In the same interview, Miller said the restaurant was "dealing with the inspection process" regarding kitchen apparatus.
The Jewish Mother location in Norfolk, Jewish Mother Backstage, has closed, while the Virginia Beach location closed before reopening as The Jewish Mother and VB Taphouse in May.
While Aromas Triangle-Building is slated for a 30-day lease, DeWitt noted a clause where a new tenant could take over the space from Aromas.
"We are marketing both spaces to lease to tenants," DeWitt said. "The Aromas lease has a condition that they will vacate if we find another tenant."
For its part, Burchett said Aromas is actively seeking a more permanent solution. The Prince George Street location is 100 years old, Burchett said, and the building's age limits the possibility of in-house expansion or renovation.
"We are looking at other locations in order to expand. There's not a whole lot we can do here," Burchett said. "The Triangle location is temporary; it is on a 30-day lease. I think we have the ability to go further if we want to. A new location will be solely based on the needs of the College location."
The Triangle Building currently houses MAD about Chocolate. With Aromas filling the former Jewish Mother deli space, a third unit remains unoccupied. The building has not been fully occupied since 2011.