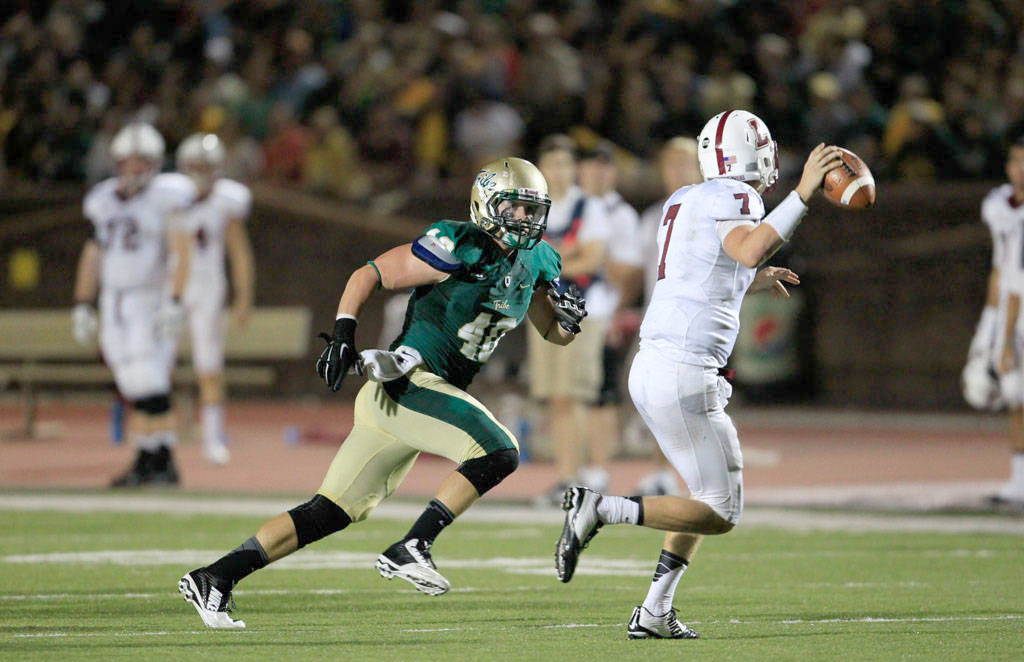 Two halves and two visions of William and Mary's potential future unfolded against Lafayette Saturday night: one fire-and-brimstone and the other pure bliss.
The No. 12 Tribe (3-1) sputtered to a 19-9 halftime deficit before a scintillating second half ended in an emphatic 33-19 victory. Two factors led to the turnaround and, while one was routine, the other was almost revolutionary. The College's long leaned-on defense suffocated the Leopards (1-2) in the second half, allowing 54 yards. Even more conspicuously, the Tribe quarterback definitively led his team to victory, an uncommon sight in recent program history.
"We know we're capable of being a great team," sophomore quarterback Steve Cluley said. "We went into the locker room and just basically said that. We're better than these guys. We got to come out and be more physical, be smart, and do our jobs. And we came out and did that."
Cluley achieved some success throwing in the first half, including a 73-yard bomb to senior wide receiver Tre McBride on the first possession. However, Cluley dominated the second half with his speed on the ground. The quarterback rushed for 111 yards, almost all of which came in the second half, to lead the Tribe's rushers. Cluley's 60-yard read-option run early in the third quarter led to a touchdown and a team with a very different attitude.
"They were giving it to us. I mean we probably should have done it in the first half," head coach Jimmye Laycock said of the read-option. "We had it in the game plan; it was part of the offense. We decided to just break it loose and go with it."
Sophomore running back Kendell Anderson, who received most of the handoffs Saturday due to junior Mikal Abdul-Saboor's concussion symptom-induced absence, nabbed his second touchdown of the game with a one-handed grab off a four-yard loft-pass from Cluley later in the third quarter. The score not only put the Tribe back within striking distance, 16-19, but also signaled a shift in momentum that carried through the rest of the contest.
Laycock and offensive coordinator Kevin Rogers gave Cluley the go-ahead to pick apart the Leopards' defense with his feet following the read-option's success. Cluley scored two rushing touchdowns during the final five and a half minutes of the third quarter, giving the College a comfortable 30-19 lead heading into the fourth.
With the offense clicking, the defense responded in kind in the second half. After giving up just six points to Lafayette last season, the Tribe surrendered 347 yards and gave up an average of 8.6 yards per carry in Saturday's first half. The second half was a different story. The defense allowed two first downs and 11 yards on 15 carries in the entire half. Senior defensive tackle Steve Sinnott and senior defensive end Mike Reilly both forced turnovers, and the Tribe recovered both.
"Whenever the offense is scoring, we can really rally around them," Reilly said. "We really love it. It gives us a little more fire on defense. Cluley had a great game out there, especially in the second half. I think he really grew up, and we really loved it."
Senior kicker John Carpenter tacked on three insurance points with a career best 49-yard field goal to put the Tribe up 33-19 with 8:10 remaining. Although the College continued to threaten, neither team scored again. The Tribe's victory sealed a successful non-conference slate that began with a 34-9 drubbing at Virginia Tech and ended with a three-game win streak over solid Football Championship Series opponents.
Abdul-Saboor wasn't the only Tribe player to miss the game due to injury. Senior outside linebacker Airek Green and senior tight end Bo Revell (out for the season), among others, were unable to suit up Saturday night, but Laycock praised his staff's work in spite of the injuries.
"Well, we were without our leading rusher, we were without our tight end, we were without left tackle, we were without our left guard, so yeah it was a little bit different," Laycock said. "And we were without a linebacker, and then our backup linebacker went down for a while, so then we put the third linebacker in there. We were patchwork in a lot of areas. I give the coaches a lot of credit for being able to hang in there, because that's tough to do when you got a lot of good players who aren't playing."
The College's Colonial Athletic Association schedule kicks off Saturday at Stony Brook (1-2), which is coming off a win over American International, its first win of the season. The game is scheduled to start at 6 p.m.