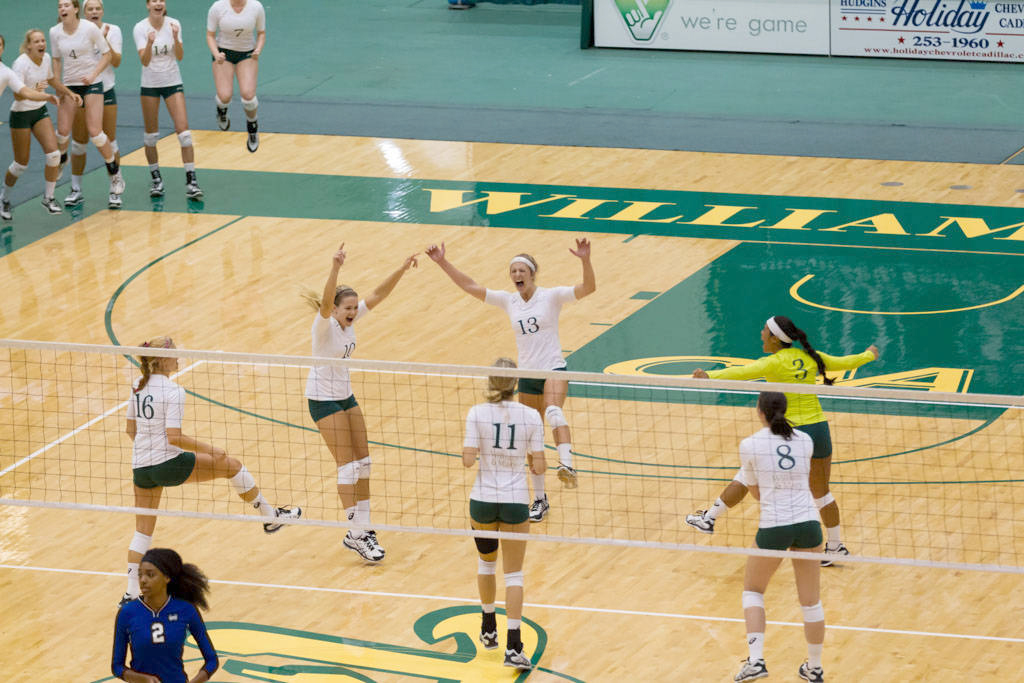 William and Mary dropped three consecutive matches at the Wolfpack Invitational in Raleigh, N.C. this weekend. The losses extend the College's losing skid to seven matches.
The Tribe (4-9) opened against Howard, falling 3-1 Friday night. Both North Carolina State and Coastal Carolina moved past the College Saturday, each winning 3-0.
Junior Mallory Brickerd led the Tribe against Howard (7-7) with 14 kills, seven of which came in the opening set.
After dropping the first set 27-25, the College rallied to a 25-23 second-set win. The Bison, though, won both the third (25-13) and fourth (25-21) set to seal the game.
Junior Dessi Koleva finished with 10 kills while junior Carolyn Albright led the Tribe's defensive effort with a team-high four blocks.
All told, the game saw 28 tie scores and 13 lead changes.
The College found less success against N.C. State (11-1) Saturday afternoon. Unlike the Howard match, the Wolfpack and the Tribe traded leads just three times.
Sophomore Gabrielle Pe recorded eight digs and two assists in the effort, while freshman Austyn Ames logged nine assists, four digs, two kills and a block. Less effective than she was against Howard, Brickerd still managed six kills and five digs while Koleva added a team-high seven kills and five digs.
Having dropped the first two matches, the College entered Saturday's contest against Coastal Carolina (6-8) with a chance to secure a win in the last match of the season's longest road trip. Coastal Carolina, though, downed the Tribe in three sets.
Brickered again led the College, this time with seven kills alongside an ace and a block. Koleva chipped in six kills and a block while freshman Sara Zumbach led the defensive effort with seven digs.
After four tied scores and three lead changes in the opening set, the Tribe failed to amount much resistance thereafter. Coastal Carolina cruised to a first set victory (25-12) before claiming both the second (25-15) and third (25-14) sets.
The College's cumulative offensive statistics fell with the results, as the Tribe currently outperforms opponents in only one category — serve percentage (.910 to opponent's .889). Defensively the Tribe leads opponents in solo blocks (22 to opponent's 10), block assists (160 to opponent's 142), total blocks (2.1 to opponent's 1.7) and blocks per set (2.1 to opponent's 1.7).
The College returns to action Tuesday, hosting in-state rival Virginia Commonwealth. The match is set for 7 p.m. at Kaplan Arena.