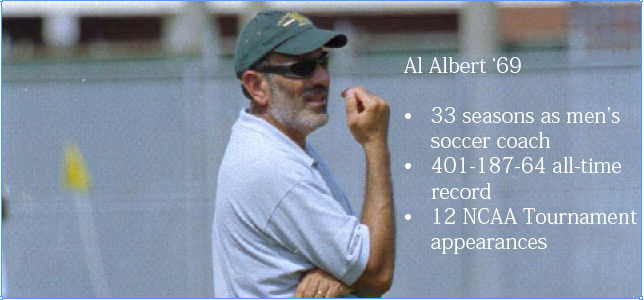 Longtime head coach and current associate director for development Al Albert '69 added yet another honor to his storied career as he was inducted into the Hampton Roads Sports Hall of Fame Tuesday night. Albert's induction ceremony took place at the Norfolk Scope in Norfolk, Va.
Albert played during the soccer program's transition from club to the varsity level before returning to the school as an assistant lacrosse coach. In 1972, Albert began his tenure as men's soccer head coach.
Albert finished a 33-year career with a 401-187-64 all-time record, including 12 National Collegiate Athletic Association Tournament appearances. Albert was the eighth head coach to win more than 400 matches in NCAA history.
Outside of the College, Albert worked as co-founder of the Virginia Legacy Soccer Club and Tidewater Soccer Camps. He has also served as the president of the National Soccer Coaches Association of America.