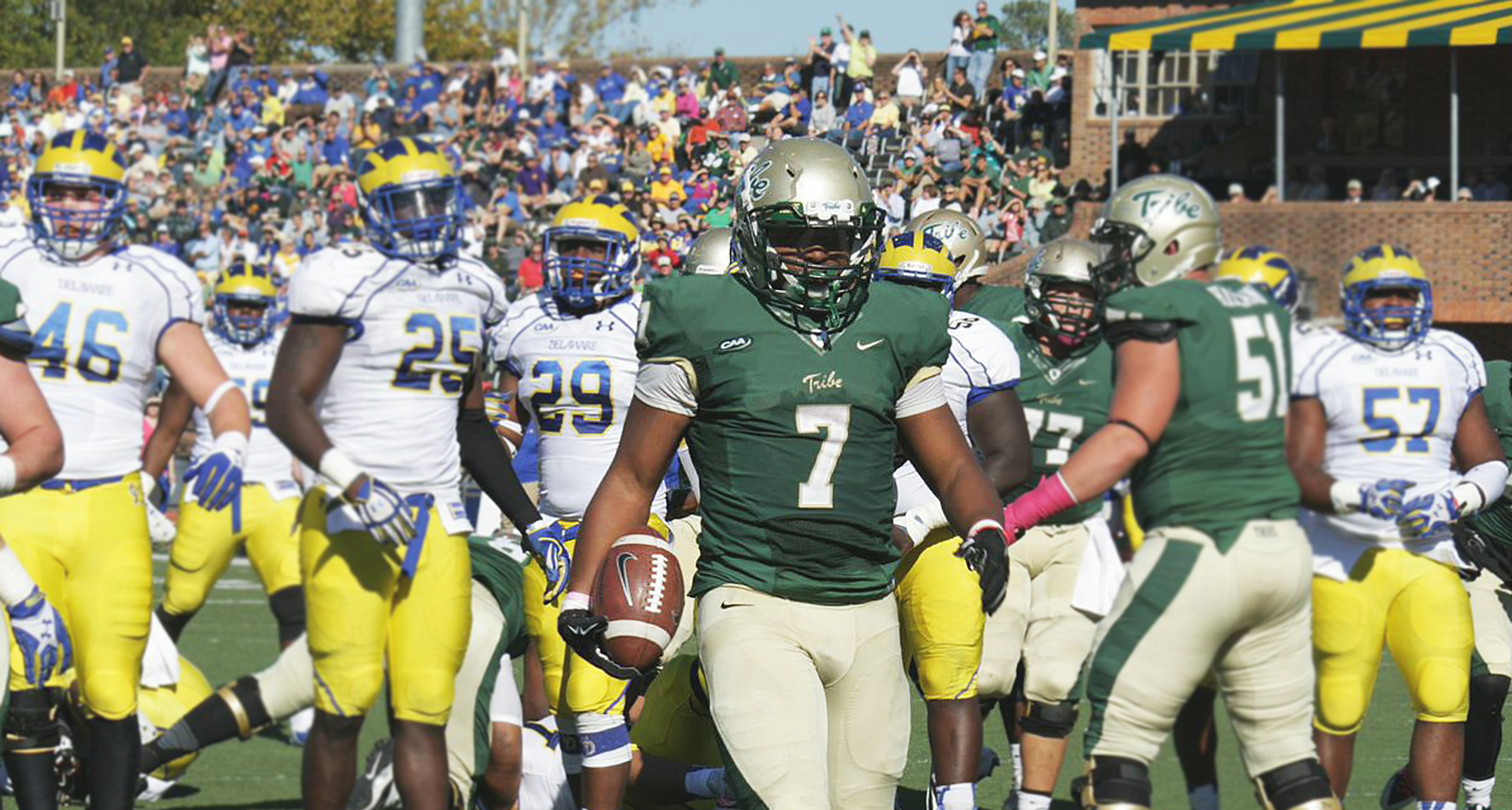 While William and Mary's offensive output didn't change much, the outcome certainly did. After last week's dramatic 35-31 Homecoming loss to Villanova, the Tribe again put up 31 points, but this time came out with the win, downing Delaware 31-17.
Junior running back Mikal Abdul-Saboor led the way, racking up 198 rushing yards on 37 carries, both career highs, and tacking on two touchdowns. Abdul-Saboor's efforts vaulted him to No. 7 on the College's all-time single-game rushing list.
Head coach Jimmye Laycock praised Abdul-Saboor's performance, commenting on the running back's ability to get to the second level of defense.
"When the safeties are tackling you, that's usually a good thing," Laycock said. "They're the last line. He really has great vision, he has a great feel as far as change-of-pace running. He can slow down, let something develop and then speed up and take it when he sees the crease."
The Tribe (5-3, 2-2 CAA) impressed defensively as well, holding the Blue Hens to 17 points. While the Tribe did give up 364 yards of offense, it turned back Delaware on six of its nine third-down attempts, forced four punts, and created two turnovers.
Delaware (4-4, 2-2 CAA) earned the game's first scoring opportunity, facing a crucial fourth-and-eleven on their second drive of the game. Junior defensive tackle Tyler Claytor burst through the line and sacked Delaware quarterback Trent Hurley to end the threat, his first of two-and-a-half sacks, forcing a turnover on downs.
After Abdul-Saboor's touchdown put the Tribe up by 10 with eight-and-a-half minutes left to play in the third quarter, the defense came up with another big play. Junior cornerback DeAndre Houston-Carson picked off a deep lob down the right sideline, giving the Tribe possession and an opportunity to put the game out of reach.
"Perfect technique, perfect fundamentals the way he turned back in to grab it," Laycock said.
It was Houston-Carson's third interception of the season, which leads the team. Houston-Carson also recorded a blocked punt— his third blocked kick of the season — also a team-high.
"Coach Clark does a good job drawing up different schemes that are going to confuse the other teams on special teams, and that's really all it is," Houston-Carson said. "The opportunity presents itself and I just try to do what they teach us to do in practice."
The Tribe also enjoyed a strong performance from redshirt freshman kicker and punter Nick Dorka. After an undisclosed injury to kicker John Carpenter — who had also been filling in at punter — Dorka was forced into action and didn't waste the chance. Three minutes into the first quarter, Dorka lined up for his first career punt, a booming 63-yarder.
"I just wanted to set the tone," Dorka said. "It was our first special teams play. I had a lot of room so I said, 'Just stick to your routine.' It was a good snap, I caught it well, and I wanted to pin them deep."
Dorka finished with five punts for an average of 48.8 yards, in addition to a 36-yard field goal and four extra points.
At the end of the day, however, the Tribe offense won the day. After a scoreless first quarter and only 121 yards of offense at halftime, the College exploded in the second half. With consecutive touchdown drives of 66, 94 and 74 yards, the Tribe put the win out of Delaware's reach.
The Tribe's game plan primarily revolved around the run game, and it showed in the time of possession. Despite actually gaining two fewer yards than Delaware, the Tribe held onto the ball for 37 minutes, as opposed to Delaware's 23.
The College gained 245 rushing yards on 56 carries, and sophomore quarterback Steve Cluley finished 11 of 17 for 117 yards and a touchdown.
The win keeps the Tribe in playoff contention, though any missteps in remaining conference play could be fatal.
The College's next game is against James Madison Saturday in Harrisonburg, Va. Kickoff is scheduled for 3:30 p.m.