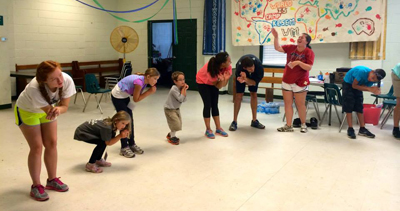 Bonfires and sing-alongs may be taken for granted at a typical summer camp, but for kids who attended Camp Kesem at the College of William and Mary this past August, those seemingly banal camp experiences provided a much-needed break from the stress of living with a parent diagnosed with cancer.
The National Camp Kesem Organization began at Stanford in 2000 to support children ages six to 16 who have parents suffering from cancer. Participation has grown every year following its creation; new chapters are being created at universities across the country and the College opened its very own chapter during the last school year.
Camp director Marge Lobeck '15 got the idea to bring Camp Kesem to the College from her brother, a camp counselor at George Washington University.
"He told me it was one of the most incredible experiences he's ever had and that I should look into starting [a chapter] here," Lobeck said. "So I found out about this Livestrong grant, filled out the entire application, and then it went to a month-long voting campaign. I found out a week before finals that we had won the grant. It was $10,000."
What followed was a yearlong planning and fundraising process for the first camp session, which took place this summer. According to PR and Marketing chair for the College's chapter Ian Kirkwood '16, each chapter must set and meet a fundraising goal in order to host camp.
"Last year we set a modest fundraising goal of $30,000," Kirkwood said. "We got all this momentum going and ended up achieving and surpassing our fundraising goal by January, which is a national record for Camp Kesem. They stopped announcing how much money we had because it just got ridiculous."
Operations Coordinator chair Devon Oberle '15 oversaw the planning of camp activities and logistics. For her, the final product went even better than expected.
"It was a really empowering week, we put in a ton of work, and I thought it was going to go well but it was truly unbelievable," Oberle said.
The camp itself is organized around the idea that kids enduring the hardship of having a parent diagnosed with cancer need a place to just have fun. Campers spend their days participating in a range of regular summer camp activities from arts and crafts to nature and adventure.
Camp co-director Kendall VanHoose '16 said the camp's mission is to provide the kids with a normal camp experience.
"The main purpose of Camp Kesem is to give these kids a chance to be kids. We are college students, not therapists, and camp is not therapy," VanHoose said. "The activities are what you would typically think of at an overnight summer camp."
Despite not providing therapy, Kesem does provide an important support system for its campers. During the summer this includes "Cabin Chats," where campers can open up and talk about whatever is on their minds, as well as an Empowerment Ceremony that provides an opportunity for campers to share their personal experiences with cancer.
"The only time at camp that we do address cancer directly is the empowerment ceremony," VanHoose said. "Almost all of the kids end up sharing their experiences with what they're going through and how it's impacted them. It was incredible to watch their faces light up when they saw someone else understood."
"I can say personally that I look up to every single one of them. They are stronger than I am."
According to Lobeck, even after camp has ended, the counselors and campers remain in touch, providing a support system for these kids year round.
"Two of our campers just had their moms pass away so we went to their funerals, sent them cards, took them out for ice cream, just to make sure they're getting as much support as possible," Lobeck said.
The support is not one-sided, either. VanHoose said that having seen the personal strength of the campers, she came away from the experience with a new set of role models.
"The typical counselor and camper relationship is one where the counselor is a role model for these kids, but I think most of us came away from it finding role models in the kids themselves," VanHoose said. "I can say personally that I look up to every single one of them. They are stronger than I am."
Now heading into its second year, the College's chapter is already planning fundraising and PR events for the upcoming months. "Krazy Kesem" week, a national awareness campaign, will be held Dec. 1-5, and an information table will be available on the Sadler Terrace every Friday for the rest of the year.
"We are looking for freshman and sophomores to get involved," Kirkwood said. "We need young blood."