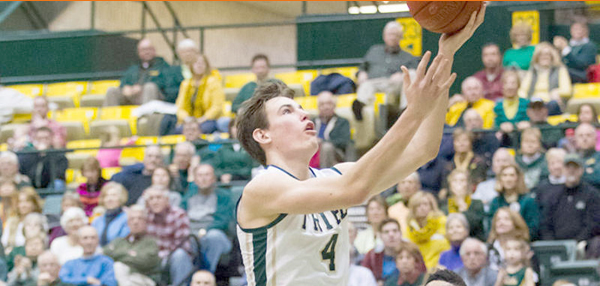 A win that once looked easy turned into a struggle, and head coach Tony Shaver felt the strain of his team's sometimes-sloppy 56-49 victory over Howard.
"These guys are trying to make me old. I know that," Shaver said. "But [it's] a win, a good win. It's tough to win in college basketball at this level, so we're certainly happy about that."
The Tribe dominated the game's first half, going into the locker room with a 33-16 advantage. Senior guard Marcus Thornton's fast-break dunk with 8:31 left in the half capped off a 20-2 run which rang home the beginning of basketball at Kaplan Arena this season.
Howard clawed back into the competition in the second half, outscoring the Tribe 33-23. Bison guard James Daniel led the charge with 16 points through the final frame, exploiting the Tribe's slow zone defense.
Up six points with just over two minutes remaining, sophomore guard Omar Prewitt silenced the Bisons' 5-0 run with a long three-pointer to reassert the Tribe's commanding lead. Eventually Howard's comeback ran out of time, and it was forced to send Thornton to the free-throw line down five with 19 seconds left. Thornton calmly sank both attempts to end the Tribe's up-and-down home opener.
After missing Friday's opener at Florida with an ankle injury, junior forward Terry Tarpey started Tuesday night and looked as good as ever over 35 minutes of action, filling the stat sheet. Tarpey managed 12 rebounds, seven points, seven assists, two blocks and a steal.
"It felt good," Tarpey said. "I took really good care of my ankle to make sure I'd be ready for the home opener. And I was just trying to make the offense flow. That was a key point of practice, just be execution-driven."
"These guys are trying to make me old. I know that," Shaver said. "But [it's] a win, a good win. It's tough to win in college basketball at this level, so we're certainly happy about that."
Thornton struggled with his shooting for most of the night, hitting just four of his 14 shots from the field while playing nearly the whole game. Thornton's lackluster shooting against Howard follows his 3-11 performance at Florida, though he finished with double-digit scoring in both matchups.
"It wasn't great," Thornton said. "I didn't shoot the ball too well. But I was thought I was a good leader out there, keeping our team poised in tough situations."
The College's first half was easy. The team allowed just 16 points while forcing the Bisons into shooting just 20 percent from the field. Switching between a 3-2 matchup zone and man-to-man, the Tribe's defense frustrated Howard and forced 11 turnovers, several of which led to points on the other end.
The second half was a different story for the Tribe. Thornton described his team's second half struggles after the game.
"It was a little bit on both ends," Thornton said. "Our offense got a little stagnant. We were moving the ball well in the first half, but their pressure kind of took us out of what we were doing offensively. And defensively, we just let them get too many layups and offensive rebounds. There were some things we need to clean up on both sides of the ball. But we figured it out and got it done."
Shaver switched between junior Sean Sheldon and freshman Jack Whitman in the center spot during the game, with Sheldon taking the majority of the minutes. Facing Howard's taller and broader big men, Sheldon finished with eight points and three rebounds in 27 minutes, while Whitman had six points and two rebounds. The Bisons finished with a 35-31 advantage on the boards.
Coming off his breakout freshman campaign, Prewitt's first two games have dispelled fears of a sophomore slump. After leading the team with 15 points in Gainesville, Prewitt carried his team's offense from beyond the arc. His 12 points came entirely off a 4-7 three-point shooting mark.
Sophomore guard Daniel Dixon, freshman guard Mike Schlotman and freshman guard Greg Malinowski rounded out Shaver's eight-man rotation for the night. The Tribe returns to Kaplan Arena Thursday for a matchup against Bluefield College. Tip-off is set for 7 p.m.