Binns Fashion Shop may be Williamsburg's best-kept secret. It sits there, tucked away on the north side of Duke of Gloucester Street, quietly home to some of Williamsburg's most interesting fashion, jewelry and rare collectible treasures.
Founded in 1926 by Bella Binns, Binns Fashion Shop has been in Williamsburg for almost 90 years. The 22,000 square foot boutique has been a family establishment for most of its existence; today it is owned by siblings Kimberly Jones and Thomas Smith.
"Originally we started out in the '20s, when girls dressed a lot more formally at the College, and needed things like white gloves for dances," Smith said. "We've helped multiple generations from the start. We're constantly changing and evolving."
Binns serves a large variety of modern fashion needs, including formal wear, sportswear, shoes, jewelry, cosmetics and other accessories. Binns' entire first floor is filled with varied merchandise, featuring designer collections by Versace, Valentino and Kate Spade, and products by Clinique, Chanel, Estee Lauder and many more.
"We're constantly trying to find new lines," Smith said. "We really want that high quality, but a good value for the money. The merchandise is constantly changing."
Binns prides itself on its extensive and latest-trend collection of merchandise from around the globe. Jones and Smith work with fellow associate buyers, such as Mary Alleva, to hand-pick merchandise.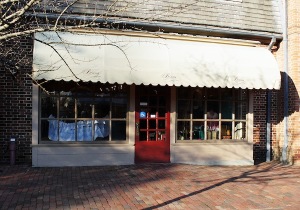 "Tom and Kim go and hand-select all of our handbags, some from as far as Italy," Alleva said. "They select the colors and styles, see what are the latest trends, and they bring them back to us so we are ahead of the game."
Binns also offers its customers the ability to customize certain special occasion dresses. Customers can see a dress on the rack and order it with additions or adjustments, from requesting a new color or an adjusted hemline to adding an accessory.
"We're really known for special occasions," Smith said. "People drive from all over. A lot of the time, that's how a girl gets to know us. Younger girls don't really know how to approach the store. They're intimidated. But sometimes, with a gown or a dress, it gets her into the store — that, and shoes and cosmetics. Those three categories are easy for all ages to understand."
Binns works hard to not just provide excellent service to their customers, but also to develop customer relationships that last a lifetime. Tracy Smith, a new employee of Binns since October 2014, began as a regular customer.
"I have been shopping here for a number of years," she said. "And now I'm on the sales side of it and I'm enjoying it very much. The people here are wonderful to work with."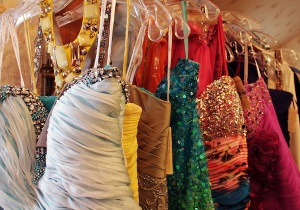 The downstairs of Binns is expansive enough, but what few customers realize is the magnitude of Binns' second floor. The upstairs of Binns is home to its renowned Gift Gallery, which is an entire floor filled with valuable finds from across the globe.
Among the hidden treasures upstairs is an extensive porcelain collection. Binns carries several collections of Meissen porcelain, the company responsible for creating the original recipe for white porcelain. The centerpiece of the collection is a massive, white Meissen porcelain peacock, one of only five in existence. The Binns' piece remains the only one in the United States.
Binns also has a close working relationship with Tatiana Faberge, the great-granddaughter of Peter Carl Faberge, the creator of the renowned Faberge Egg. Smith is in charge of Tatiana Faberge's affairs in the United States, and because of this, Binns features several pieces of Faberge merchandise, in addition to being the sole distributor of Faberge's book. The close relationship between Smith and Faberge often results in book signings and visits to Binns when Faberge is in the United States.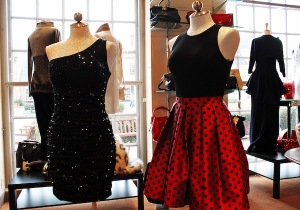 The Gift Galley also features the Angel Tree, a reproduction of the Christmas tree on display in the Metropolitan Museum of Art which is decorated every year with more than 200 18th-century Neapolitan creche angel figures. Smith worked closely with the donator of the museum's Angel Tree and, consequently, Binns is the only retailer in the world granted the rights to resell reproductions of the angel figure decorations. The figurines, which have been featured in magazines such as National Geographic, are hand-crafted and free-sculpted in Binns by artisans flown in from Italy. Only 60 figurines can be made per year and fetch prices as high as $4,000.
While Binns certainly has several pieces of considerable value, Smith emphasizes that there is something for every budget, whether that includes a desire for high-class porcelain, a dress for a special occasion, or simply a new tube of your favorite Clinique mascara.
"We have all price ranges," Smith said. "When we have a sale, it's often cheaper than the outlet malls. Sometimes, I don't think some of the younger girls think they could come in, when they actually could. Don't be intimidated. We're here to help."
It would be impossible to consider Binns without also considering its prime location. The boutique attributes much of its success to its D.o.G. Street location and is grateful for the advantages it has received from being next to Colonial Williamsburg.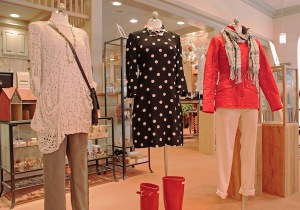 "It has always worked to our advantage in terms of the prestige of the street and the building itself," Smith said. "It's one of the prettiest buildings in Williamsburg."
In addition to having close ties to the College of William and Mary — Smith and Jones both attended the university — the College is also key in the boutique's sales strategy. Binns works to continually provide services and merchandise that is relevant to college women.
"Especially with interviewing, we are good with helping you to look the way you want to for job interviews," Smith said. "A lot of young women that are just graduating, they don't think about that early on, and then all of a sudden, they're ready to start interviewing. We're a good place to help you figure out the right look and attitude."