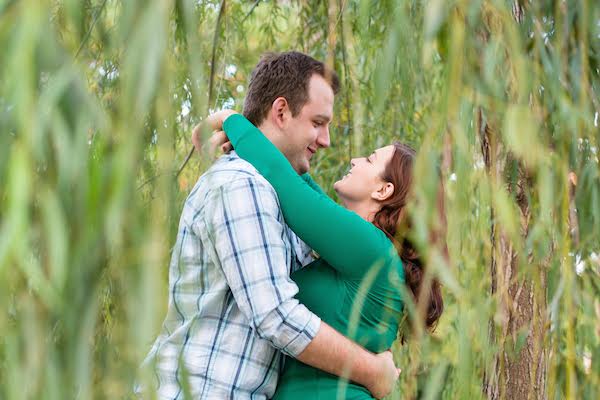 May's graduation ceremony is not the only event Karen Kimberlin '15 and graduate Joshua Risinger '14 are anxiously awaiting. Come May 30, the two will wed at the Sir Christopher Wren building, fulfilling an engagement made at opening convocation almost two years prior.
"We met in high school through a [Chrysalis] retreat kind of thing, like a Jesus retreat," Kimberlin said. "We both had the same job but for the different genders, so I was the boss of the girls and he was [the] leader of the guys."
Following their initial meeting at the retreat, Risinger discovered that both were attending Northern Virginia Community College, and he sought out Kimberlin on the first day of classes.
"I had seen [Karen's best friend] in one of the buildings later, and I said, 'Hey, do you know where Karen is?' … She told me where [Karen] was and I was like, 'Oh, I might walk by,'" Risinger said. "I was going to my car [after] I chickened out, but then I [saw] her walking out of one of the other buildings and I'm like, 'I guess this is a chance to get to talk to her again.'"
Through this interaction, the two became friends and eventually began a romantic relationship.
According to Kimberlin, there were signs of romantic interest during their time at Chrysalis that hinted Risinger was the one.
"When we did the Chrysalis walk, I got all of the signs because we both had the same job, [and] we both had this talk where you get up and talk about – it's now called Christian Action, but for our weekend they called it the 'love talk,'" Kimberlin said. "I liked everything about him. He was so friendly and funny, and he pulled practical jokes [but] he didn't [exempt] me from any practical jokes."
On Aug. 21, 2013, while Kimberlin was preparing for opening convocation, Risinger was preparing for his proposal.
Risinger transferred to the College one year before Kimberlin. The couple had since talked about the possibility of engagement and the idea of marriage.
"I had a list of rules for if I was going to propose," Risinger said. "Either both of our parents [had] to be there or neither of our parents [could] be there, [we had] to dress nice, and [I had] ask her parents for permission."
On Aug. 21, 2013, while Kimberlin was preparing for opening convocation, Risinger was preparing for his proposal.
"When she transferred in as a junior she was having opening convocation, and [I knew] that opening convocation you usually dress-up," Risinger said. "And so that was my toughest thing … to get her dressed-up without tipping her off that there might be something happening."
Although it was lightly drizzling, Risinger was determined to bring Kimberlin to the Crim Dell for his proposal.
"And we get there and we walk to the top and I say, 'Today is the beginning of your journey at William and Mary, and I want it to be the beginning of the journey for the rest of our lives,' and then [as] I'm saying this, I'm getting down on one knee," Risinger said.
"It was cinematic," Kimberlin said.
Since the proposal, both have been approached with questions concerning their engagement and marriage at a young age.
"There [have] been a lot of people who have asked me, 'Don't you think that's kind of a rash decision?' or 'You guys are so young, you have your whole lives to look forward to for marriage,' but it's kind of like when you meet someone and you just know that there's no one you would rather spend the rest of your life with," Kimberlin said.
Risinger also added that the couple doesn't want to wait too much longer to marry, as they are looking forward to spending the rest of their lives together.
"I don't think that there is a rule that can say, 'If you're not married by this time you're wrong,' or 'If you get married this young you're wrong,'" Risinger said. "I think that for us it just worked out, and it's something we don't want to wait too much longer [for] after graduation."
Kimberlin believes that marriage won't always lead to happiness — instead, she thinks happiness in marriage depends on the couple's style.
"We are very into the idea of marriage and the commitment it creates between two people, so it doesn't scare us," Kimberlin said. "What would be the point in waiting when you can have all this happiness now?"