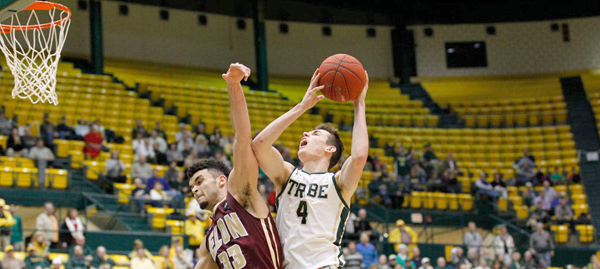 The halftime stat sheet could have told a different story for William and Mary. The College was 4 of 13 from three, senior guard Marcus Thornton had just six points, junior forward Terry Tarpey had two points, and sophomore guard Daniel Dixon was out.
Oddly, it all added up to a 42-23 halftime advantage that presaged a 77-58 victory over visiting Elon and underscored the team's multifaceted attack.
"It was a great conference win," head coach Tony Shaver said. "I thought we played really well. I thought defensively, the first half was terrific. That was the key to the ballgame."
The rout belied the principal narrative coming into the game — revenge. The Tribe (16-8, 10-3 CAA) had fallen to the Phoenix (11-15, 3-10 CAA) in a contentious road matchup that showcased Elon guards Tanner Samson and Elijah Bryant's skills just a month ago. The two combined for 45 points, leading Elon to an 85-79 win.
The Tribe's defensive progression and coaching acumen was on full display Wednesday night, though, as the College limited the Samson and Bryant to 17 total points. That's without the services of Dixon, one of the Tribe's best defenders.
Shaver's consistent emphasis on defense has paid off in spades recently. After surrendering just 53 to North Carolina-Wilmington Saturday, the Tribe kept a Colonial Athletic Association opponent to less than 60 points for the fourth time this season.
"It was a great conference win," head coach Tony Shaver said. "I thought we played really well. I thought defensively, the first half was terrific. That was the key to the ballgame."
The College wreaked havoc in its 2-3 set early, reaping eight turnovers over the first 20 minutes and jumpstarting the offense. Freshman forward Oliver Tot received the majority of Dixon's minutes and, though it didn't show in his stat-line, made key defensive contributions. Freshman guards Greg Malinowski and Connor Burchfield each hit two three-point conversions to help shore up the Dixon's missing offensive output.
"We certainly missed Daniel," Shaver said. "You don't just take one of your best players off the court and not miss a beat, and that's what's impressed me about this team. We lost Sean Sheldon for two or three games. Tom Schalk emerged. Jack Whitman played really well. Tonight we had to do it by committee, because we knew we didn't have one player to take Daniel's spot. I thought the play of that committee was really impressive."
Sophomore guard Omar Prewitt scored 18 of his 19 overall points in the first half, igniting the Kaplan crowd. Prewitt exploited Elon's late rollovers off screens for two entertaining three-point plays.
"I just saw open driving lanes," Prewitt said. "And I cooled off really quick in the second half, so that just shows our team's balance. It's great having guys like Sean and Marcus. If I'm not shooting well, they're there to pick it up."
With the Tribe's trademark shooting hampered early, inside production took its place. Junior forward Sean Sheldon recorded the first double-double of his career with 11 points and 10 rebounds.
Senior forward Tom Schalk contributed six points, four rebounds and three blocks over 17 minutes. Schalk's numbers have steadily climbed over the past few weeks at the expense of freshman forward Jack Whitman, who has played sparingly.
The Phoenix had a strong start to the second half, going 8-3 in the first four minutes. Thornton then cast aside a shooting slump to bury Elon. Whether he was whirling past his defender on the block or hitting step-back threes in opponents' faces, Thornton overwhelmed Elon's defense. Thornton's 17 points put him just 64 behind the all-time school record. Given his recent play, Thornton is on pace to break the record Feb. 25 at home against Towson.
Dixon's absence Wednesday was due to a hamstring injury sustained in a workout. Shaver said he would likely be out for at least two weeks, but the injury probably isn't season-ending.
The Tribe faces Delaware at home Saturday in a rematch of last year's classic CAA Tournament final. Tipoff is set for 2:30 p.m.
Fans remember the game that Delaware stole a season ago. Now, with NBC Sports Network providing national television coverage, William and Mary hosts Delaware in a rematch of the 2014 Colonial Athletic Association Championship Game Saturday.
The College's athletic department announced promotions ahead of the contest Thursday. The first 3,000 fans receive a Tribe rally towel, and Tribe Athletics will give away an additional 800 shirts during the contest. The first 100 students will also be offered access to the stage behind the north basket.
Local-area residents will enjoy Scout Day, an event where Boy Scouts and Girls Scouts in uniform receive free admission while parents and siblings get a discount.
The promotions come after the Gold Rush Game drew just over 5,000 students to a win over then top-ranked Northeastern. The crowd was the largest in the last five years.
— Flat Hat Sports Editor Chris Weber