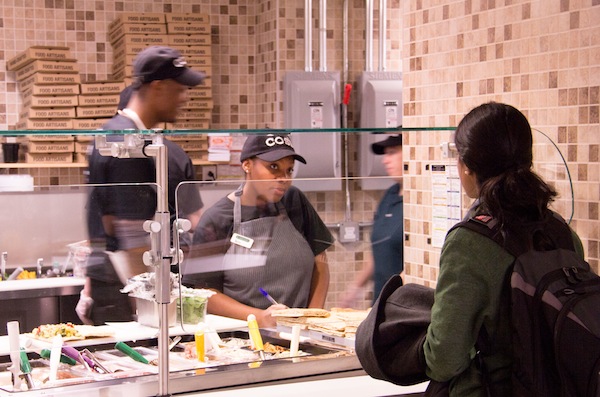 Cosi's opening at the start of the spring semester marked the first time students could walk through Lodge 1 in months. Since then, hundreds of students have stopped to eat at the new campus restaurant.
According to Director of Auxiliary Services Cindy Glavas, Cosi has served an average of between 400-425 customers a day, Monday through Friday, and 200 customers on weekends.
Resident District Manager Jeff McClure reports the majority of customers come in to Cosi for lunch and dinner, with lunch being slightly more popular. McClure reports that on an average day about 275 students come to Cosi for lunch, between 100-125 come for dinner, and 20-25 come for breakfast.
"We're hoping our squagels will catch on," Glavas said.
At this point, Cosi's profit has reached a break-even sum from their opening in January. McClure stated that Cosi expended about $1,000 within the first four weeks of the year for additional training and maintenance fees. He said he anticipates the warmer weather will help the café, as students will be able to eat their food outside instead of vying for one of the limited tables in Lodge 1.
"The weather has really hurt us," McClure said. "When it gets nicer out, it'll pick up."
Over spring break, Dining Services worked on enhancing Cosi's appearance. Construction began on an additional set of doors leading from Lodge 1 to the Sadler Terrace. Additional signage also started to go up around the restaurant.
Cosi is scheduled to launch a catering program, which will be an option for student groups and departments at the College. The catering is scheduled to begin soon.
"Feedback has been very positive," Glavas said. "We're not done yet."
Rachael Muscatello '15 goes to Cosi about four times a week. She, like many of the other students who visit Cosi, visits primarily during weekday hours. Her favorite menu items are the pesto chicken melt and the fresh mozzarella and tomato sandwich, two choices that Glavas said were amongst the most popular menu items.
"I really like it," Muscatello said. "They can be really slow some days, though. The decor is terrible. You can't blame Cosi for that, but I hate it. It's really sterile."
Lodge 1 was refurbished with new walls and flooring when Cosi moved into the space. According to Glavas, Dining Services is working on brightening the area. In addition to more signs, Cosi will also feature artwork on the walls. Galvas also said that booth seating will be installed by mid-April.
One complaint Dining Services has received from several students is that their orders at Cosi have been fulfilled incorrectly. To help address this problem, McClure said workers will be instituting a new system of reading orders back to students to ensure they have not missed special requests.
"Training is ongoing. We have to continuously work at it," McClure said. "I think, overall, students have been pretty happy with us."