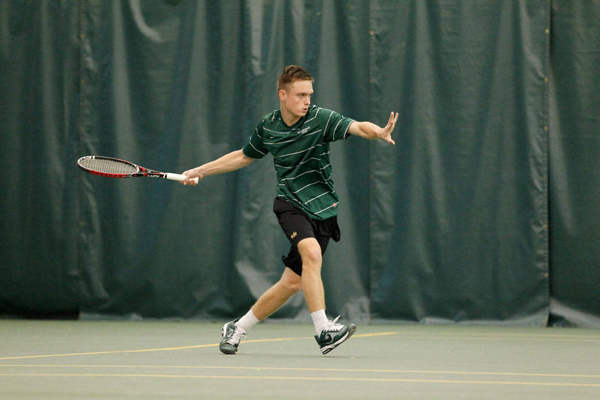 William and Mary faced off against Campbell at the Millie West Tennis Facility Wednesday, ultimately falling to the Camels (9-7, 3-1 Big South) by a tight 4-3 decision.
The Tribe (12-10, 1-0 CAA) began the event by winning the doubles point for an early 1-0 lead. Sophomore Addison Appleby and freshman Lars de Boer paired up for just the second time overall and their first time together at the No. 1 spot on the season. The duo defeated Campbell's Adrien Rissignon and Marthinus Visser 6-4. At the No. 3 spot, freshman Christian Cargill and sophomore Damon Niquet won their game, earning a 6-3 victory over the Camels' Steven Billington and Nicolas Ratkin.
Senior Aaron Chaffee and junior Scott Huang led Campbell 5-4 at the No. 2 spot, but the game ended prematurely as the Tribe had already won the doubles point for the day.
Though the College dominated in doubles, it struggled in all but two of the singles games. The matches began with No. 5 Lars de Boer winning definitively 6-1, 6-1 over Campbell's Rissignon to bring the Tribe to a 2-0 advantage and de Boer's season record to 16-10. The No. 2 matchup finished next as Niquet fell 6-1, 6-3 to give Campbell its first point.
Cargill, who leads the Tribe with 17 singles wins, took the point at the No. 1 spot, defeating Billington again 6-3, 6-2. His victory sent the Tribe ahead 3-1, but it would be the last point the College would receive in the match.
In the last three singles games, the Camels swept the Tribe. Huang fell in a tiebreaker at No. 4 to Campbell's Jonathan O'Neal 7-6 (1), 7-6 (4). This loss was followed by Appleby's defeat in a three-set game at No. 3 as the Camels' Lukas Schaefer won by a score of 1-6, 7-5, 6-3. Schaefer's win brought the match to 3-3, leaving the No. 6 singles game to decide the competition.
Freshman Alec Miller took on Visser at the No. 6 spot. Visser, looking for revenge on the Tribe for his doubles loss at No. 1 earlier in the day, took the first set in a tiebreaker 7-6 (8). Miller forced a third set by taking the second 6-1. Visser then came close to sweeping the third set, taking it 6-2 to take the final singles point and sealing the Tribe's 4-3 loss.
Next week, the College takes to the road for a matchup in Charlottesville, Va., to take on the Virginia Cavaliers April 4 at 1 p.m. After U. Va, the Tribe has two home matches before hosting the Colonial Athletic Association Championship. The conference finals are slated to begin April 16.