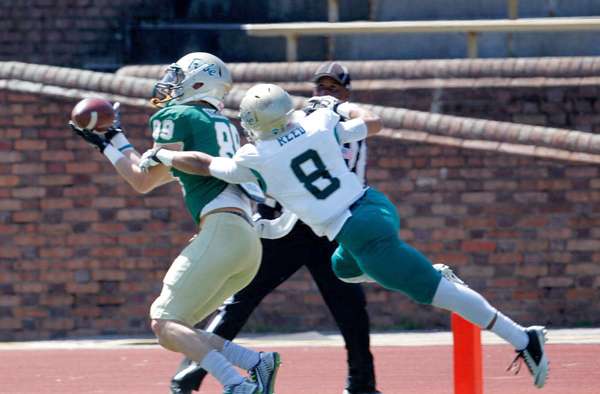 Amidst the renovations of Zable Stadium, William and Mary football returned Saturday afternoon with the annual Green and Gold Game that marks the end of the Tribe's spring practices.
Last season, the College concluded the regular season schedule with a 7-5 overall record and a 4-4 record in Colonial Athletic Association games, once again missing the Football Championship Subdivision playoffs after falling to rival Richmond 34-20 in the season finale Nov. 22. Several key members of the team from both the offense and defense will be gone in the fall after graduating this spring, including 2014 All-CAA First Team wideout Tre McBride and 2014 CAA Defensive Player of the Year defensive end Mike Reilly, as well as 15 other seniors, many of whom were starters.
"We have a lot of guys that we've been looking at that need to get better and we wanted to give them some opportunities today, and I thought we did and they played pretty well," head coach Jimmye Laycock '70 said.
With a lot of talent leaving the program, Saturday's scrimmage featured some new faces. Veterans such as junior quarterback Steve Cluley and senior running back Mikal Abdul-Saboor had limited play during the game in order to showcase the abilities of players less accustomed to actual gameplay.
"We have a lot of guys that we've been looking at that need to get better and we wanted to give them some opportunities today, and I thought we did and they played pretty well," head coach Jimmye Laycock '70 said.
At the quarterback position, the Tribe alternated between Cluley, junior Frank Brown, freshman Tommy McKee, and sophomore Jhalil Mosley. Although Cluley was the day's dominant quarterback and remains the likely starter in the fall, the other quarterbacks showed potential. Mosley, who has been hurt for the majority of his collegiate career, was able to make a couple of good passing plays but was also inaccurate in a fair amount of his mid-range passes. Brown and McKee both had decent drives during the game, but Cluley shined as the top quarterback of the day.
"I think Steve has had a very good spring," Laycock said. "He's shown a lot of improvement this year, a lot of maturity, and he's moving along as well as I hoped he would be."
Cluley was 9 for 20 in passing and had 146 yards and one touchdown. Unlike the 2014 spring game, Cluley threw zero interceptions during the scrimmage. Cluley cited learning how to react quickly helped him during the spring practices.
"When you know what's going on and you're reacting, not thinking, things work out a lot better offensively," Cluley said.
With the loss of Tre McBride and wideout Sean Ballard, the recently-depleted receiving corps needed a few fresh faces to make plays in the spring game. Sophomore wideout Daniel Kuzjak stepped up at the scrimmage, topping the charts as the leading receiver of the day. Kuzjak recorded three catches for 101 yards as well as a touchdown. The touchdown came from an exemplary 37-yard pass from Cluley to Kuzjak in the end zone.
"Graduating our two biggest receivers of the past two or so years is difficult for us," Kuzjak said. "I'm excited to see what we can do more as a unit … I believe as a unit we can be just as good if not better than we were last year."
Another important player in the passing game proved to be junior wide receiver Flynn Heald, who totaled 40 yards in three catches.
The running game also shined with junior running back Michael Yankovich as the leading rusher. Yankovich ran for 48 yards over eight carries and added a touchdown. Abdul-Saboor, despite only carrying twice for a total of seven yards, also added a touchdown during the scrimmage. Junior running back Jonathan Dunn also added 19 yards in eight carries, contributing to the offensive drives but not actually scoring himself.
On special teams, sophomore kicker Nick Dorka and junior punter Hunter Windmuller performed well to fill the shoes of graduating senior and 2014 CAA Special Teams Player of the Year John Carpenter. Dorka made two of three attempted field goals, while Windmuller kicked five of his six punts over 50 yards.
The offensive line was missing many of its projected starters, and the players on the field Saturday were not a great match for the Tribe's defensive players.
On the defensive side, the Tribe produced a total of six sacks and one turnover. The turnover came from a fumble recovery, although the fumble did not appear to be forced by a defender. Top defensive players such as senior cornerback DeAndre Houston-Carson and linebacker Luke Rhodes had limited appearances, but the defense still appeared formidable against the offense.
"We want to surprise people, because we have talent at the defensive positions," senior defensive tackle Tyler Claytor said. "As a whole defense we want to create negative plays to do what we can to get turnovers and give the ball to the offense."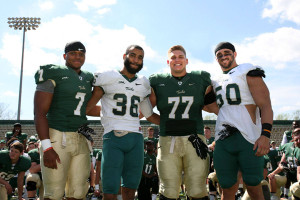 After the game, the Tribe announced its 2015 captains as determined by voting by the team. The captains will be Abdul-Saboor, Houston-Carson, Rhodes, and senior center Andrew Jones. The John A. Stewart Winter Warrior Award, given for offseason training excellence, was given to senior fullback Andrew Weidinger.
The College kicks off its season Sept. 5 with a road game at Lafayette. After Lafayette, the Tribe will continue its tradition of playing a Football Bowl Subdivision team with a Sept. 19 matchup at Virginia, who the Tribe defeated in 2009. The College will then return to Zable Stadium Sept. 26 to play CAA foe Stony Brook.