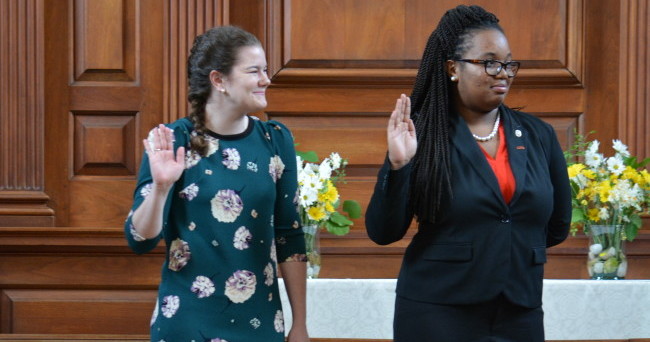 Marking the formal start of the new Student Assembly session, SA President Eboni Brown '17 and Vice President Hannah McKiernan '17 were sworn into office in the Sir Christopher Wren Chapel Wednesday, April 6.
Before the inauguration, College of William and Mary President Taylor Reveley spoke on the success of outgoing SA president Yohance Whitaker and shared his hopes for Brown. He also shared what he thought it meant to be an effective leader.
"Being an effective leader doesn't just happen because you won an election," Reveley said. "You have to learn by experience and capture other people's attention. You have to get people committed to a common goal and help everybody move along. On those days when we are leading effectively, it's exhilarating, it's quite wonderful. Since leadership is power, it's really crucial that those in positions of leadership are operating in the grand William and Mary traditions of service."
Being an effective leader doesn't just happen because you won an election. You have to learn by experience and capture other people's attention," Reveley said.
According to Reveley, the College has produced countless generations of leaders and public servants, and he believes it will continue to do so far into the future. He said one of these leaders is Whitaker.
"In my experience with Yohance Whitaker he has been a servant leader in the William and Mary tradition," Reveley said. "He and Catie's administration has been marked by a real commitment to William and Mary, congeniality and sound goals pursued effectively. I have confidence that Eboni Brown, who was aided and abetted by him, will do the same, and will be wonderful for William and Mary next academic year."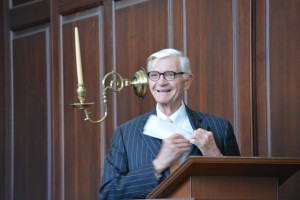 Following Reveley's introductory speech, Whitaker addressed the 323rd SA session as per tradition. He thanked his family, his outgoing Chief of Staff Sutton MacQueen '16, his cabinet members and outgoing Senate Chairman Dan Ackerman '16.  Lastly, he thanked outgoing SA Vice President Catie Pinkerton '16.
Whitaker has worked closely in the past with Brown and described the day he first met her. She visited the College while she was a senior in high school and stayed on campus with one of his close friends. After that day, Brown and Whitaker have participated in many of the same organizations such as SA and the Sharpe Scholars program.
"For me this is a special moment to see Eboni exalted by her peers to Student Assembly president and take on the torch," Whitaker said. "The moment I met her, I knew she was destined for great things and had a heart for service. Since that day, I haven't been able to escape her, and truth be told, I wouldn't want to. I have often referred to her as Yohance 2.0, or the updated Yohance. Now to be here, to bear witness to Eboni's inauguration, I am overjoyed. In each capacity, Eboni has managed to outdo me. I truly could not be more proud of her and her passion for William and Mary. Keep outdoing your predecessor."
Whitaker also touched on some of the 323rd session's accomplishments this year. He cited the creation of the website — fulfilling his campaign promise of increased transparency. He also discussed this year's senate legislation such as the SA Kickstarter Act, the Swem Massage Chairs Act and the Make College Affordable Again Act. According to Whitaker, one of the most monumental bills of the session was the One Family, Many Perspectives Act, which showed support from the SA for promoting diversity at the College and acknowledging the role enslaved African Americans held at the College.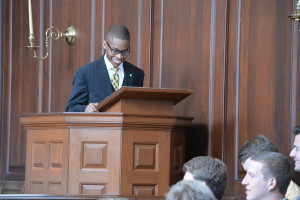 Following Whitaker's speech, Brown took the podium to share her final thoughts before officially becoming SA president. Her speech focused on how unlikely this inauguration was based on her life prior to attending the College.
"As I stand before you all today, I stand before you as someone who should not be here," Brown said. "From birth, the odds have been stacked against me. Growing up as a black female and low-income student in Hopewell, a place synonymous with violence and drugs, I should not have been my high school's valedictorian. Attending the College and experiencing micro-aggressions and questioning whether or not I belonged here, I should not be here. Instead, this led to the development of a woman who is stronger by comparison and ready to make a difference."
As I stand before you all today, I stand before you as someone who should not be here," Brown said.
Brown said that she hoped that the senators and class presidents also in attendance would use their passions to push forward even when things were difficult and to remember why they ran for election. According to Brown, she and McKiernan's bold leadership and the implementation of their platform's policies will mark the next academic year.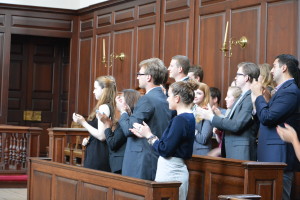 Following these remarks, Brown and McKiernan were sworn into office. Senators and class presidents were sworn into the 324th session at this time as well.