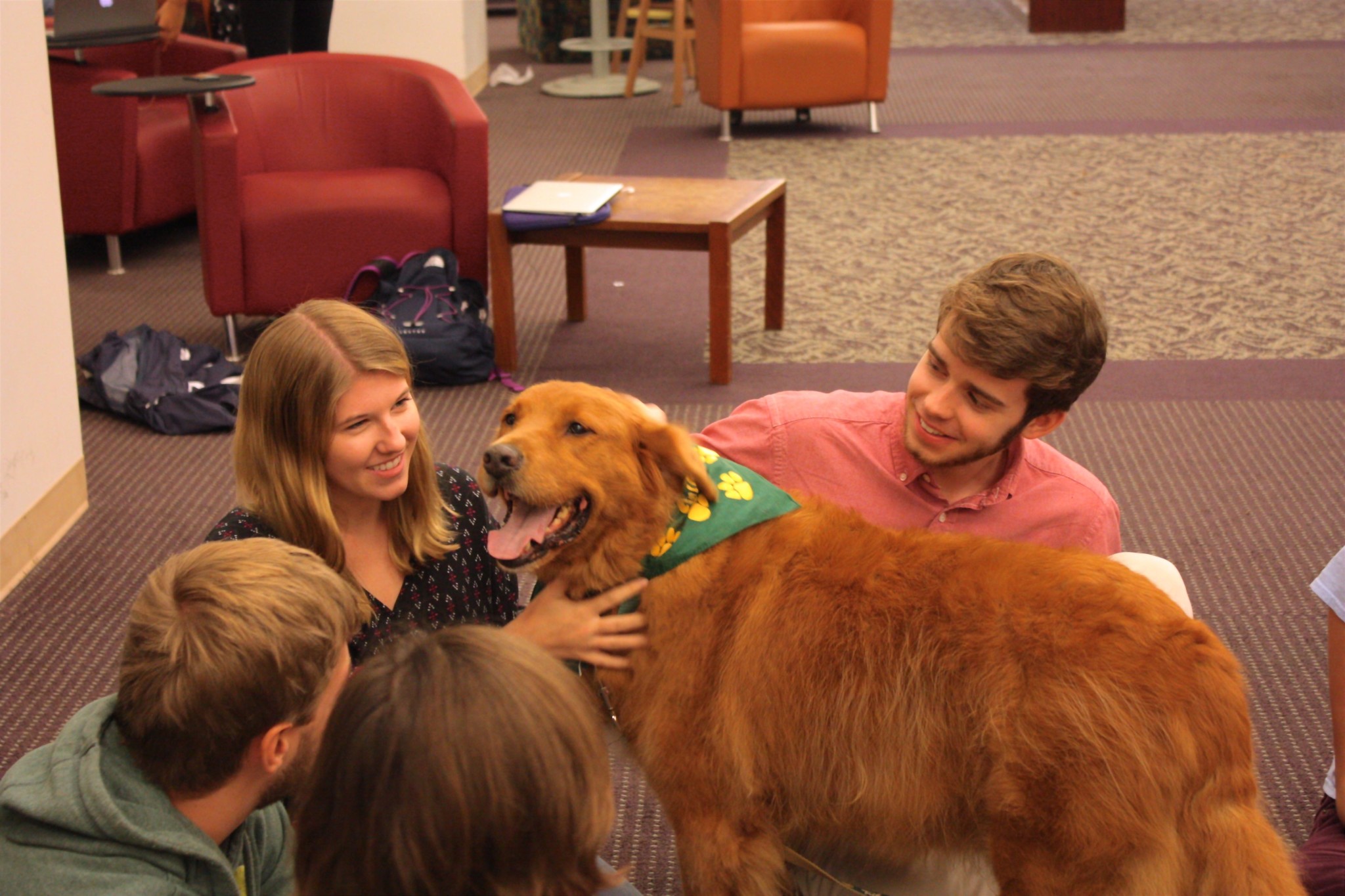 With a new semester underway, students like myself may feel overwhelmed by a new year's commitments and what can seem like never-ending homework. I often find it hard to balance my extracurricular activities and the homework for my classes with self-care.
I believe that at the College of William and Mary it is even harder to find balance in an environment that prioritizes success and achievement over mental health. I am so thankful for the resources on campus that help students like myself take a step back to focus on self-care and form meaningful relationships with hall mates, coworkers and that random friend you make studying in Swemromas.
One thing that helps me more than anything else on campus is when the Earl Gregg Swem Library brings in therapy dogs from K-9 Connection. I find it soothing to pet Gordo and his other canine friends – dogs definitely are empathetic creatures. While I understand that allowing pets other than fish in student housing comes with a variety of issues – especially those related to allergies and the needs of animals that students might not be able to meet while juggling coursework, I would greatly appreciate being allowed to have a dog or cat in my dorm room.In a study from the National Center for Health Research, researched proved that participants who had domestic cats or dogs had lower resting blood pressures and heart rates at times when they were stressed than other participants.I know, that for me, a dog or cat can provide a holistic remedy to stress and anxiety when classes get the best of me.
I believe that the College should make having emotional services pets easier and require less paperwork
One of the things I miss most about my hometown is my beloved puppy.If a student proved that they could sufficiently provide for their pet – including its bathing, training and exercise, I believe that the College should make having emotional services pets easier and require less paperwork. If these reasons aren't enough, having a dog can aid in those social interactions that can sometimes be painful. I've made more than a handful of friends from meeting people walking their dogs on campus. If you're at loss for words, asking to pet a dog is an easier start.
Also, walking a dog can be an easier way of getting exercise, which in turn can benefit your physical and mental health. When I'm stressing as a deadline approaches, I find myself enjoying walks around Swem. Walking a dog; however, would be an even better way to get that exercise. Lastly, safety can be a real issue, especially if you're like me and often walk home from The Flat Hat office after midnight. If I had a dog, I'd feel much safer making that trek to my dorm room. While there are definitely easier to implement self-care practices, I beg the College to consider easing the requirements to keep a dog or cat in on-campus student housing. These animals would help me and I'm sure multiple of my other classmates. For now, though, I'll stick with my adorable betta fish.
Email Sarah Smith at sesmith01@email.wm.edu