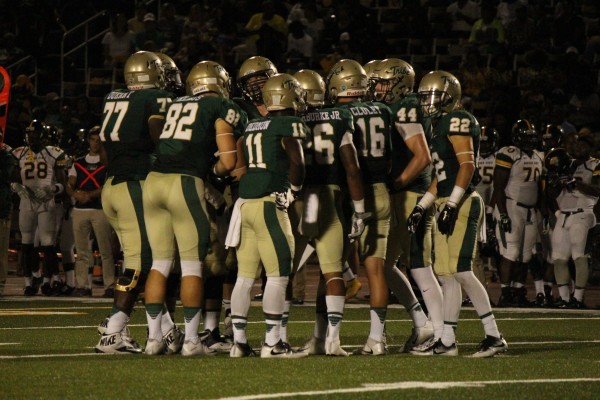 Football returned to Williamsburg on Saturday night, as William and Mary hosted Norfolk State in the newly-renovated Zable Stadium. While the pregame was full of fireworks, the College didn't come onto the field with much spark. Despite this weak start, the Tribe quickly settled in and turned in a strong performance in the trenches, winning battles on both the offensive and defensive lines to dispatch the Spartans 35-10.
Norfolk State began the game looking to establish their ground game. For a while, it appeared that the Tribe defensive line was in trouble as NSU dual-threat quarterback Greg Hankerson scampered through several tackles to move the chains on third down on the Spartans' opening possession. The next time he ran the ball, he escaped on 4th and 5 to bounce to the outside for a 26-yard touchdown run.
The Tribe defensive line regained its mojo on the next possession, in large part due to the insertion of senior defensive tackle VJ Davey into the rotation. Davey was immediately effective in eating up blocks and making plays on ball carriers. He finished with four total tackles, including one for a loss. After entering the game, his high level of play was matched by his teammates on the line. The defensive ends dominated the edge of the line, with senior Peyton Gryder finishing with four tackles and junior Matt Ahola finishing with three tackles and a pivotal sack. The Tribe's comfortable margin of victory can be largely attributed to the defensive line's dominance, constantly pressuring Hankerson and closing up running holes before they even opened for the Spartans.
[soundcloud url="https://api.soundcloud.com/tracks/284098995″ params="color=ff5500&auto_play=false&hide_related=false&show_comments=true&show_user=true&show_reposts=false" width="100%" height="166″ iframe="true" /]
While the Tribe defensive line was routinely in the Spartan backfield, the College's offensive line made sure that no Spartans would disrupt the Tribe running game. The offensive line was consistent, opening holes that led the way to 277 yards and five touchdowns on the ground with a whopping average of 7.1 yards per rush.
The College's run game was without its star, as senior preseason Colonial Athletic Association First Team honoree Kendell Anderson was out with injuries to his shoulder and ankle. The Tribe remained confident in its run game, using a dual running back system featuring junior Jonathan Dunn and redshirt freshman Albert Funderburke sharing carries. Funderburke excelled against the Spartan defense, exploding out of the backfield en route to 137 yards and three touchdowns.
Although he's only played three collegiate games in his career, Funderburke has already exhibited the devastating combination of speed and elusiveness. On multiple occasions, Funderburke appeared to be bottled up, but slipped through the hands of multiple Spartan defenders to pick up extra yards after contact. His most electric play of the night came when he went 57 yards untouched for his third touchdown of the game. When he received the handoff, he looked to have a nice hole to run through, but didn't look to have a ton of openings in the Spartan secondary. Instead, Funderburke accelerated away from a pair of safeties to blitz his way down the right sideline and into the end zone.
Although he's only played three collegiate games in his career, Funderburke has already exhibited the devastating combination of speed and elusiveness.
With the return of Anderson imminent — head coach Jimmye Laycock suggested postgame that he could have played today if needed — the future of the Tribe backfield looks bright. Anderson will have plenty of motivation to prove he is just as dominant as last season, in which he ran for 1,418 yards and 16 touchdowns. Funderburke will look to continue his strong start to his rookie season. I have confidence that Laycock will be able to find the right combination, perhaps in a manner similar to Anderson and Mikal Abdul-Saboor '16 last season.
Despite the successes of the lines and the running game against Norfolk State, many questions remain in other areas of the field as CAA play begins next week. Senior quarterback Steve Cluley still is struggling to hold onto the football, as he tossed two more interceptions against the Spartans. After the game, Cluley took responsibility for both interceptions and acknowledged that he must improve on making mistakes.
Last season, the Tribe was at its best during a six-game winning streak where Cluley threw just one interception to go along with six touchdowns. Conversely, he has already thrown four interceptions this season in just three games. During last year's winning streak, Cluley was in complete control of the offense, which scored at least 31 points in each of the wins. For this year's Tribe football team to reach its full potential, Cluley must regain such a level of control of the game and drastically cut down on his turnovers.
If Cluley returns to form and the run game continues to dominate, this year's Tribe offense could be something special.