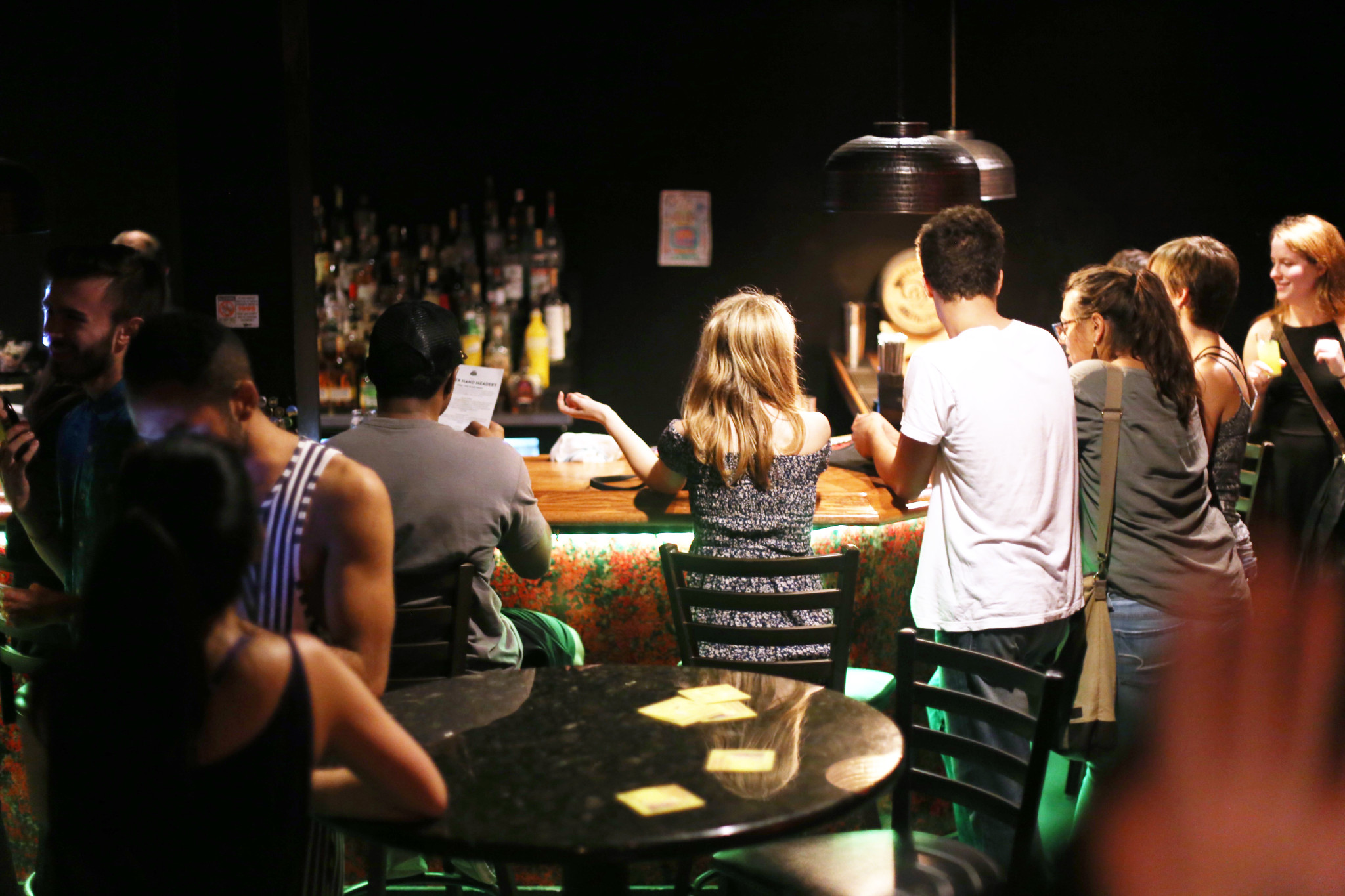 Last Thursday night, the weather was gloomy and most of Williamsburg was already asleep. The first wave of midterms had already hit the College. Despite the poor weather and busy study schedules, LGBTQ students and allies gathered at Triangle, a local bar, to enjoy a night out with their friends.
This was the second Thursday that students gathered for an event called Occupy the Triangle. Triangle also hosted the event a week before. Kyle Lopez '17 first organized the event in order to create a space for LGBTQ people to enjoy a night out.
"Williamsburg was really lacking in any kind of LGBTQ venue for people to go to," Lopez said. "I think there used to be one, but it doesn't really exist anymore. I thought that that was super lame and something that needed to be fixed."
One of the main reasons Lopez chose Triangle was for its space and location.
"I saw that with Triangle there was an opportunity to create a space for that just because it's a little bit more low-key, a little bit further away from the main strip of bars," Lopez said.
The bar also has enough space to have a dance floor that was separate from the bar and lounging areas. This allowed students to dance and mingle without too much crowding. Some students even brought their laptops so they could work at dimly lit tables or outside on the patio.
"I saw that with Triangle there was an opportunity to create a space for that just because it's a little bit more low-key, a little bit further away from the main strip of bars," Lopez said.
Lopez said he also enjoyed the bar's decor. In the first event's Facebook description, he described the bar's interior as having a "funky aesthetic reminiscent of the red room from Twin Peaks." He also noted that the bar served delicious, but affordable, drinks and food.
Once Lopez had chosen a location, the remaining steps were simple: Lopez created a Facebook event to spread the word.
"Historically, gay bars started because gay people went there and that's all you have to do," Lopez said. "So I invited all of my friends and people who I don't know as well. Word got around and people have been going."
Lopez also reached out to the management at Triangle to let them know that they would be using the bar in an attempt to create a space for LGBTQ students. The general manager at Triangle, Matthew Black, was more than happy to accommodate Lopez and his friends. Black said they were thrilled to hear about Lopez's initiative.
"We've said from the beginning that we were looking to be a safe place for people," Black said. "That's something that's been really important to us."
Last year, Black said Triangle worked with Spectrum, a group of LGBTQ graduate students, to create a similar event. Unfortunately, organizational issues prevented the event from taking place. Black said the bar is working with other student groups to create safe space programs. He is currently discussing hosting spoken word poetry nights with 16(IX)3, a student group committed to the upholding of Title IX at the College.
Triangle also held its third drag brunch this past Sunday, Sept. 25. Black says second and third drag brunches have seen an increase in student interest.
Lopez saw the bar's commitment to creating safe spaces as yet another reason Triangle would be a great place to create an LGBTQ venue.
"The willingness was there to create that sort of space, so it was really a match made in heaven," Lopez said.
According to Black, Lopez was initially unsure how big the turnout would be that first Thursday, but the response to the Facebook event was enthusiastic. It was so busy that Lopez said Black and his staff apologized for their lack of preparation. Despite the bad weather, the second Thursday also had a large turnout. LGBTQ students were excited to finally have a space to call their own.
"For me personally, I never felt, not necessarily unsafe, but I didn't feel included at Paul's or the Green Leafe or the Crust," Sam Yu '17 said. "I didn't feel like that was my place."
Both Lopez and Black hope that Occupy the Triangle will become a weekly event. Black said he and his staff are open to students providing their own music and Lopez has already reached out to DJs on campus. He believes there will be more music and dancing each week.
Although Lopez chose Triangle, he said that it would be wonderful if other bars and businesses began to host similar events.
"There is definite LGBTQ+ presence in Williamsburg," Lopez said. "We are a very loyal fan base. So if you create an opportunity for the community then people will show up."