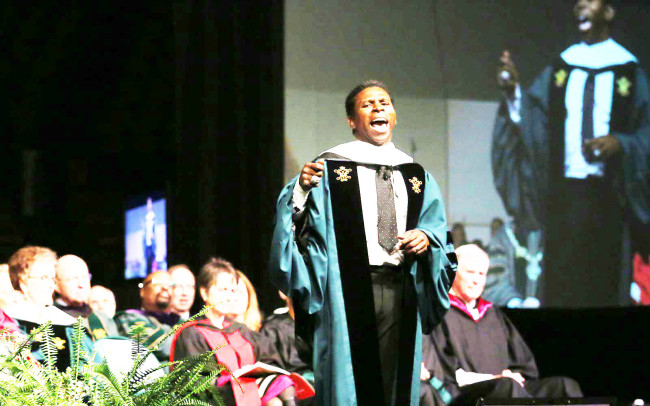 The 324th annual Charter Day celebration commenced Friday, Feb. 10, at Kaplan Arena.
Students, professors and administrators gathered to commemorate the College of William and Mary's birthday.
In her reflection on the royal charter, Caroline Golino '17 emphasized the need for growth and perseverance in the face of challenges. She said that she would urge students to challenge what the College can be.
For a place that is made out of brick, surprisingly little is set in stone," Golino said.
"For a place that is made out of brick, surprisingly little is set in stone," Golino said.
After Golino's remarks and readings from the charter by eight different undergraduate students, College President Taylor Reveley recognized Alumni Medallion Recipients. This honor is the highest the College confers on graduates. Four alumni, Ted Dintersmith '74, Troy Keen '96, Frederick Malvin '55, M.S.T. '58 and Jeffrey Trammell '73 received this honor for their exemplary professional accomplishments.
Chancellor and former Secretary of Defense Robert Gates '65, L.H.D. '98 reflected on the history of conflicting visions for the College. He related this to a need for diversity of opinion among the political gridlock and echo chambers of today.
"It is of course a great mistake to think one's views are strengthened without being challenged," Gates said.
Following the tradition that began in 1756 with the conferral of an honorary degree on Benjamin Franklin, the College awarded Mildred West and Michael Clemons '89 honorary degrees.
Gates bestowed the honor on West. She was praised for her athletic abilities and guidance off the court as well.
"Your leadership in intercollegiate athletics lay the foundation on which future generations of Tribe athletes can excel," Gates said.
Gates also bestowed this honorary degree on Clemons. He was acknowledged for his caliber in athletics and beyond.
"Your impassioned pursuit of excellence is having an impact that reaches beyond roaring stadiums to an entire nation and beyond," Gates said. "You took a name, 'Pinball,' and made it legendary, not only in the gridiron but also in the communities you serve."
Clemons delivered the keynote speech. He said that this honor was unexpected but appreciated. He said he came to the College because it was the most comprehensive combination of athletics and academics, and he has never regretted his choice since.
He also said that students at the College have to recognize the privilege that comes with attending the College.
Reveley reacted to Clemons' expressive speech by remarking on his athletic speaking style.
"When you jumped off the stage I asked myself 'is Pinball going to jump back on?'" Reveley said.
Daniel Delmonaco '17 received the James Monroe Prize in Civic Leadership. Ben Zhang '17 received the Thomas Jefferson Prize in Natural Philosophy. Kara Thompson received the Thomas Jefferson Teaching Award. Sharon Zuber Ph.D. '04 received the Thomas Jefferson Award.
"Both the College and the country have made their way through terrible times as well as glorious times, but in my judgment both the College and the country has their best days yet to come," Reveley said.