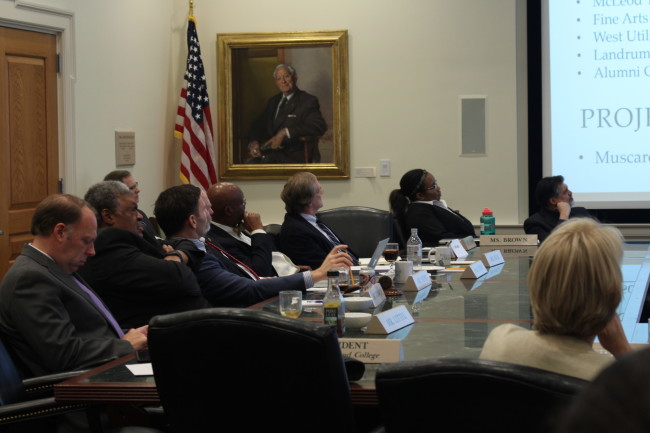 Following reports that the economy of the United States would be shifting along mega-regional lines, members of the Board of Visitors of the College of William and Mary focused on economic opportunities related to re-drawn regions and involvement in the Virginia General Assembly during this past week's meetings.
According to BOV member Thomas Frantz '70, J.D. '73, M.L.T. '83, after College administrators read an editorial in the New York Times about how the map of the United States could be rethought as mega-regions, or metropolitan clusters that ignore state and national borders, they began to think about how the College's geographical location could play a role in its economic well-being.
Frantz said that the College is well-situated for a mega-regional economy because of Virginia's competitive geographical location, especially given the Virginia General Assembly's recent allocation of funds to expand local highways.
Additionally, a study based out of Dartmouth University that Frantz cited showed that regionalization is changing and shifting towards mega-regions. The College, and the City of Williamsburg fall into the Richmond-Tidewater region.
William and Mary is right in the middle of that, and that suggests lots of opportunities for William and Mary," Frantz said.
"William and Mary is right in the middle of that, and that suggests lots of opportunities for William and Mary," Frantz said.
Frantz said that he was surprised the cities such as Raleigh, Greensboro and Winston are included in the mega-region going up the I-81 corridor instead of north to Richmond. Frantz believes that this is why North Carolina Governor Roy Cooper wants an interstate going up to Virginia.
"The map of America is being erased from an economic standpoint and a social standpoint," Frantz said.
According to Frantz, this economic development creates three questions that the College should answer: how should the College position itself to lead from the center of an emerging mega-region, how might the university facilitate greater connectivity across the region and whether there would be an increased demand for expertise from the College on public policy related to mega-regions.
"William and Mary should be the center of public policy for the world and how the world is changing," Frantz said.
Frantz said that representatives from the College, the Mason School of Business and other policy institutions had been meeting regularly to discuss metrics of success and goals for the future.
He identified the widening of I-64 from the Hampton Roads Bridge Tunnel to route 199, the approval for the two-lane expansion of the Hampton Roads Bridge Tunnel, a 40-year lease with the Port of Virginia and Port of Richmond, investments in port infrastructure totaling $900 million in improvements that included widening and deepening the channel at two ports operated by the Port of Virginia and funding for the creation of a governing body for GO Virginia.
GO Virginia, or the Virginia Initiative for Growth and Opportunity in Each Region, is an organization founded by the Virginia Business Higher Education Council to foster private-sector growth and job creation through state incentives for regional collaboration.
Building on this, Frantz said he would like to see increased port-related economic development, increased availability of business-ready sites, an extension to the Virginia Capital Trail bike path, further improvements to I-64, an improved high speed rail and increased marketing for Virginia's Global Gateway.
Additionally, he said he would like to see the College help Virginia develop clusters in advanced manufacturing, bioscience, logistics and cyber and unmanned systems to fit with mega-region jobs.
Beyond this, Vice President for Strategic Initiatives Henry Broaddus said that the College should increase its involvement in Richmond.
"We recently christened a government relations office in Richmond, which is well-suited for [College President Taylor] Reveley as the Chair of Council of Presidents," Broaddus said.
Reveley will use this office in part for his work as the Chair of the Council of Presidents, which is a group of all the presidents and chancellors of Virginia's public institutions of higher education. This office space will be shared with representatives from Northern Virginia Community College and George Mason University.
According to Broaddus, having office space in Richmond is beneficial to the College because it puts administrators geographically closer to work done in the General Assembly. To further government relations, Broaddus announced that the College has hired Colin Smolinsky '11 to work as the assistant director of government relations. Previously, Smolinsky worked as a staffer for Rep. Rob Whitman (R-VA). Broaddus said that he hopes Smolinsky will be able to provide help in lobbying, such as the annual Road to Richmond event, because of his previous work in consulting and politics.