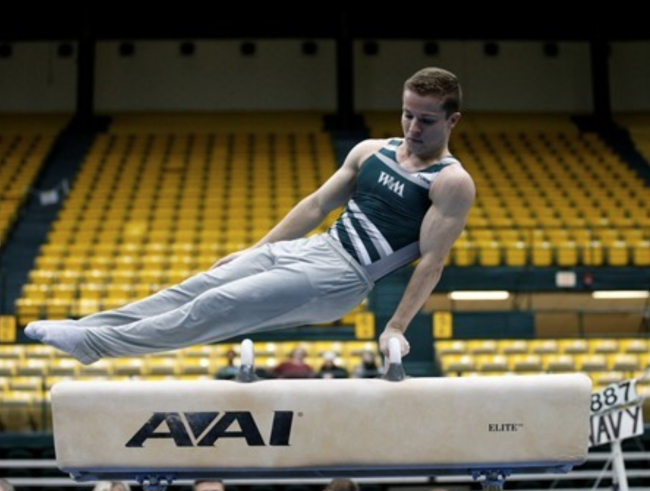 The William and Mary men had a solid showing at the USA Gymnastics Collegiate National Championships at Washington last weekend. The College placed second in the team competition, and five Tribe gymnasts earned All-America honors in the individual competitions.
The Tribe posted 388.4 points in the team competition March 24, beat out by Air Force (396.95) and followed up by Navy (379.7) and Springfield (373.85).
Senior Aria Sabbagh was awarded fifth place in the individual all-around competition Friday with a score of 75.7 points, which earned him USAG Collegiate All-America honors.
Saturday, the Tribe showed up strong again for the individual event finals.
After his success in the all-around the day before, Sabbagh was named an All-American on the high and parallel bars Saturday. He placed second on high bar with 13.2 points and sixth on parallel bars with 12.8 points.
Senior Rob Meyer placed first on parallel bars for the second consecutive season, with his 14.3 point score nearing his career-high and earning him All-America honors. Meyer was also named an All-American on pommel horse, where he placed third (13.15), and rings, where he tied for fourth (13.45).
Three other Tribe gymnasts earned All-America honors Saturday. Sophomore Peter Makey tied with Meyer for fourth on rings with 13.45 points, sophomore David Allen placed fifth on high bar (12.7) and freshman Tim O'Neill placed fifth on vault (14.05).
The Tribe will continue its season at the Eastern College Athletic Conference Championship at Illinois-Chicago April 8.