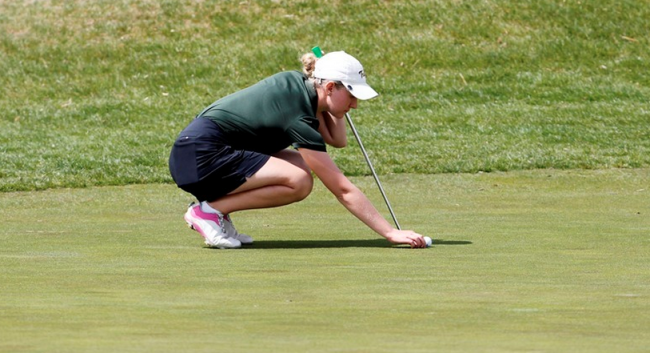 The William and Mary women finished in second place this week after being defeated by UNC-Asheville 3-2 in the championship of the 2017 Oyster Shuck Match Play tournament in Mount Pleasant, S.C.
The Tribe played well from the beginning, sweeping its first round against the Citadel 5-0. Sophomore Elizabeth Choi defeated Renata Sucha 7-and-6, as did junior Katie Edelblut versus Andrea Hoos. Freshman Allison Olberding defeated Bailey Richardson 6-and-5, while senior Mia Zanghetti defeated Marina Grimal 4-and-3. Sophomore Riley Corona had the closest match of the team's first round, finishing 1-up to defeat Cameron Little.
The College's momentum continued into the second round, leading to a 4.5-0.5 finish against Presbyterian. Olberding defeated Ann Elizabeth Gore 5-and-4. In a succession of close matches, Edelblut, Zanghetti and Corona all finished 1-up against their opponents, Celia Manfour, Abby Driscoll and Rylie Marchman, respectively. Elizabeth Choi scored half a point for the team after her tied finish with Maiken Paulsen.
In the championship match, UNC-Asheville had three winning rounds against the Tribe. These came from Rebecca Black, who defeated Edelblut 3-and-2, Janie Thomas, who finished 1-up against Zanghetti, and Linna Brooks, who also ended her match 1-up, against Corona. To secure two winning matches for the College, Choi defeated Adelyn Deery 2-and-1, while Olberding defeated Kellen Alsip by a wide margin of 9-and-8.
Olberding led the Tribe this week, winning all three of her matches. This was the team's only match play event on this season's schedule. The women are now preparing for the 2017 Colonial Athletic Association Women's Golf Championship, which will be played April 14-16 at Ford's Colony Country Club in Williamsburg. The College looks to win its first CAA Championship, after coming in third in the 2016 tournament and with an overall best finish of second in 2014.