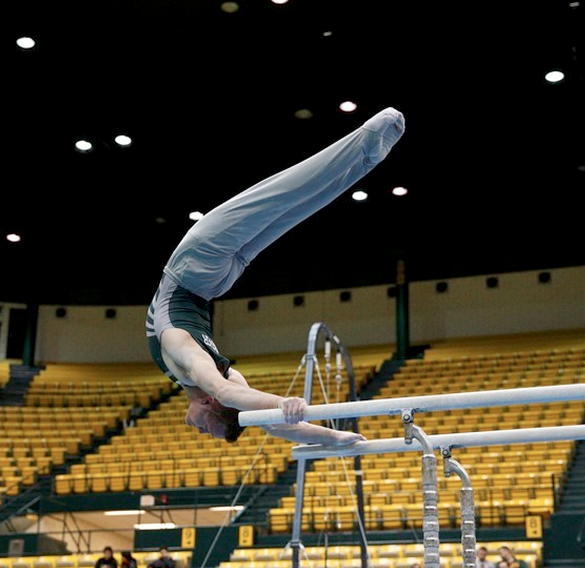 Friday, the William and Mary men posted their best team score of the season at the Eastern College Athletic Conference Championship. They took the title for the fifth time in school history with 404.7 points.
The Tribe was followed by Navy (402.55), Army (392.45), Springfield (392.2) and host Illinois-Chicago (384.55).
In addition to posting the highest team score in three events and having a gymnast on the podium in every event, the College was also honored with two other awards. Head coach Mike Powell was named ECAC Coach of the Year and senior Rob Meyer was named ECAC Senior Gymnast of the Year
Meyer's best individual placement at this meet was on parallel bars, where he tied for second with 14.15 points.
The Tribe's best showing as a team was on pommel horse, where the team placed first with a season best of 66.8 points. Sophomore Jacopo Gliozzi took the individual title in that event, setting a school record with 15.1 points. Junior Griffin Antle placed fourth with a season high of 14.0 and Meyer tied for fifth with 13.5 points.
The College also took the title on rings, scoring 67.35 points. Sophomore Peter Makey led the way for the Tribe's individual scores with his career high of 13.8 points. Junior Jeremiah McReynolds tied for fourth with 13.6 points and Meyer's 13.5-point score put him sixth.
The third event the Tribe won was vault at 70.2 points. Senior Neal Courter posted a season-high first-place score of 14.35 points. Senior Nick Van Dyke tied for second with 14.15 points. Junior Juan Palma scored 14.1 points and tied for fourth.
Courter also led the way for the Tribe on floor, where he scored 14.0 points and placed second. Freshman Tomas Palma also showed up for the Tribe on floor, tying for third with 13.95 points.
On high bar, Courter once again had the strongest showing for the College with his 13.75 point, second-place score. Senior Aria Sabbagh tied for fifth with 13.5 points.
Following this win, the Tribe will head to the National Collegiate Athletic Association Championships in West Point April 21-22.