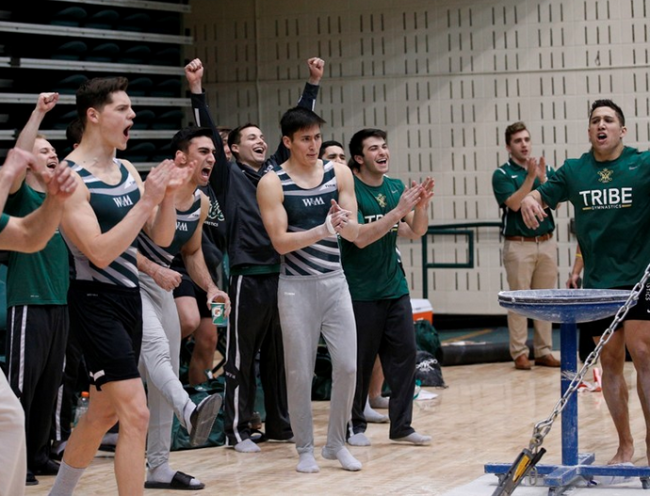 William and Mary had an impressive showing at the National Collegiate Athletic Association Championship at Army April 21-22. A school-record of 11 gymnasts qualified for individual competition, and sophomore Jacopo Gliozzi became the seventh ever Tribe gymnast awarded NCAA All-America honors.
Saturday, Gliozzi took sixth place on pommel horse in the finals competition, scoring 14.7 points and earning himself All-America distinction. His name joins a prestigious short list of NCAA All-Americans from the College, which includes senior Neal Courter.
Senior Aria Sabbagh also qualified for and competed in the individual finals, placing 17th in the all-around with 77.0 points.
Although Gliozzi and Sabbagh were the only two members of the Tribe to compete in the finals, the College held its own in the qualifier.
Friday, Gliozzi took third on pommel horse in the qualifier with 14.5 points, while Sabbagh took seventh in the all-around with 74.350. To achieve this impressive qualifying placement, Sabbagh took 30th on floor (12.650), 36th on pommel horse (11.0), 33rd on rings (12.7), 34th on vault (12.7), 32nd on parallel bars (12.1) and 22nd on high bar (13.2).
In addition to Sabbagh's impressive all-around performance, three other Tribe gymnasts competed on multiple events. Junior Griffin Antle placed 12th on pommel horse (13.95) and 24th on parallel bars (13.35). Senior Rob Meyer tied for 20th on parallel bars (13.45), placed 24th on rings (13.15) and took 35th on pommel horse (11.2). Courter placed 26th on floor (13.4) and 27th on high bar (12.95).
Both Meyer and Courter were honored Thursday evening before the start of the meet at the NCAA Championships Award Banquet. Meyer delivered the student-athlete speech at the banquet and Courter was honored as one of eight finalists for the Nissen Emery Award.
The rest of the College also performed well in Friday's qualifier. Freshman Tim O'Neill placed seventh on vault with 14.4 points, while junior Juan Palma tied for 16th place (14.15) and senior Nick Van Dyke tied for 32nd (13.2).
Junior Jeremiah McReynolds tied for 20th on rings, along with sophomore Peter Makey, both with 13.4 points. Freshman Tomas Palma placed 33rd on floor (11.9).
This championship meet wraps up the Tribe's 2016-2017 season.