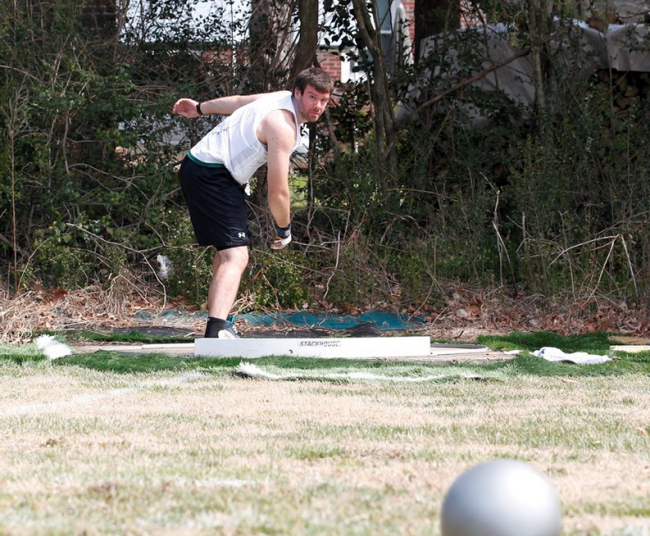 William and Mary recorded a number of strong performances over the weekend at two different meets. The majority of the squad traveled south to Durham to compete in the Duke Invitational, while the Tribe distance contingent headed to Charlottesville to compete in the Virginia Challenge.
At Duke, junior Kacey Wheeler placed 12th in the 400-meter with a quick 55.78. Freshman Deirdre Lewin placed 12th in the 800-meter in 2:14.30. In the 400-meter hurdles, senior Ashley Woodards clocked in at 1:02.47 and sophomore Margaret Sullivan finished in 1:02.58, finishing seventh and eighth, respectively. Sophomore Grace Becker finished second in the high jump, clearing 1.68 meters (5-6). Junior Minna McFarland also cleared 1.68 meters to finish fourth in the event. Junior Leia Mistowksi landed second in the hammer throw with a toss of 59.99 meters, while senior Rochelle Evans had big throws in both the discus (44.24 meters) and shot-put (13.27 meters) to place seventh and eighth, respectively.
On the men's side, sophomore Cole Clark set a personal best time in the 800-meter, running a swift 1:52.87 to place 16th. Junior Dylan Andersen placed fifth in the 400-meter hurdles in an impressive 52.77 clocking. Senior Alex Hedrick placed fifth in the pole vault, clearing 4.55 meters. Senior Taylor Frenia had a big day in the throws, placing second in shot-put (17.83 meters), third in hammer (53.44 meters) and first in discus (55.52 meters). Junior Tucker Rizzi finished runner-up in the javelin with a toss of 65.05 meters.
At the Virginia Challenge, juniors Regan Rome and Molly McKenna placed seventh and 25th, respectively, in the 5000-meter. Rome clocked 16:10 while McKenna finished in 16:41.
On the men's side, freshman Cooper Leslie placed 46th (3:52.11) and sophomore Ryan McGorty placed 49th (3:53.16) in the 1500-meter. Senior David Barney finished 23rd in the 5000-meter in 14:23. Seniors Trevor Sleight and AJ Tucker ran well in the 10000-meter, finishing eighth in 30:06 and 13th in 30:17, respectively.
The College is back in action next weekend at the Penn Relays at Franklin Field in Philadelphia, PA.