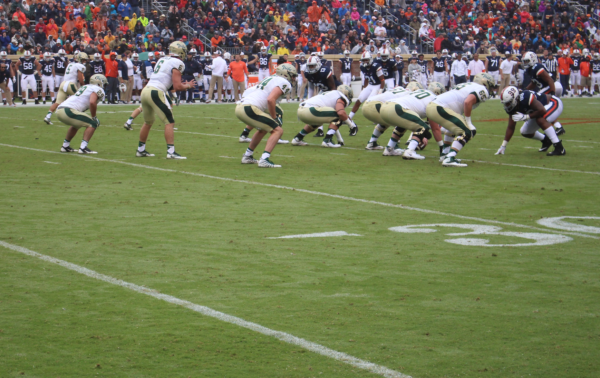 Late in the second quarter of William and Mary's 28-10 loss to Virginia Saturday afternoon, junior quarterback Tommy McKee scrambled for eight yards on a third down and 10, taking a hard hit in the process. Seconds later, McKee punted the ball just 26 yards, with the ensuing Cavaliers drive resulting in a touchdown.
It is admirable that McKee assumed both the roles of starting quarterback and punter against Virginia, the long-time backup showcasing a supreme amount of toughness against an FBS opponent. Nevertheless, the Tribe coaching staff simply cannot keep asking him to serve as both if the College wants to be successful this season.
As he demonstrated against the Cavaliers, a big part of McKee's offensive game is his ability to run the football. In fact, as of now he seems to have more confidence running with the ball than he does throwing it. McKee only attempted 12 passes in 10 offensive series as the Tribe's quarterback, compared to 15 rush attempts.
To his credit, McKee ran the ball effectively against the Cavaliers, rushing for 89 yards and scoring the College's lone touchdown, but the wear and tear of getting tackled by Virginia defenders seemed to affect his punting abilities. McKee punted the ball seven times Saturday, averaging a distance of 32.3 yards, well below the averages of former Tribe standout punter Hunter Windmuller '16.
If he remains the Tribe's starting quarterback, McKee will continue to take hits both in and out of the pocket, especially to the lower half of his body. Of course, punting requires excellent leg strength, and if McKee's kicking leg is taking punishment on a regular basis, how can the Tribe expect him to punt effectively?
For example, Virginia began its drive at its own 30-yard line following McKee's 26-yard punt, but the Cavaliers could have started much deeper in their own territory if McKee had been able to put more distance on his kick. As a result, Virginia's decent field position put more pressure on the Tribe defense, and the Cavaliers wound up scoring a touchdown and taking a two-possession lead into halftime. That is certainly not all on McKee's shoulders, but undoubtedly a longer punt would have given the Tribe's defense a better chance of success.
Beyond these ramifications for the College's special teams and defense, McKee's style of quarterbacking doesn't necessarily fit with the rest of the Tribe's offensive personnel. While the College entered the season with questions at quarterback and running back, no one doubted the talent and experience the Tribe has at wide receiver and tight end. The College retained all five of its top receivers from last season, including senior wide receiver and preseason All-Colonial Athletic Association selection DeVonte Dedmon and senior tight end and captain Andrew Caskin.
However, McKee's pension for running the ball instead of throwing it meant the Tribe's most dynamic offensive players received limited targets Saturday. Dedmon and Caskin managed only two catches apiece. Once again, McKee's performance wasn't the only issue. The conservative play-calling of first-year offensive coordinator DJ Mangas '12 kept passes downfield to a minimum, but one can't help but wonder if a different quarterback would be able to maximize the offense's potential.
All in all, Saturday's loss failed to answer many of the questions McKee and the rest of William and Mary football faced in the preseason. While there were some encouraging signs, notably the performance of freshman running back Noah Giles and some strong plays on defense, the offense never found a consistent rhythm with McKee at quarterback. And if head coach Jimmye Laycock '70 expects the junior to continue punting, he and Mangas should certainly consider other options to lead the Tribe offense.