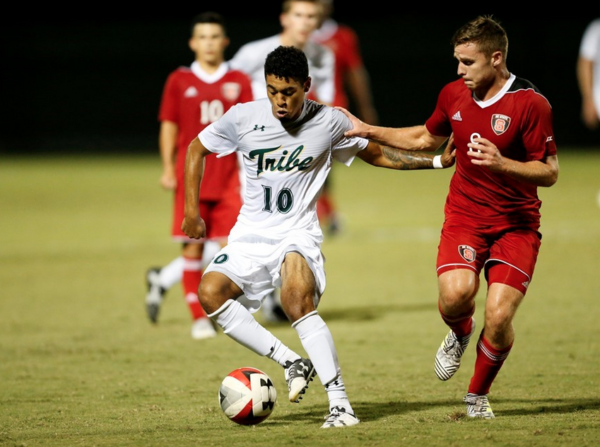 Wednesday, William and Mary traveled to Cary, N.C. to take ­on North Carolina (5-1-0). After a hard-fought battle, the Tribe (2-2-2) fell 3-2.
The Tar Heels scored the first goal of the contest in the third minute of play. The shot was taken by North Carolina forward Alan Winn, who dribbled past the goalie and passed the ball cleanly into the back of the net. This marked Winn's second goal of the season.
Consecutive shots were taken in the 10th and 12th minutes by junior forward Ryder Bell and sophomore midfielder Reeves Trott, respectively, but North Carolina's goalkeeper saved both. However, the College managed to tie the game in the 31st minute with a goal by senior forward William Eskay off an assist by Trott. This was Eskay's second goal of the season.
Despite a great shot by Eskay, the College could not overcome the Tar Heels. In the 40th minute, North Carolina redshirt forward Giovanni Montesdeoca scored his first goal of the season, putting the Tar Heels back ahead by one goal.
At the conclusion of the first period, North Carolina led the Tribe 2-1.
The first 15 minutes of the second period were less eventful. North Carolina's Jelani Pieters took a shot in the 49th minute, but it was saved by senior goalkeeper Phil Breno. The College fired back with a header shot by Sam Golan in the 51st minute, also saved by Tar Heels goalkeeper Alec Smir. Trott came in with a header attempt in the 52nd minute, but the ball went high of the goal, followed by a wide shot in the 56th minute.
The Tribe rallied with another goal in the 68th minute, scored by junior forward Antonio Bustamante on an assist by Eskay, his first goal of the season. This tied the match at 2-2.
Shortly after his game-tying goal, Bustamante was issued a yellow card in the 72nd minute. After a chaotic sequence, Winn came back with his second goal of the game in the 73rd minute, putting the Tar Heels in the lead once again, 3-2.
At the game's conclusion, North Carolina handed the Tribe a 3-2 loss in a very well-matched contest. Breno ended the night with seven saves out of 10 shots on goal. Eskay and Trott each contributed an assist.
The College hosted Campbell Saturday at Martin Family Stadium.