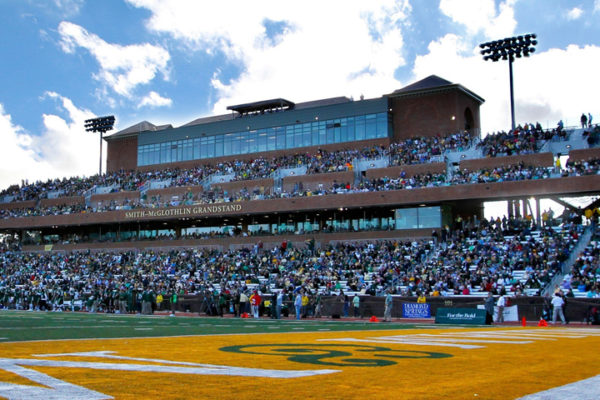 If you turned on a television Sunday, you saw it. Hundreds of National Football League players locked arms or knelt along with teammates in a national anthem protest. This latest round of protests came after President Donald Trump criticized Colin Kaepernick, the former San Francisco 49ers quarterback, for "disrespect[ing] the flag" and called for owners to "fire" players who demonstrated during the anthem. The President called him, and any other players who have protested, a "son of a b—."
So, of course, nearly every team showed some form of protest on Sunday. And they all looked relatively like the demonstration the College of William and Mary football team put on during their first game of the year in Charlottesville against Virginia.
For those unaware, the Tribe football team presented a "show of unity" before their season opening game against the Cavaliers. During the pre-game coin toss, the Tribe locked arms and turned away from the field, lifting up their jerseys to reveal t-shirts underneath that read "United We Stand, Divided We Fall."
Before the game, the team released a statement regarding the demonstration. According to the team, "the expression represents our desire to make a positive statement about our shared beliefs in cultivating a society based on respect for people of all ethnicities, cultures and backgrounds and one that embraces unity, civility and loving one another despite our differences."
This is quite a turn from what Colin Kaepernick intended when he began kneeling before games in 2016. The quarterback began kneeling to protest police brutality and the continued discrimination against people of color.
I wasn't expecting the William and Mary football team to protest before a game. Therefore, any statement before the game before the state of our politics and our nation, is better than none. I will always be on the side of activism in sports, as it is a very broad platform that can affect change.
However, when all someone has to say is, "we are together," do they really have anything to say?
Fast forward to Sunday, Sept. 24. The protests at NFL games, for the most part, were almost identical to the demonstration that the Tribe put on in Charlottesville. Teams released statements about unity, players locked arms, and then the game went on as scheduled. Obviously, there was much more media coverage and public scrutiny. But the message, and the way the message was communicated, was generally the same.
Just as the William and Mary protest didn't mention white supremacy, NFL teams didn't mention police brutality or discrimination against people of color. And while the sight of football teams kneeling or intertwining arms is powerful, the messages described by most teams do not push for changes in discriminatory or racist practices.
Let it be known, many individual players speak up directly and loudly. For example, Michael Bennett of the Seattle Seahawks has called for an entire month devoted to activism in the NFL, much like the league's Breast Cancer Awareness Month. Bennett and Kaepernick are probably the two most outspoken players in the league on social justice issues, but there are certainly other players who devote much time and energy to these problems.
The thing with these protests, though, is that they've moved the target. The College protest, though very well intentioned, didn't showcase opposition to racists or an opportunity to be better. It showcased unity. The NFL demonstrations this past week were not about police brutality, at least according to the organizations themselves. They were about unity in the face of Trump's comments. Opposing a racist president is something to be commended, but the fact that it took so long to get behind this viewpoint is concerning.
On the William and Mary side, I would encourage players to take a stand any way they can. I'm not going to tell players to protest in a way that would involve disciplinary action on the team, such as the inevitable scolding or suspension that would happen if a player knelt. But if players believe in a cause, they should support it in some form, both off the field and on the field.
Email Brendan Doyle at bpdoyle@email.wm.edu.