It all started with a soccer game at an English boarding school.
"One of the kids picked up the ball, and the other kids got angry and tackled him," Matt Horrigan '18, president of the men's rugby team, said.
Since its creation, rugby has enjoyed widespread popularity throughout the world, including America.
Although rugby's popularity in the United States faded, interest in the sport is on the rise, with more and more Americans choosing to pick up a rugby ball. Horrigan picked up the sport when he was accepted to the College of William and Mary/University of St. Andrews Joint Degree Programme.
"I wanted to choose something that I could play both here and over there, and I found rugby," Horrigan said.
Despite its relative obscurity in America, there is a powerful draw to rugby. Most students on the rugby teams didn't play before college, but according to Gloria Cho '18, president of the women's rugby team, that's an advantage.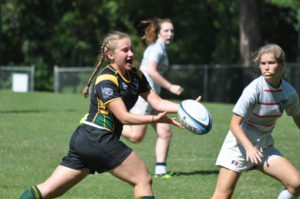 "A lot of people don't know about rugby before coming into college, so I think that is just attractive in itself," Cho said. "It's exciting. You play a new sport, and you get to learn new things."
Alyssa Sze '19, a member of the team, came to rugby after rowing in high school, because she was looking for something new.
"I joined rugby for the same reason I joined rowing: I wanted to do the most challenging thing that I could," Sze said. "I saw rugby at the activity fair and they were very friendly and very welcoming, and without really knowing anything about the sport I decided to show up, and I'm really happy that I did."
For Sze, the excitement and strategy involved in rugby were what caused her to fall in love with the sport itself. For Horrigan, running around on the field for 80 minutes surrounded by his teammates is a great stress reliever. No matter the stressors of the rest of his day-to-day life, once he steps onto the field, the game is all he thinks about.
The rugby community is incredibly tight-knit, especially in America, where it is relatively small.
"You can go anywhere in the world, and if you meet someone else who plays rugby you automatically have something to talk about. There's an automatic connection," Horrigan said.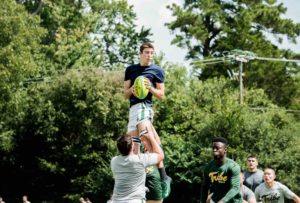 There is also a powerful sense of camaraderie within the team.
"There's a sort of equality that you get, because we need communication on the field," Horrigan said. "So even if there's a freshman who's new to the team, we still need to make sure they're comfortable communicating with us, and I think that carries over off the field as well."
On and off the field, both teams are very close, which helps make the practices and long drives to other schools for away games more fun. Horrigan said that the team has a very strong community of alumni, many of whom keep in touch and visit during games and practices.
"I'm now good friends with a lot of alumni, some of whom I didn't even go to school with," Horrigan said. "I've got two of them helping me find a job right now, and two weekends ago I helped one of them move into his apartment."
This closeness is also very present in the women's team.
"We have a really good chemistry going on with everyone, not just certain groups of people," Cho said. "We try our best to include everyone when the new incoming class comes. We do bigs and littles, and we just overall try to make it so that they feel included, and feel like they have a family."
"You can go anywhere in the world, and if you meet someone else who plays rugby you automatically have something to talk about. There's an automatic connection," Horrigan said.
Because most people are learning the sport for the first time, and because it's so important to have a close group, there is a lot of equality in rugby. Underclassmen are never made to feel inferior to upperclassmen, and everything is done based on merit.
"There's a lot of trust and respect on the team," Sze said. "I trust all of my teammates. I respect all of my teammates. The nice thing about rugby is that everyone has different skills, and no one skill is more valuable than the other one. All of them are necessary and needed on the field."
Unfortunately, there are a lot of misconceptions about rugby that deter people from even trying to play.
"A lot of people think that because we don't have pads, and because we're tackling people that everyone's just going to get hurt or injured," Cho said. "But we do our best, especially during practices, to encourage safe play. So we teach everyone to safely tackle, and how to protect yourself when you get tackled."
According to Horrigan, the same goes for the men's team. The most common issues that they have are when players come into rugby from football and try to just play rugby like they would football. In rugby, players have to be a lot more careful about how they tackle because they don't wear any pads and because, unlike football, the play continues after a tackle, so instead of having time to reset the line and prepare, the game continues.
It is still early in the rugby season, but both teams are doing well and have made marked improvements over years past. The men's team is 2-1, and the women's team is 1-0. The women claimed their victory over the University of Mary Washington, which was the division champion in 2015.
Both teams have home games coming up Oct. 7 and are looking forward to a strong season.