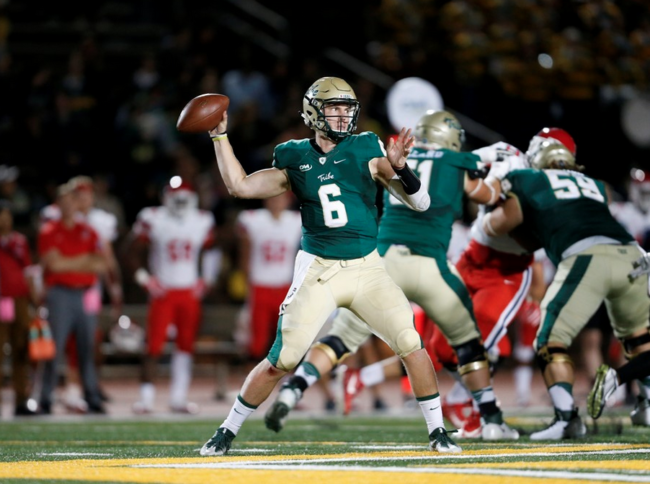 William and Mary came just short of erasing a 21-point, second-half deficit against Stony Brook Saturday night. The Tribe (2-2, 0-1 CAA) lost to the Seawolves (4-1, 3-0 CAA) 21-18 on a false-start penalty with eight seconds left, which included a 10-second runoff as the College tried to stop the clock with a spike and get the kicking team on the field. The mistake was the last of many that hurt the College in its first Colonial Athletic Association game of the season, mistakes head coach Jimmye Laycock '70 made a point to discuss after the game.
"We had too many opportunities we didn't take advantage of, we squandered those, and we had obviously too many mistakes," Laycock said. "I talked to the players earlier in the week about that it would be a fine line. It could come down to [who made] fewer mistakes, and that kind of got us. Disappointing, but we keep going."
The Tribe offense had several chances to find a rhythm in the game's opening stages, the defense recovering two fumbles and Stony Brook missing a field goal in the first quarter. Nonetheless, junior quarterback Tommy McKee and the rest of the College attack failed to take advantage, generating just 63 total yards of offense in the first half.
Meanwhile, the Seawolves gradually began to find their offensive rhythm, establishing a balanced attack with effective rushing and passing. Running back Stacey Bedell ran for 62 of his game-high 104 yards in the first half, scoring the game's first touchdown with 3:02 left in the first quarter, and quarterback Joe Carbone completed eight of his first 10 pass attempts for 90 yards.
We had too many opportunities we didn't take advantage of, we squandered those, and we had obviously too many mistakes."
The College finally put together a long drive midway through the second quarter, moving the ball 48 yards over 15 plays and taking 7:47 off the game clock. On a crucial 3rd and 2 at the Stony Brook 10, however, McKee slipped on a bootleg, losing 10 yards on the play. Sophomore kicker Kris Hooper missed the ensuing field goal from 37 yards out, the Tribe's best drive of the game so far ending with zero points.
On the next drive, the Seawolves marched down the field in eight plays, increasing their lead to 14-0 on running back Donald Liotine's nine-yard touchdown run. The Tribe headed into the locker room at halftime behind by two touchdowns, needing an offensive spark.
"We called some bad plays, we had some bad execution, we didn't block particularly well, we dropped some passes, Tommy [McKee] made a couple mistakes," Laycock said. "There's a litany of things that you could go on as to why we weren't clicking early."
The spark did not come until Stony Brook had once again padded its lead, Carbone finding a wide open Liotine for a 61-yard touchdown pass midway through the third quarter which put the Seawolves ahead 21-0. The College made its second trip to the red zone on the ensuing drive, with McKee completing four passes, but the offense once again stalled before it reached the end zone. This time, however, Hooper converted his field goal attempt from 34 yards, and the Tribe was on the board.
We called some bad plays, we had some bad execution, we didn't block particularly well, we dropped some passes."
After a Stony Brook punt, the College offense returned to the field and once again found success, with freshman running back Nate Evans setting up a 1st and goal from the Seawolves' six-yard line with a 36-yard run. After a long series of plays which included three pass interference penalties, two of them called against Stony Brook, Evans finished off the drive with a three-yard touchdown run, giving the home fans a glimmer of hope, closing the Tribe deficit to 21-10.
McKee lauded Evans's performance after the game, the first-year player leading the Tribe in both rushing and receiving yards Saturday.
"He's a good player. He's a freshman but he acts like he's a senior," McKee said. "We took advantage on their aggressiveness on defense and threw a couple screen passes behind them. When you get him out in space, he can do a lot of things and make a lot of people miss. So glad to have him."
The Tribe trimmed the deficit to three following another Stony Brook punt, going 79 yards on four plays. Sophomore wide receiver Chris Conlan's first career reception resulted in a 21-yard touchdown pass from McKee, and the College converted the two-point try with a trick play on which McKee caught a pass in the end zone from junior wide receiver Isaiah Kinder.
The defense once again stepped up for the Tribe, forcing yet another Seawolves punt. However, McKee badly overthrew senior wide receiver Daniel Kuzjak on the first play of the Tribe's next drive, and the pass was intercepted with under four minutes to play. It was McKee's second pick of the day.
"I just overthrew him," McKee said of the costly turnover. "If I had thrown it a little more left, maybe he [Kuzjak] would have had more of a chance to get it. That's just part of my growing process as a starting quarterback, just knowing when to take those chances, knowing when to just throw that away."
With no timeouts and 53 seconds to go, the Tribe offense got one last shot to complete the comeback. Benefitting from a pair of Stony Brook personal fouls — one of which resulted in an ejection for targeting — the College found itself in field goal range. Evans rushed for four yards to the Seawolves' 17 and McKee tried to spike the ball with eight seconds left, but junior offensive lineman Garrett Best jumped before the snap. The game clock was reduced to zero by the 10-second runoff, and Stony Brook celebrated a hard-fought 21-18 win.
"In those situations, you just got to keep your composure, just really be focused in there," McKee said. "I feel like as a whole offense in that situation we kind of let the chaos get to us. Just got to practice that better next time."
The Tribe will look to bounce back from this tough-to-swallow loss next Saturday when it pays a visit to CAA foe Elon. Kickoff is scheduled for 2 p.m.