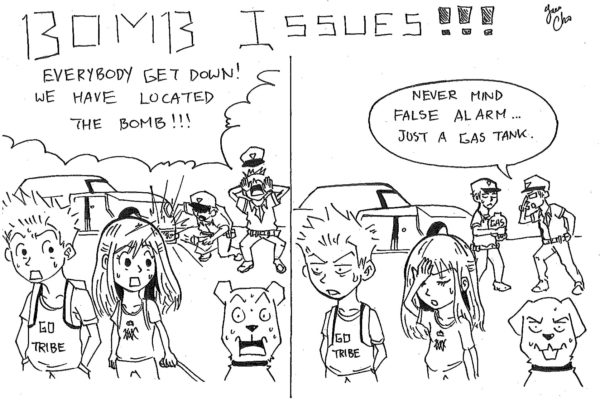 "They told us a transformer had blown," a College of William and Mary student barred from entering Berret's Seafood by the police Oct. 19 said.
It was 5 p.m. that Thursday night when Williamsburg police got the call about a vehicle fire near South Boundary Street in Colonial Williamsburg, and it was 9:32 a.m. Friday morning when all faculty, staff and students received an email from William and Mary Police Chief Deb Cheesebro about the incident. Writing "about an incident you may see in the news," the email informed members of our community about the discovery of an improvised explosive device found detonated approximately 486 feet from the Campus Center.
In two subsequent emails from Cheesebro, there was no specific mention of the presence of the FBI, Virginia State Police or ATF investigating the incident, instead noting that the William and Mary Police Department was "working closely with the Williamsburg Police Department and other agencies." On an active college campus that was already beginning to fill with extra thousands of alumni, friends and family for Homecoming weekend, the lack of urgency and failure to use the College's emergency alert system could have left community members at risk, the exact reason we have an emergency alert system in the first place.
The College's emergency alert system has proven to be proactive, yet also occasionally inaccurate, in the past. In September, students received three different alerts about the diesel fuel spill behind Earl Gregg Swem Library, the gas leak in Adair Hall, and the kitchen fire in the Sadler Center. These alerts kept members of our community safe and performed their intended function.
Unfortunately, this is not always the case. Over the summer, an alert was sent notifying campus of an active shooter, advising students to "stay indoors." Three minutes later, another alert informed students that this was false; the alert "was accidentally sent." Thankfully not sent during the typical semester when campus is full, those three minutes caused reasonable panic and fear among our community. Even in this case, however, the intent was to keep members of our community safe. If there had been an active shooter situation on campus, community members would have been aware and could have taken measures to protect themselves. This is the entire purpose of the emergency alert system and the 14-person Emergency Management Team. In this latest incident of the IED explosion near campus, both the system and the team failed community members.
Our emergency alert system on campus is part of the College's response to the Clery Act, a federal statute that requires colleges to report crime and to provide "timely warnings" to community members of all ongoing incidents. The Clery Act requires faculty members, in the College's case its EMT, to evaluate if there is an ongoing threat to campus or community members and if so, widespread emergency notification must be made. The detonation of the IED Oct. 19 was not deemed an ongoing emergency, and no notification was made through the emergency alert system. This indicates a failure on the part of our EMT to deem this explosion a considerable, and continuing, threat.
An arrest was not made in regard to this incident until late Friday night, over 24 hours after the initial explosion. Before this arrest, there was another possible explosive device reported near Matthew Whaley Elementary School in Williamsburg, which was included in Cheesebro's second email to campus. Though this threat turned out to be a false alarm, clearly the threat was high enough to register with school administrators, as Matthew Whaley was put on a "soft lockdown" while local law enforcement investigated. And, as indicated above, our emergency alert system is not unused to sending false alerts and correcting them later for the immediate safety of our community.
Though Cheesebro's emails are typically meant to quell panic on the part of our community members after an initial emergency alert, the calm tone of her emails regarding the IED incident missed the mark.
Email Kate Donati at kdonati@email.wm.edu.