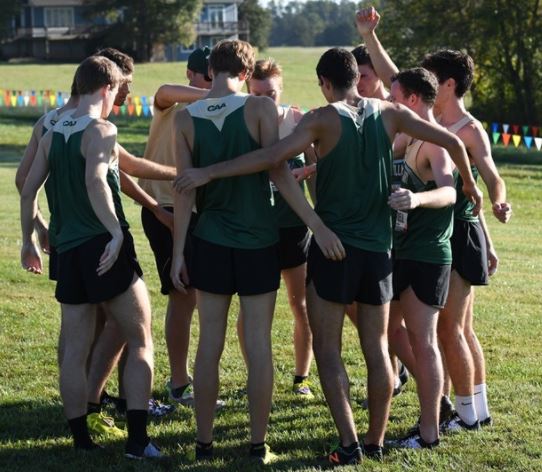 The William and Mary men won their 18th consecutive Colonial Athletic Association championship Saturday at Elon, while James Madison took home the crown on the women's side. The Dukes, led by individual champion Nora Raher, scored 26 points to end the College women's streak of five consecutive CAA titles.
Tribe sophomore JP Trojan captured the individual CAA championship on the men's side, clocking in at 25:01 over the eight-kilometer course to pick up his second conference title after winning the 10K on the track this past spring.
Trojan said he was pleased with his individual victory, but was quick to credit his teammates and express excitement over the team win.
"Our goal was to run as a pack and control the race as a team and we did that," Trojan told CAAsports.com following the race. "I eventually just broke free from our pack, but I think it was more of a team effort and what we did together was really awesome today."
The College's remaining four scoring runners weren't far behind, as junior Ryan McGorty finished runner-up in 25:09 and redshirt junior Dawson Connell crossed the finish line in third in 25:11. Redshirt senior AJ Tucker finished eighth (25:46) and freshman Zach Skolnekovich rounded out the scoring and cemented the team victory with his ninth-place finish in 25:47. The College's entire varsity lineup finished within the first 12 places, as sophomore Cooper Leslie finished 10th (25:48) and redshirt sophomore Evan Woods finished 12th (25:59). The Tribe won the title handily with its team score of 23. Northeastern finished second with 59 points and Elon finished third with 93.
Men's head coach Forest Braden said he was proud of his team's performance and felt happy to continue the winning tradition his first year as head coach.
"It feels good," Braden told CAAsports.com. "Obviously the legacy here is something special … It's a special place to be and I'm happy to be here and happy to continue that legacy."
In the women's 6K race, redshirt senior Molly Applegate led the charge for the Tribe with her seventh place finish in 21:42. Freshman Lauren Finikiotis (21:54) and senior Molly Breidenbaugh (22:16) finished in 10th and 17th place, respectively. Redshirt sophomore Kathryn Eng and sophomore Charlotte Kowalk crossed the line together in 22:23. Eng placed 19th and Kowalk placed 20th to secure the Tribe women's runner-up finish in the team standings. Despite missing All-American senior Regan Rome due to injury, the College recorded 73 points, topping third-place Elon's score of 80.
The College will race next at the NCAA Southeast Region meet in Charlottesville in two weeks. The women are slated to race at 10:30 a.m. and the men will run at 11:30 a.m.