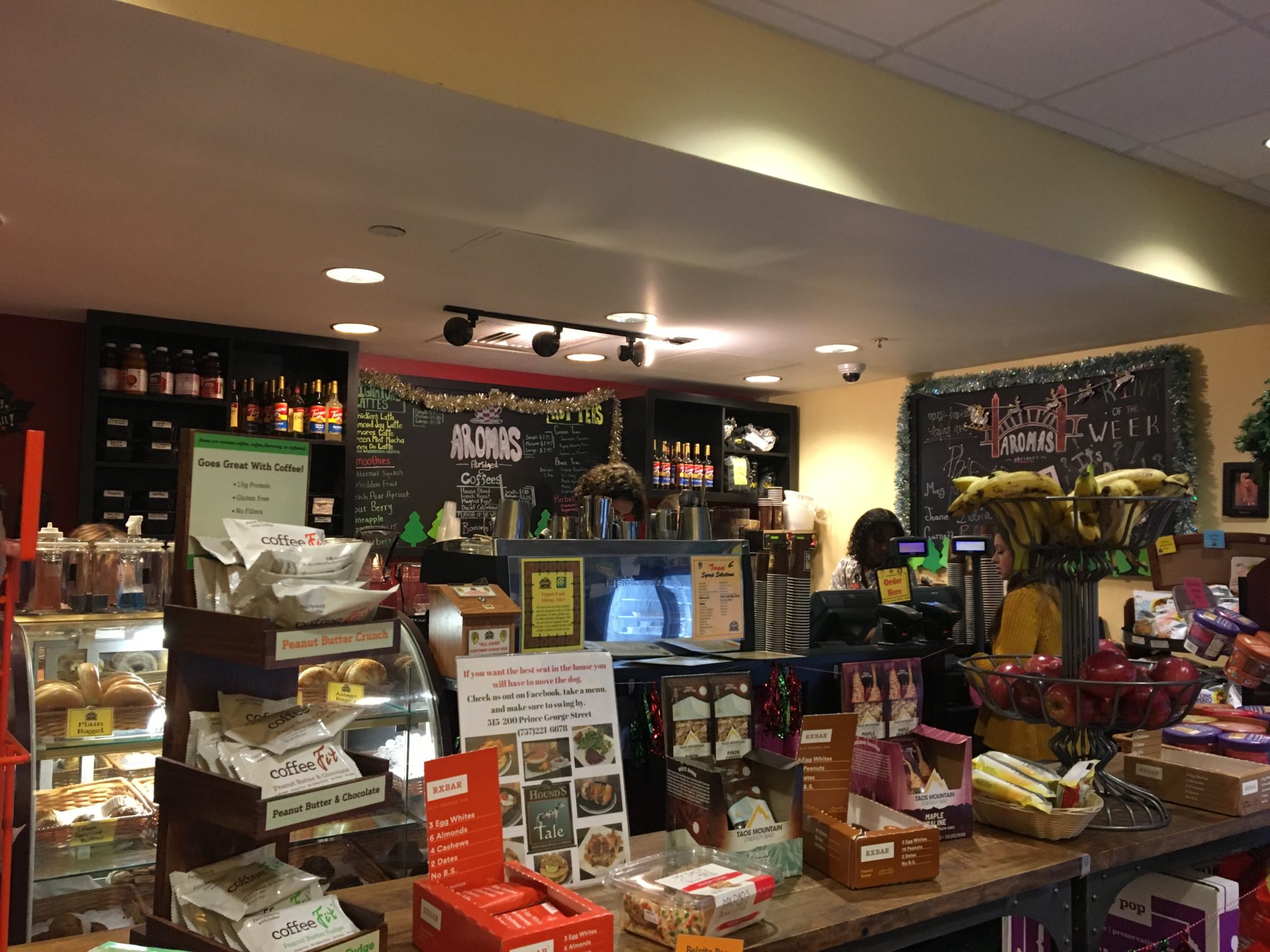 Caffeine is arguably the most coveted substance on campus. Its main sources, coffee and tea, have become a necessity for sustaining college students in daily life, from surviving late-night study sessions to struggling through early-morning classes. There are many establishments near or on campus that make these beverages available to students: dining halls, the Integrated Science Center's Starbucks, the Wawa, etc. But, if a student wants to visit the best option, then they'll have to take a trip to Earl Greg Swem Library on campus and visit the spinoff of Aromas coffee shop inside, otherwise known as Swemromas.
Swemromas has everything you'll need for your caffeine fix. Of course, there are the standard coffees and teas for purchase. On top of that, though, are the more flavorful options for those adventurous in their beverage consumption. From mint mochas to s'mores lattes, this coffee shop will find any way to jazz up your drink. If you're craving something different, check the blackboard in the back that features weekly new beverages. Swemromas' unique drinks are a refreshing break from the repetitive, syrupy ones of corporations like Starbucks. And Swemromas also wins in the food category, offering excellent pastries and other sweet treats that beat out those of other establishments in quality, giving it extra points in its favor. After all, there's nothing like a good sticky bun to compliment your latte.
Excellent coffee and food are of course crucial to having an establishment earn the patronage of students at the College of William and Mary. However, for it to be the ultimate choice, Swemromas has to take its excellence a step further, which of course it does. After all, there are other aspects which make a food provider so successful in distinguishing itself from the competition.
The most important factor is the atmosphere, which Swemromas does superbly. The homey, slightly quirky touches around the shop, the blackboard featuring the entire menu handwritten and the soft but upbeat music all create a welcoming and relaxing space for the harried college student. Add to that the friendly and personable staff and you have a place that would make any student feel at home. As such, the cozy, comfortable vibe provides an excellent space for anyone to hang out with friends or study, which many do at the multiple tables available in the back and along the side. There are simply no other places on or near campus that provide as nearly a friendly and chill atmosphere. Not the Wawa, not the Starbucks and certainly not the dining halls. Swemromas is a unique space that cannot be replicated.
The final point in favor of Swemromas is convenience, which combined with taste and atmosphere, puts it clearly at the top of the list for students. Sure, perhaps students could go to other local coffee shops for good drinks and a cool vibe, such as the main Aromas, but will it be worth the trek out there? Swemromas is literally the center of campus, located in one of the most popular and visited buildings. If at any time while studying you need a caffeine rush, Swemromas is immediately there to provide. Since Swemromas is unparalleled in the immediate area for quality, atmosphere and location for students at the College, it is the clear top choice for students in search of coffee or tea. If all that is not enough to convince you, just remember that it also takes Flex. Case closed.