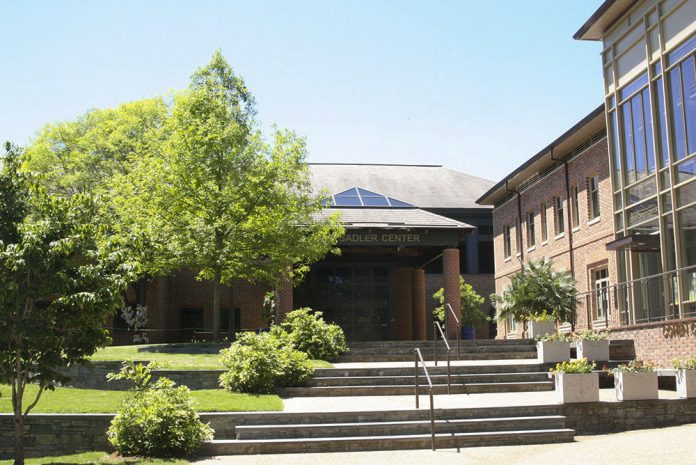 College of William and Mary President Katherine Rowe held the first campus forum of the semester Sept. 4, where attendees received an outline of a drafted university values statement and discussed the College's future goals. The forum was the first of a series that will run throughout the academic year, allowing students, staff and faculty to interact with the College's current and future initiatives.
"I am filled with excitement, in part because of the discovery process that we have ahead of us, in part because this room is so full, and I see an incredible journey for us in doing that discovery together and in part because of the experience of last year," Rowe said. "We convened in rooms like this to think together, collaboratively, across the different places we sit at William and Mary about the ten to twenty-year future of our core domains of work and mission, the future of knowledge, the future of work and the future of service to our communities in the world."
Rowe described how some of the forum's allotted time was devoted to conveying valuable information regarding the College's progress with the discovery process and stated that other components of the forum allowed for greater interactivity. She applauded those who were in attendance for the impact they would be able to have on the campus's future.
"There will be outcomes from the conversations that we have here in these rooms; there will be other realms of engagement for the campus as a whole, but typically the folks who convene for open forum are going to be at the leading edge of exploring ideas."
"We will be sharing information in these rooms, and we will also be doing active work together," Rowe said. "There will be outcomes from the conversations that we have here in these rooms; there will be other realms of engagement for the campus as a whole, but typically the folks who convene for open forum are going to be at the leading edge of exploring ideas."
After welcoming participants to the forum and before turning the floor over to the College's Chief of Staff Jeremy Martin and Provost Peggy Agouris, Rowe introduced the Strategic Planning Steering Committee. The Committee is tasked with prioritizing the College's goals and progress as the discovery process moves forward.
"By this time next year, this is what we hope to come out with, by this time next year, to have drafted the strategic plan that answers to these two goals: to advance our distinct excellence, nationally and globally, and to align our financial model with our academic model," Rowe said.
After this introduction to the forum, Agouris explained how the College aimed to move forward, recognize its ambitions, and advance the values it cares most deeply about.
"As you can see, what we have here is a process that is cyclical," Agouris said.
The provost referred to a four-stage process that is designed to be used continuously, starting with evaluation, moving to environmental analysis, then developing strategies, followed by implementation. From there, Agouris recognized, evaluation would begin again and the cycle of steps would repeat.
Agouris also acknowledged the importance of refreshing and relearning the College's vision, mission and values, a move which has been spearheaded by Ginger Ambler '88, Ph.D. '06, vice president of student affairs and Fanchon Glover, chief diversity officer.
"What we are doing is we are changing, not for change's sake, but to advance what we value most."
"What we are doing is we are changing, not for change's sake, but to advance what we value most," Agouris said. "And, what we value most is described by our vision, mission and values. Now, we have those, but I think that it is about time that we really take another look and see how well aligned these values and vision and mission are to who we are today and where we want to be in the future."
After Agouris' presentation, Martin delved into what the terms vision, mission and values truly mean in reference to the College's future.
"Vision being the institution we aspire to be, mission being how we realize our vision, so what we do and how we pursue that vision, and finally the values statement, who we strive to be as we're fulfilling that mission," Martin said.
Martin then introduced Ambler and Glover, who have both diligently worked on drafting the values statement. Glover brought up the fact that the College was not alone in its lack of a clear values statement, and noted that many institutions reference their values without having a specific statement to cite that lays out these values. Both Ambler and Glover shared their appreciation and excitement that steps were being taken to formulate an official statement.
"We wanted to make sure that the values that we set up were not 'buzz' words, because those 'buzz' words change, and this is something that we wanted to be long-standing," Glover said. "We also wanted to make sure that the values that we chose resonated with every member of this community."
Ambler and Glover also explained that in conjunction with developing this values statement, they examined the College's mission statement. Ambler described that they are continuing to work with the mission statement in the evolving quest to clarify the College's primary objectives and values.
Following all of these speakers, Martin turned the attention back to the room and asked each table to look at one of three categories: teaching and learning, research and innovation or engagement and flourishing. Each table then had a breakout discussion on their chosen topic and used post-it notes to write down what would be crucial for the College to consider in the next ten years within these categories.
After this breakout period, Martin collected the room and asked tables to share their ideas. Representatives from each table took turns presenting their thoughts, including the emergence of technology in all job fields, the impact of technology and the internet on physical institutions providing education, how we establish measures of success, how we support the College's alumni base, the continued issue of affordability as well as accessibility for students of all different socioeconomic backgrounds.
Information Technology Business Services Manager Kathleen Smith came to the forum and expressed her appreciation of Rowe's approach to change.
"I think this is more of a process of 'let's see what we can build together,' which I find appealing," Smith said.
Abhi Chadha '20, who has previously worked in Student Assembly, welcomed new points of view contributed by individuals outside of his peers.
"I really got to understand a lot of perspectives that weren't just student-based," Chadha said. "With the work that I've done, especially with Student Assembly, I've had the change to hear a lot of student input, but it was interesting to see how a lot of the other stakeholders in this process view the issues that we have in the short and long-term future."
Both Smith and Chadha highlighted what Rowe deemed most important to the forum: the importance of including everyone in the College community in the process of discovery.
"We are by design bringing together folks from different parts of the institution to be able to focus on what it might mean to think as a whole institution, to set long-term twenty year goals, to set ambitious goals with the interests of the whole institution in mind and to reinforce our sense of responsibility for cultivating the opportunities and addressing the challenges that we face," Rowe said.