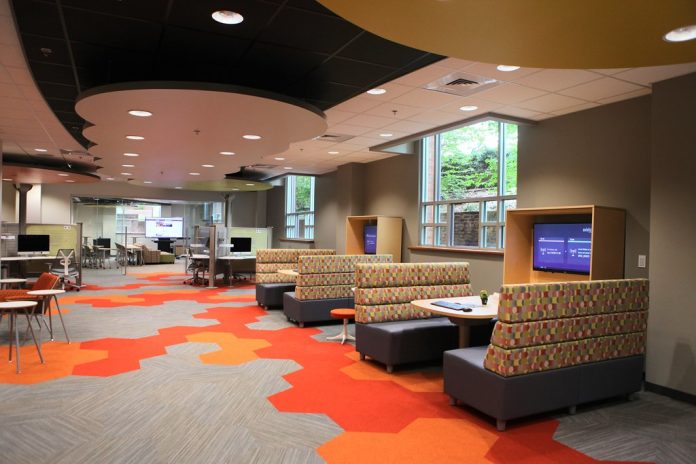 Upon entering Earl Gregg Swem Library, most of us head straight to our favorite work areas, in a rush to either secure a table on the first floor for meetings or more casual studying, or to claim a desk on the second and third floors for a quieter study session. No matter the case, in our focused frenzies, we tend to miss the short story dispenser situated to the left of the library entrance along the elevator wall.
The little machine, with its backlit panel and dark base, prints short stories from a wide range of genres onto receipt-like slips of paper after readers have selected their preferred length of story, either one, three or five minutes long. A clothespin line hanging next to the machine showcases a sample of these stories. This little dispenser may stand small compared to the library's large bookshelves offering scholarly research and may be overlooked as we go about our busy days, but the dispenser provides an important opportunity for students to incorporate snippets of literature into their lives and reminds us to connect with others.
The short story dispenser made its debut in the library March 1 of this year and ran out of paper its first night since so many students were eager to read the stories. Associate Dean for Research and Public Services Lisa Nickel led the initiative to install the dispenser after she first learned about it at the American Library Association Conference in summer 2018.
The short story dispenser is produced by Short Edition, a French company that specializes in publishing short stories and making them accessible to the public through its many dispensers. By combining the timeless act of storytelling with contemporary technology, the dispensers reflect the company's primary mission: to integrate literature into the modern world. Short Edition's stories are printed on BPA free, FSC certified and eco-friendly paper and do not require ink or cartridges to print. Readers choose the time they would like to spend on the stories, but the genre of the stories are randomized, ranging from poetry to classic literature to children's stories.
Short Edition connects writers and readers from all over the world. Any writer, established or emerging, can join the current 9,000 contributing authors by submitting their work to the website. For free, people can read short stories at train stations, libraries, cafes, airports and hotels, at dispensers in France, China, Australia, the United States and more.
As college students, we may not have the time to read as much or as often as we'd like to, but we can't forget about the power of reading and its ability to connect us with others.
The short story dispenser gives us a glimpse into the lives of others through its diverse characters and stories, but also connects us to a community of local and international readers and writers. The next time you are in Swem, perhaps before you begin studying or maybe when you need a break, give the short story dispenser a visit. Enjoy the story and think about the other readers, who may be waiting for their flights or for their food in other parts of the world but may be smiling because of the same story you are reading.
Email Anhthu Cung at