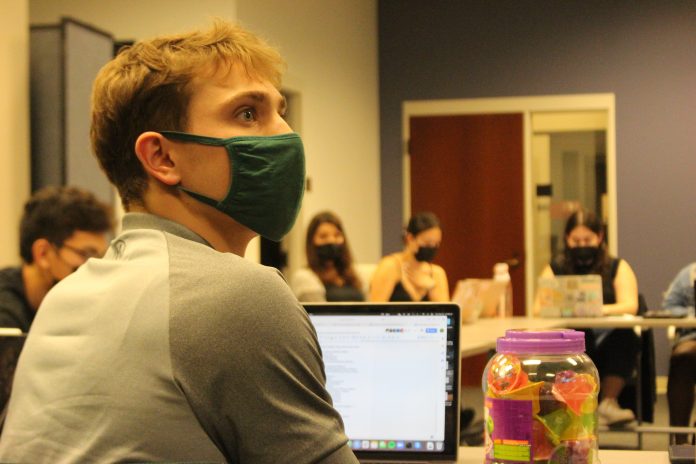 Tuesday, Feb. 22, the College of William & Mary's 329th Student Assembly passed two bills and introduced three new bills. 
Before introducing new legislation, SA approved to pay the speakers fee, lodging and travel costs for Amal Kassir, a Syrian-American poet who will be speaking at the Muslim Student Association's Ramadan Banquet later this semester.  
New Business 
Sen. Hashir Aqeel '25 introduced the Slant Board Supply Act, which allocates $280 from SA reserves for four slant boards to be used in the Campus Recreation Gym.
Chair of the Senate Owen Williams '23 introduced the Senate Committee Reform Act. The bill dissolves four current Senate committees, namely Policy, Student Life, Public Affairs and Outreach, and replaces them with two committees, Policy & Student Rights and Student Experience. 
"We've noticed…I think a lot of issues that most senators would agree with," Williams said. "A lot of time there can be overlap in discussion between committees…and sometimes it's hard to have committees think of projects that are worthwhile, and not necessarily being productive with output as they might have been in the past because a lot of over the years things like cabinet departments have changed a lot and so we wanted to re-evaluate what each committee was really focused on."
Sen. Taylor Fox '24 introduced the Mental Health Panel Act, which organizes and provides $780 in funding for a wellness event that will be held later this semester. 
Old Business 
The Impeachment Trial Reform Act, sponsored by Sen. Sean Nguyen '25, was passed after being tabled at last week's meeting. The act creates a structure for a trial in the event that a senator is impeached. The controversial clause which turned the impeachment vote into an objective standard of wrongdoing rather than the current subjective standard was removed after its tabling last week. 
After over twenty minutes of debate, SA passed just the immediate funding clause of the Funding the Future Feeding of Students In Isolation Act, sponsored by Sen. Zach Outzen JD '22, and tabled the rest of the bill for next week. 
"There are a lot of parties that haven't been reached out to and a lot of questions that haven't been answered," Sen. Jahnavi Prabhala '22 said during the discussion about the act, summing up multiple senators' concerns. 
Also at this week's meeting: 
Aqeel brought up an initiative created by Undersecretary of Williamsburg Affairs Jeremiah Foltz '22 of an inter-university organization of student governments from local universities. Aqeel said the program would have student governments work in tandem to increase advocacy and "both increase the pressure on the administration, and also…it increases accountability as well."