Jump to a section: Executive • News • Opinions • Variety • Sports • Social Media • Blogs • Online • Graphics • Copy • Photos • Chief Writers • Associate Editors
Executive
Editor-in-Chief: Ethan Brown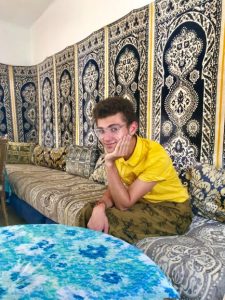 Editor-in-Chief Ethan Brown '21 is an economics and government double major from Manassas, VA. Prior to serving as EIC, Ethan previously served as Managing Editor and as an Opinions Editor, and also currently presides over the paper's Editorial Board. He has reported on many fascinating campus developments in his tenure, including Jefferson Hall's 2020 flooding, the College's declining admissions yield rates, university-wide responses to the COVID-19 outbreak and the implementation of free emergency contraception. While The Flat Hat has his heart and soul, Ethan also is a member of the International Relations Club and works with the American Bosnian Collaboration Project. In his free time, he loves baking, long-distance running, European politics and discussing his abundantly curly hair. After William & Mary, Ethan plans to work doing something that encompasses as much writing and organization as his current job entails.
Managing Editor: Emma Ford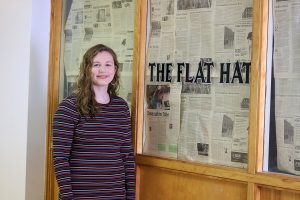 Managing Editor Emma Ford '22 is a public policy major who formerly worked as a News Editor as well as an Associate Editor the fall of her freshman year. Alongside fellow news writer Kimberly Lores, she writes the weekly Student Assembly Beat. In addition to The Flat Hat, Emma swims for the College's club team.
Executive Editor: Adithi Ramakrishnan
Executive Editor Adithi Ramakrishnan '22 is a neuroscience major and creative writing minor from Ashburn, VA. She previously served as a Variety Editor. Adithi enjoys telling campus stories and representing a variety of campus experiences in her work. Outside of The Flat Hat, Adithi dances on a Bollywood fusion dance team called Afsana and performs spoken word with Inside Out Theater.
Digital Media Editor: Claire Hogan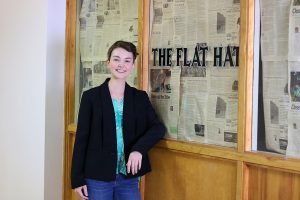 Digital Media Editor Claire Hogan '22 undersees all of the paper's digital and virtual sections, so you can usually find her with a camera in tow. She's a computational math and economics major, and she genuinely enjoys spreadsheets. Outside of her Flat Hat duties, you can find her listening to a podcast, doing calligraphy, or debunking a conspiracy theory on the internet.
Data Editor: Leslie Davis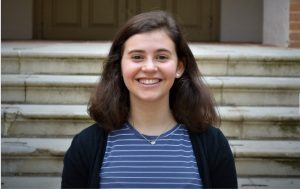 Data Editor Leslie Davis '21 is a government and data science major from Burke, Virginia. Before becoming The Flat Hat's inaugural Data Editor, she served as News Editor and Social Media Editor on staff. She enjoys covering the intersection of social and political issues, including civil rights, women's rights and more. Leslie aspires to become a data journalist, working to tell enterprise stories with a quantitative focus.
Business Manager: Amelia Sandhovel
Business Manager Amelia Sandhovel '22 is a Government major and Sociology minor from Midlothian, Virginia, right outside of Richmond. She began with The Flat Hat in Fall 2018 as an intern, and is currently the Internal Operations Manager for the Business Department alongside co-manager Maddie Douglas.
After graduation, she hopes to live in Northern Virginia and work for the federal government. She's also a self-declared astrological guru and the best/most characteristic Gemini you'll ever meet.
Business Manager: Maddie Douglas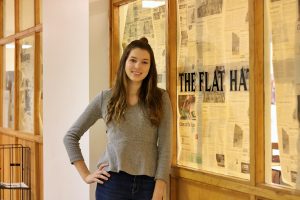 Business Manager Maddie Douglas '22 is a sophomore studying business at William & Mary. She started as a Business Intern in the fall and was promoted to External Business Manager at the end of the semester. Maddie hopes to run her own business one day. When she isn't selling advertisements, she spends time baking, playing volleyball, and trying not to fail out of college.
Chief Operations Coordinator: Anna Boustany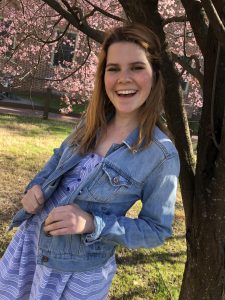 Operations Coordinator Anna Boustany '21 is enjoying her current term, helping to connect new staffers to editors and advertise the paper to incoming students. She has previously worked as an Opinions Editor and also served as the Submissions Editor for the inaugural Flat Hat Magazine. Around campus, she is involved in a social sorority, gives tours, and works at the Wellness Center. Her favorite thing to do with the paper is hanging out in the opinions corner of the office, where she sits and laughs at her own jokes.
Webmaster: Andrés Eduardo Bencomo-Magaña
News
News Editor: Charles Coleman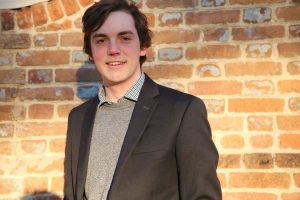 News Editor Charles Coleman '22 is currently a sophomore at the College working as one of the news editors for The Flat Hat. Charles is a CAMS major and is also on the pre-medical track. Charles is excited about working with the staff of the newspaper for the next year to create the best paper we can on campus.
News Editor: Lulu Dawes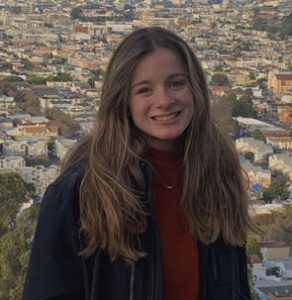 News Editor Lulu Dawes '23 is from Vienna, VA and is most likely majoring in history and psychology. She plans to pursue a law degree after college. When not scouring the campus for news, you can probably find her watching The Bachelor or napping in the Swem basement. Her fun fact is always that her favorite dessert is bread pudding or that she has never been able to sit in the black armchairs in the Swem basement and not fall asleep.
News Editor: Carmen Honker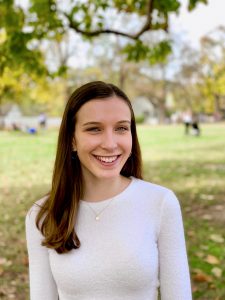 News Editor Carmen Honker '21 is a history and Hispanic studies double major from Alexandria, VA. While she is serving as News Editor, she previously served as Variety Editor and as Chief Features Writer, and earlier as an associate editor and intern. She aspires to pursue a career in journalism and new media, sharing untold stories in an accessible, digestible manner. On campus, Carmen also dances with the student-run Pointe Blank Dance Company and is a part of ROCKET Magazine's digital team.
Opinions
Opinions Editor: Alyssa Slovin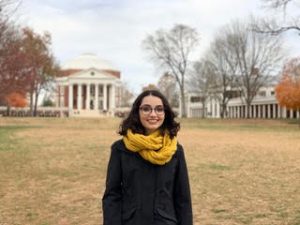 Opinions Editor Alyssa Slovin '22 is double majoring in marketing and English at the College of William and Mary, and she hopes to work in either Publishing or Advertising. As a very opinionated person, she has found her place as an Opinions Editor for The Flat Hat. She is also a creative director for the Flat Hat Magazine and a member of the newspaper's Editorial Board. Alyssa is from New Jersey, and despite her efforts to combat the stereotypes, she is a Jersey Girl at heart. When she's not doing schoolwork, you can probably find her reading a book, watching YouTube, eating Cheez-Its or all of the above.
Variety
Variety Editor: Gavin Aquin Hernández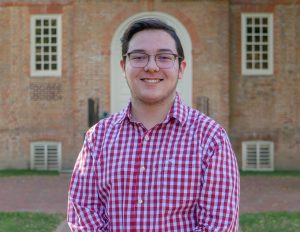 Gavin Aquin Hernández '22 is the Magazine Editor-in-Chief and Arts & Culture Editor of The Flat Hat, having joined the organisation in the Fall of 2018. He has sat on the Editorial Board since his Freshman year and previously served as the Sports Editor (for the curious: he adamantly supports the Vegas Golden Knights, the LA Dodgers, Tottenham Hotspur and the Italian National Football Team). Gavin enjoys writing cultural features, but every once in a while he'll hunker down with a giant cup of tea and write an opinion column. To the chagrin of the copyediting team, he exclusively uses British spelling and grammar conventions in his writing.
Aside from his extensive commitments to the Flat Hat, Gavin is a part of ROCKET Magazine's digital team. He originally hails from Las Vegas, Nevada but is now a resident of Alexandria, Virginia. As a History and Hispanic Studies double-major, he hopes to eventually traverse the whole globe and visit all of the places he has read about. The next stops on his "places I will live" bucket-list are Montréal, Barcelona, Rome, Buenos Aires, Cape Town and Tel Aviv. To learn more about Gavin, visit www.gavinaquin.com.
Variety Editor: Matthew Kortan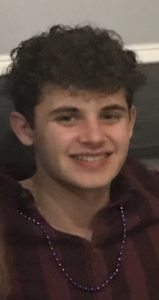 Variety Editor Matthew Kortan '22 is a geology major from rural Illinois. He decided to join The Flat Hat on a whim after staying up past his bedtime to watch Almost Famous. In the future, he hopes to reunite with his beloved Australian Shepherd, Bindi, and train her to jump through a hoop.

Sports
Sports Editor: Zoe Beardsley
Sports Editor Zoe Beardsley '22 is a film and media studies and history double major from Arlington, VA. She previously served as a Variety Editor. Zoe loves all sports and is a massive Washington Nationals and Capitals fan.  In her free time, she has a weekly show on the campus radio station WCWM and plays on the club volleyball team.
Sports Editor: Nathan Seidel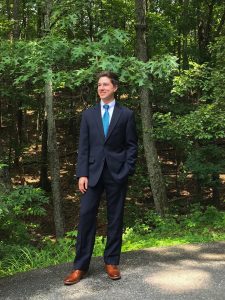 Social Media
Social Media Editor: Rebecca Klinger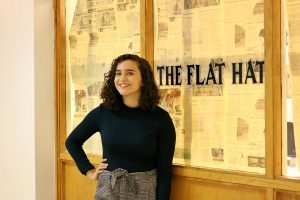 Social Media Editor Rebecca Klinger '22 started her Flat Hat career as an online intern before becoming a photography editor and now resides as Social Media Editor. Beyond a passion for digital media, Rebecca loves her hometown of Virginia Beach where she takes long walks on the beach and frequents her local Walmart. She busies herself over breaks by traveling to Pennsylvania or Brazil to visit family (and take more cool pictures). You can typically find her rocking a combination of her teal, pink, and black crocs with one of her 160 pairs of funky socks and the same three ski jackets of different shades of blue.
Blogs
Blogs Editor: Kate Lucas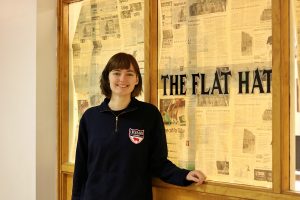 Blogs Editor Kate Lucas '21 is an English major and Japanese minor from Orlando, Florida. She started her career at the Flat Hat has an online contributor for the Blogs section, and after a year and a half of writing movie reviews for Reel Talk, became Blogs editor. Her dream project for the Blogs section would be rating and reviewing every cat cafe in Tokyo. In her spare time, she plays the mandolin, sews her own costumes, and wrestles alligators, as is the custom in her homeland.
Online
Online Editor: Virginia Wyatt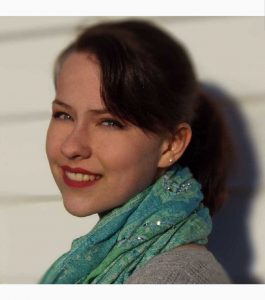 Online Editor Virginia Wyatt '22 is a Psychology major and Linguistics minor, and she hopes to attend law school after William & Mary. She joined the Flat Hat staff as an intern in September of 2019, and her other campus affiliations include Salsa Club, Tribe Scribes, and Community Council.

Graphics
Copy Chief: Angela Vasishta
Copywriters
Copy Chief: Zoë Connell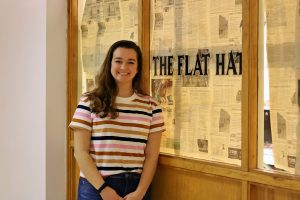 Copy Chief Zoë Connell '21 is a history and economics double major from New Jersey. As a member of the Flat Hat she has edited an innumerable amount of articles. She is currently serving as one of the Flat Hat's Copy Chiefs, as she is a stickler for grammar. Her major goal in life is to rid the world of Oxford commas, one article at a time.
Copy Chief: Lillian Parr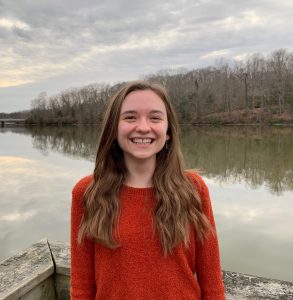 Copy Chief Lillian Parr '21 is a biology major and CAMS minor from Bethesda, Maryland. She is one of this year's copy chiefs. Outside of The Flat Hat, Lillian is in a dance company and works in a campus research lab.
Copy Chief: Lizzie Brown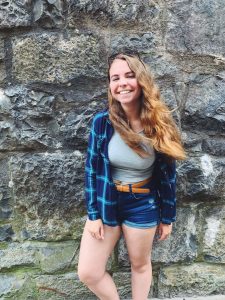 Copy Chief Lizzie Brown '21 is a junior from Indianapolis, Indiana majoring in Government and Psychology, and she has copy edited for The Flat Hat since fall 2018. Besides The Flat Hat, she is involved in psychology research, the campus radio station WCWM 90.9, the peer advising program in the Office of Academic Advising and Kappa Kappa Gamma sorority.

Copy Chief: Cana Clark
Photos
Photos Editor: Jamie Holt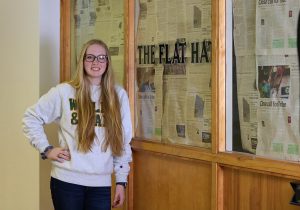 Photos Editor Jamie Holt '22 is from Rustburg, VA. She has been with The Flat Hat for while now and she loves it! She self-designed a major in Photojournalism with a minor in French and Francophone Studies. She is a Sagittarius if that actually means anything, a member of Delta Gamma, and an obsessed dog-lover!
Chief Writers
Chief Staff Writer: Alexandra Byrne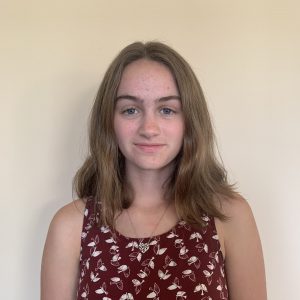 Chief Staff Writer Alexandra Byrne '23 is pursuing an International Relations major and a French and Francophone Studies minor. When not covering various events and breaking news, Byrne is a proud member of the International Justice Lab at the Global Research Institute. She is a big fan of art, tea, and fake plants because she can't keep real ones alive.
Chief Staff Writer: Averill Meininger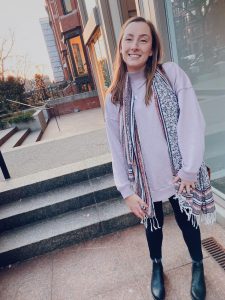 Chief Staff Writer Averill Meininger '22 is a public policy major. She is originally from Bolton, Massachusetts and knew coming into college that she wanted to be a part of the school's newspaper. After participating in the intern program fall of her freshman year, she became a Chief Staff Writer and has continued that role for a second term.

Political Correspondent: Maggie Manson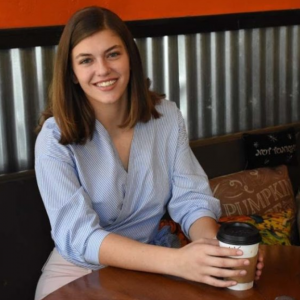 Political Correspondent Maggie Manson '22 serves as the Assistant Chair of Administration for the Undergraduate Honor Council, works as a research assistant for the Teaching, Research, and International Policy Project, and is a member of the W&M High School Model United Nations secretariat. She is excited to be joining The Flat Hat to report on political developments on a local, state, national, and international level.
Associate Editors
Associate News Editors: Karina Vizzoni, Sarah Greenberg, Phil Schueler, Mary Trimble, Georgia Thoms
Associate Opinions Editors: Elaine Godwin, Lucas Harsche
Associate Variety Editors: Ashanti Jones, Grace Olsen
Associate Sports Editors: Lexie Hiestand, Collin Anderson
Associate Data Editor: Matt Lowrie
Photos taken by Jamie Holt, The Flat Hat ❤️