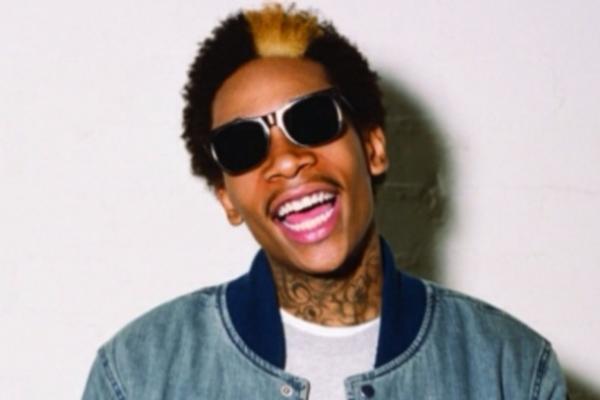 Rapper Wiz Khalifa will perform at the College of William and Mary's Charter Day Concert. AMP music committee co-chairs Katie Sharp '14 and Jamie Blake '14 made the announcement at the Yule Log Ceremony. The concert will be held in William and Mary Hall Feb. 8.
Khalifa's single "Black and Yellow" peaked at number one on the Billboard Hot 100. He is also known for songs such as "Roll Up," "Work Hard, Play Hard" and "Young, Wild and Free." Khalifa has been nominated for four Grammy Awards.
Rapper Chevy Woods will open the concert. Woods is an artist on Khalifa's label, Taylor Gang Records.
Students reacted to the announcement with cheers.
"I think that AMP did a really good job in bringing him, and I'm looking forward to seeing the concert," Andrew Hashim '15 said.
Sharp and Blake worked with the AMP music committee, Charter Day co-chairs Kendall Lorenzen '15 and Rory Park '15 and Student Assembly President Chase Koontz '14 to rank artists that would most excite students. The group ranked Khalifa No. 1 on their list.
"We were shocked and very excited [when Khalifa was confirmed]," Lorenzen said. "He's a big-name artist, and I think that he's going to put on a really, really good concert."
Khalifa has collaborated with Snoop Dogg, will.i.am, Bruno Mars, 2 Chainz, Miley Cyrus and Maroon 5.
"He's very much in the popular music realm, but he's more of an artist and more talented," Sharp said. "He's not so showy and in-your-face as other artists you see."
Blake saw Khalifa play this summer.
"He played with a band, which I think for rap and hip-hop is really a big plus, just because it makes it more of a performance," Blake said. "I had a lot of fun with it, definitely."
One of their goals this year was to bring a more current artist to the College. While Khalifa has been active in the music industry since 2005, he has become popular in the last four years.
"When I think 'Black and Yellow,' I think freshman year, playing it in DuPont [Hall]," Sharp said.
Khalifa will release his fifth album, Blacc Hollywood, in 2014.
"I hear [Khalifa] at a lot of parties when friends and students are just hanging out, and that's really what I associate his music with. … I think that's what the concert's about," Koontz said.
This year marks the fourth annual Charter Day concert. Past performers include Gavin DeGraw, Third Eye Blind and the Roots.
"The concert has made [Charter Day] more of a party and a celebration, rather than just a ceremony to celebrate the College," Lorenzen said.
Some students were pleased with the decision.
"It's good publicity for the College to have such a famous artist coming," Abby Gomulkiewicz '15 said.