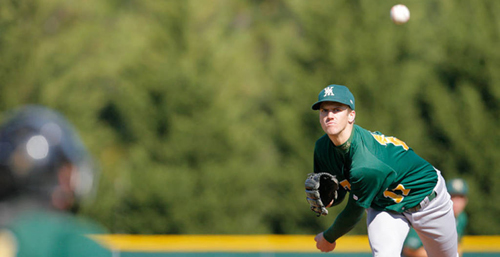 What began as a mid-week slump quickly threatened a Colonial Athletic Association series, as visiting UNC-Wilmington left Plumeri Park with an 8-2 win Friday. William and Mary had previously dropped decisions to Richmond and Old Dominion Tuesday and Wednesday.
Saturday and Sunday marked a pair of wins, however, as the College snapped a three-game skid and opened up a two-game streak. The College (20-10, 4-1 CAA) topped UNC-W (14-16, 2-3 CAA) 14-2 Saturday before taking the series with a decisive 10-2 win Sunday.
"I was really impressed with our resiliency this weekend," head coach Brian Murphy told Tribe Athletics. "We came in after a couple of lackluster games mid-week. We lost on Friday and were still able to beat a really good team in a weekend series, so I was really impressed team-wide with our resilience, our competitiveness."
The Seahawks sent ace Matt Batts to the mound Friday. Over eight innings, Batts allowed just one run on four hits, registering 12 strikeouts alongside two walks. Batts achieved what many pitchers have failed to failed to do throughout the season — quieting a Tribe offense that ranks in the top echelon of National Collegiate Athletic Association programs.
"He went through what we think is a pretty good lineup," Murphy told Tribe Athletics. "Obviously, we've been swinging the bats pretty well … a lot of the credit goes to him for sure."
Junior left-handed pitcher Jason Inghram lasted just over six innings in a rough outing. Inghram was roughed up to the tune of six runs (five earned) on six hits despite seven strikeouts.
The Seahawks jumped to a six-run lead after seven innings en route to the 8-2 decision. With the loss, the College needed to win both weekend games to claim the series.
Saturday rejuvenated the Tribe's offense, however. The College managed 14 runs on 12 hits in the 14-2 win. Sophomore catcher Ryan Hissey provided a large portion of the production, recording two runs on three hits. Hissey led the team with a game-high five runs batted in.
Despite the improved plate performances, Murphy pointed to senior right-handed pitcher John Sheehan as key to the skid-snapping decision.
"This was a really good win for us to get back on track. I thought it started with John Sheehan, who was outstanding and allowed us to settle into the game," Murphy told Tribe Athletics. "John was terrific — he had all three pitches going, he was getting some swings and misses with his change up and was able to throw his breaking ball for strikes and obviously had fastball command."
Sheehan impressed over seven innings that saw eight strikeouts alongside seven hits and two earned runs. With the decision, Sheehan improves to 3-2 on the season.
Having split the first two games, the College and the Seahawks approached Sunday with the series on the line. Neither program had a pitcher that lasted longer than six innings, as the College rolled through three pitchers. The Seahawks called on five pitchers, four in relief.
Sophomore right-handed pitcher Mitchell Aker quickly gave way to fellow sophomore right-handed pitcher Joseph Gaouette after giving up two runs in nearly three innings of action. Senior right-handed closer Kevin Casey, who splits time between the infield and mound, came in to secure the 10-2 win in the ninth inning.
While pitching performances were spotty, the offense continued where it left off Saturday. All told, the College accrued 10 runs on 11 hits. The game marked the 12th time the program has recorded ten or more runs this season.
"We were able to extend some innings, tack on some runs. … It was a pretty good offensive performance," Murphy told Tribe Athletics.
Junior right fielder Nick Thompson led the team with a home run, three runs batted in and four runs scored. Senior first baseman Kevin Nutter, junior left fielder Michael Katz and sophomore catcher Charley Gould each chipped in a pair of hits.
The College looks to avoid another mid-week slump as it faces Virginia Military Institute at 6 p.m. Tuesday before hosting Norfolk State Wednesday. First pitch is set for 7 p.m. Wednesday.