It's clear that William and Mary's men's and women's basketball teams rack up a lot of air miles. As the recruiting maps show, the Tribe recruits everywhere, from Virginia to Hawaii to outside the country.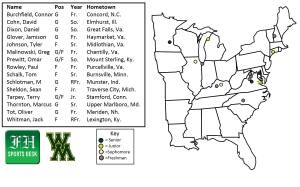 The men's team boasts a diverse recruitment. The player recruited furthest from Williamsburg is freshman guard Oliver Tot, who initially hailed from Slovakia. Tot attended Kimball Union Academy, a boarding school in New Hampshire. Another player, sophomore guard David Cohn, is from the suburbs of Chicago. Cohn has traveled across the country, beginning his basketball career at Colorado State before transferring to the College.
Of the team's five starters, just one — sophomore guard Daniel Dixon — hails from Virginia. Among the other starters, only senior guard Marcus Thornton lives within a few hours of the College, coming from Maryland. Starters sophomore forward Omar Prewitt and junior forward Terry Tarpey hail from Kentucky and Connecticut, respectively. Junior forward Sean Sheldon, from northern Michigan, travelled the furthest of any of the starting lineup.
Just five of the15 members of the men's squad are from Virginia. The players come predominantly from the east coast. None live west of Minnesota and none are from south of North Carolina.

The women's team is a little more localized than the men's. Seven players are from the Commonwealth, and another four are from either Maryland or Pennsylvania. Five of the team's six freshmen hail from one of these states, including a trio of freshmen recruited from northern Virginia: guard Jenna Green, center Abby Rendle, and guard Camila Prock. Forward Jeanne Gaumont, hailing from Quebec, is the sole freshman from outside of this region, and is also the team's only international player.
Although most of the team is local, sophomore guard Marlena Tremba has the furthest journey of any Tribe basketball player, even further than Tot's journey from Slovakia. Tremba hails from Honolulu, Hawaii,more than 4,800 miles away from Williamsburg.
Like the men's team, the women's team does not have any players from the continental United States west of Iowa or south of Tennessee.