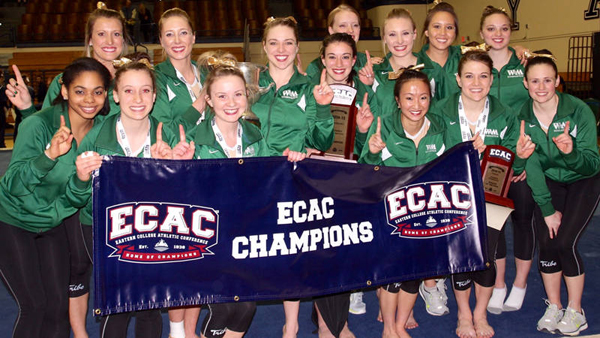 The No.14 William and Mary men's squad competed at the USA Gymnastics Collegiate Championships this past weekend. Counting the Tribe, the championship consisted of nine total teams, including five varsity clubs and four club teams. The College finished in third place. No.10 Air Force, the host of the tournament, earned first place with a score of 432.85.
Throughout the tournament, the Tribe was most successful in the individual performances. Sophomore Aria Sabbagh finished third all around in individual's performances with a career high score of 81.35. His performance earned him USAG collegiate All-American honors.
The Tribe also saw six of their gymnasts qualify for the individual performance finals, in which they gave admirable performances.
Four gymnasts garnered All-American honors, as seniors Jason Wang claimed third and Peter Ten Eyck tied for fourth, both on the pommel horse. Freshman Jeremiah McReynolds notched a sixth-place finish on rings.
Senior Michael Deitz outshone them all, claiming the national title on the high bar event with a score of 14.6. In addition to the title, Deitz claimed the distinction as USA Co-Gymnast of the Year, marking the second consecutive year that the Tribe has produced the Gymnast of the Year.
Not to be outdone by their male counterparts, the women's squad had a successful weekend as well. The Tribe claimed the Eastern College Athletic Conference title for the second year running, with an overall team score of 194.375. The score ties for seventh-best in school history.
Led by a brilliant performance from  junior Brittany Stover, five Tribe gymnasts earned a total of 10 all-conference honors by finishing in the top six in their respective events.
The ECAC season awards were also distributed on Saturday.
Brittany Stover, with scores of 39.100 all-around, 9.850 on vault, 9.900 on beam and 9.850 on floor that night, was awarded the ECAC Athlete of the Year for the second year in a row.  Senior Maggie Lunden was awarded Specialist of the Year, while Larson Lasek was recognized as Scholar Athlete of the Year.
On a team performance level, the best performances came from beam and floor, as both scores ranked second and seventh in the school's history.
Men's gymnastics will be back in competition next weekend when it contends for the ECAC conference title at Army Friday and Saturday.