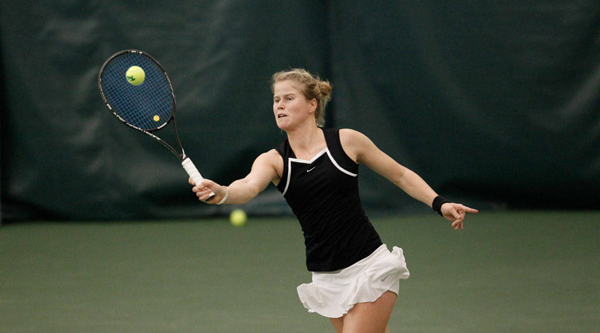 William and Mary, currently ranked No. 34 in the nation, dropped two matches this weekend in Houston, Tx., losing 4-2 to Yale Friday and 5-2 to Rice Sunday.
Friday, the Tribe won the doubles point against Yale: Freshmen Olivia Thaler and Maria Groener paired to win 6-2 at the No. 2 spot; they now hold a record of 10-2. Senior Jeltje Loomans and junior Leeza Nemchinov, ranked No. 25 nationally as a duo, partnered at No. 1 to win their fourth match in a row together at the top doubles position.
On the singles side, Nemchinov, ranked No. 47 nationally, decidedly won her match 6-2, 6-3 at the No. 1 spot. This win marked her 13th in a row, giving the Tribe a lead of 2-0. However, after losing the next four singles matches, the College failed to deliver on its early lead. Although Loomans and Groener both took their matches to three sets, they failed to secure victories at the No. 2 and No. 5 positions, respectively. Freshman Cecily Wuenscher won at No. 6: She went 1-1 in the first two sets against Yale's Valerie Shklover, and was up 1-0 when Shklover pulled ahead at this point, but Yale had already secured the overall win.
Against Rice Sunday, Loomans and Nemchinov pushed their winning streak to five, winning their doubles match 6-4 at the top seed. However, Rice won the doubles point, winning matches at the No. 2 and No. 3 seeds.
Though Rice's Lindsey Hodge partnered with Alison Ho to defeat Groener and Thaler, Thaler was able to decisively route Hodge in singles, winning 6-1, 6-1 at the No. 3 seed. Thaler now holds a record of 5-2 at the No. 3 spot, and an overall season record of 15-10.
Sophomore Melanie Roy won her singles match at the No. 4 position, 6-4, 7-5. She now holds a 4-1 record at the No. 4 position. Rice's Natalie Beazant, ranked No. 23 nationally, snapped Nemchinov's winning streak, winning 6-7 (5), 6-3, 6-4. Nemchinov now holds a 20-3 record for the season.
The Tribe lost the other three singles matches, though Groener was able to push her match at the No. 5 position to three sets. The College now holds a 10-4 record for the season. Rice now sits at 9-7 after winning its fifth-straight match.
Up next for the Tribe are two home matches at the Millie West Tennis Facility. The College faces Brown Saturday at 11 a.m. and St. John's Sunday at 11 a.m.